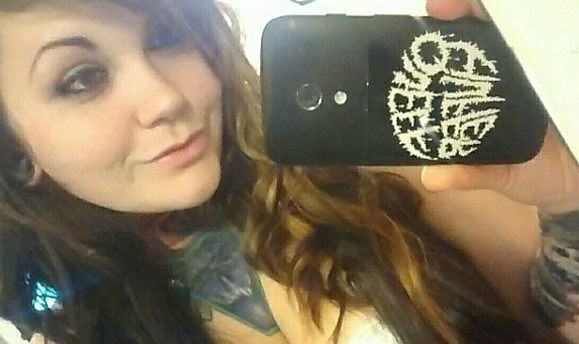 While much of Web of Lies centers on some of the tragedies of exposing your entire life online, there are rare cases where social media itself helps police solve crimes. On the next episode of Web of Lies Investigation Discovery takes a look at the story of Amanda Taylor which was a very publicized murder case back in 2015.
Twenty-four-year-old Amanda Taylor was responsible for the murder of her former father-in-law, Charles Taylor, in Christiansburg, Virginia. On Tuesday night's Web of Lies episode, titled "Crime Scene Selfie," Virginia detectives will discuss the brutal killing and how social media helped them solve the case.
Detectives in Christiansburg, Virginia, were called to a home at 846 Den Hill Road in Ellett, where they found a deceased male. The crime scene was extremely bloody, and the victim had several cuts to the body. An autopsy report indicated that the man, identified as 59-year-old Charles Taylor, had been stabbed to death about the head and neck area over 30 times, Web of Lies will recount.
The news of Charles Taylor's death spread throughout the community when it was revealed that his killer was his dead son's former wife. Police immediately began searching for Amanda Taylor, and it didn't take them long to piece the case together since she had boasted on social media pages Instagram and Facebook that she had killed her father-in-law. In one of the photos, Amanda posed with the dead corpse in the background, according to Oddee.
Here's an actual quote from Taylor herself:
Everything i did was for the right reasons. I stabbed my father in law to death because he destroyed my husband with drugs..depression. i wasnt the perfect wife but this was one last good thing i could do for rex i dont care what anyone thinks i loved rex more than the world. This was for you <3 seans dead, but i finally have closure with rex after charlie. If you keep looking for me more will die. Just let me get to the place rex & i always wanted & ill be free without having to kill more.
Below you'll see some Instagram posts and a video. Make sure you check out Investigation Discovery tonight at 9pm.
https://www.instagram.com/p/11FAHDQdAK/
https://www.instagram.com/p/BEJv3ORwdFS/
https://www.instagram.com/p/8v9r2cwdPl/