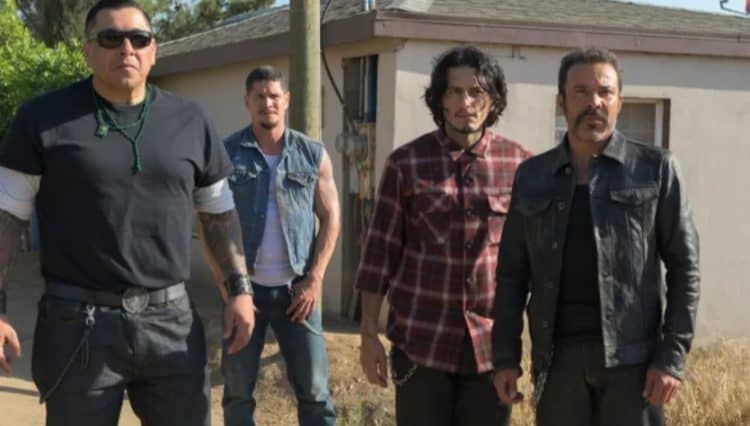 The return of Mayans M.C. for a second season is one of the most anticipated renewals for fall. The series has been able to generate a committed fanbase and plenty of hype. People love the action-packed scenes along with special effects that set the show apart. The filming of the show can be a very physical endeavor, so we are happy to see that the entire cast has been able to return. There are still many questions that people have about the second season of Mayans M.C. This article will address some of the favorite fan theories about the show and what you can expect for the second season. Either way, it's going to be a wild ride.
The end of season one featured the Mayans making a deal with Miguel Galindo. However, Galindo has his own ideas in mind by making another deal with Los Olvidados. The first season showed the Mayans as the crafty underdogs that just had to scrap to get by. However, this has changed with the new season as the Mayans now have their own place. While they used to have to make do in the desert, they will now be able to build their own compound. This has important implications for the storyline because it means that the Mayans will be able to more effectively allocate their resources in order to get jobs done. While this is a source of comfort for the group, there is still trouble lurking.
Los Olvidados had previously sought to kill Miguel Galindo. However, a new deal was set in place to make them Galindo's own personal enforcement squad. It remains to be seen what kind of implications that this could have for the Mayans. It is possible that the second season could pit these two groups against each other even more viciously, even though they both are affiliated with Galindo. It seems that their characters are being developed to enhance a plot that could lead to a showdown between the Mayans and Los Olvidados. A battle between the two groups could get very messy based on their violent nature. This is one of the most interesting plots to watch for in the upcoming season.
Another interesting story arc is the revenge of Ezekiel "EZ" Reyes for the death of this mother. Last season, EZ was able to figure out that the killer is Happy Lowman. This leads to a variety of different possibilities for this upcoming season. It does seem that EZ will seek to get revenge, but how he plans to do this remains a mystery. This is one of the most entertaining plots for the next season. It may also put an emphasis on how this murder affected EZ. Showing the softer side of the main character will be a good step towards his development. Regardless, this will be something to keep an eye on when season 2 starts. Getting on EZ's bad side is definitely the wrong move. He is not afraid to go out and take what he feels he deserves.
The next plot to keep an eye on are the happenings of Marcus Alvarez. The last season ended with him hanging up his "cut" or biker uniform. It still remains unclear as to why he has left the Mayans after his talk with Bishop Losa. This is an interesting side plot that could have major implications for the Mayans going forward and possibly spells trouble for the entire crew. It is unknown what Alvarez could be up to, or whether he now poses a threat to the group. The entire incident is still shrouded in mystery. Many hope that season 2 will provide answers and fill in the storyline. It will be very interesting to see what role Alvarez will play going forward. There are even theories that he has flipped and will now work to bring down the Mayans.
Another theme that is going to be reoccurring throughout season 2 is "blood family" vs "club family" as EZ seeks to navigate the bonds between both his personal family and the Mayans. Unfortunately, these two values often come into conflict for the main character. It is not uncommon for a character to be drawn between two worlds, so it will be interesting to see how EZ deals with these various conflicts. Though it is certain that he will be put to the test when it comes to where his loyalties stand. It is impossible to say what will happen when confronted with his past. These are also important story arcs for the second season. EZ is going to evolve tremendously as we continue to find out where his heart really is. It's going to make for some great television.
The Mayans season 2 has all of the drama that any fan could hope for. With multiple groups and characters in peril, it's guaranteed to be an outstanding season which will reveal the true motives behind many of the characters. It is also possible that some characters will switch from good to bad or vice versa. This is something to watch out for. It's important not to fall too in love with your favorite character.
It's unknown what the future holds for the Mayans. Just make sure to tune in and find out how they will navigate their own space with increases to their power and force. The Mayans aren't ones to go lightly, so beware of twists along the way. This is one of the most highly touted shows of the new fall lineup. It features great acting and storylines, so it is a must-watch for anyone who cares about television. It is one of the few shows on TV that continues to deliver week after week with non-stop action. It's the perfect show for the adrenaline junky. You aren't going to want to miss this.
Tell us what's wrong with this post? How could we improve it? :)
Let us improve this post!