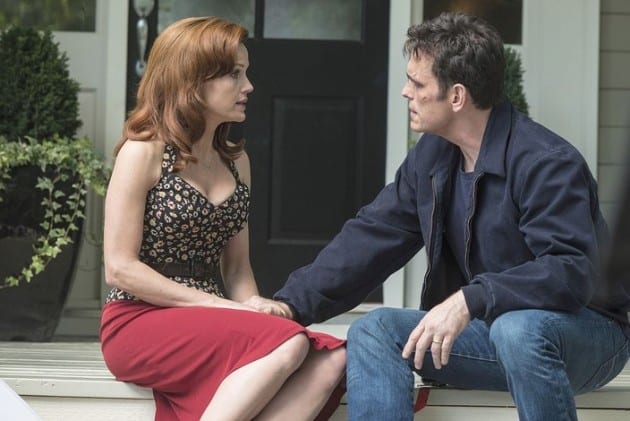 From the moment Wayward Pines begins, it feels like a million other stories of its kind. "Tortured," government-job-having white man (aka an adulterer) finds himself lost in a town full of secrets, sexually suggestive women, and the overwhelming feeling that something sinister is at play – everything from Twin Peaks to The Prisoner right around to Under the Dome fits right into the mold of Wayward Pines, a limited series adapting Blake Crouch's trilogy of mystery-horror novels to network television. And I meant right from the opening shot: the first image overtly copies the opening seconds of Lost, and from there, begins to tell a similar tale, of a man pulled away from the ones he loves to be marooned in some strange town, one surrounded by particularly expensive security measures, and inhabited by a bunch of wide-eyed weirdos.
At no point do the early episodes of Wayward Pines establish themselves as anything other than visually-evocative television: the beats, both micro and macro, are abundantly familiar to anyone familiar with M. Night Shyamalan's work, particularly The Village–he directed the pilot, and is credited as executive producer; the series is being developed by Chad Hodge–and any of the aforementioned "mystery" shows mentioned before. There's the central agent's sordid past, the desperate attempt to create auras of mystery by simply leaving the audience in the dark with nothing but a few random clues to hang onto… the whole "surreal bread crumb hunt" is something we've seen before, and the white-washed world of Wayward Pines, through the first few episodes, offers only but a few twists on the amalgamation of iconic stories it borrows images, characterizations, and stories from (like the hints towards a Big Brother presence, or anything contained in the sinister/allusive comments characters randomly make at the end of conversations).
And yet, Wayward Pines is still a pretty fun, though superficial watch through its first five episodes. Most of this comes from the cast: Melissa Leo, Carla Gugino, Hope Davis, and Terrence Howard hamming it up, and Juliette Lewis and Matt Dillion bringing their thin characters to life with dedicated performances. There's a lot to enjoy with the cast wringing every drop out of each interaction, thick as a milkshake with allusive dialogue and creepy staring. Dillon is a particularly great choice as the show's lead; his small range plays right into the script's equally-limited strengths, a character that borders on a caricature of an archetype, but never digs too far to the psychologically unsettling parts of Ethan Burke's persona, which could upset the show's balance of eye-winking camp and genuine attempts at unsettling drama.
The fifth episode of Wayward Pines, "The Truth," will really be the episode that makes or breaks the show for viewers. The first four hours of the series are constantly changing what the show really is about, and Episode 5 lights a match to the whole thing, in an hour that will be viewed either as crazy, ambitious, or completely illogical. For me, it doesn't quite work: Wayward Pines is a story that serves plot twists over character building, and those big twists and mysteries are head-scratching, at best (and again, endlessly familiar from many other pieces of similar fiction). The events of the fifth episode raise an overwhelming number of head-scratching questions about the events preceding it; and while the second half of the season may provide those answers, the confusion many will feel during the revelations of "The Truth" may destroy the fragile suspension of disbelief Pines relies on in its first four hours. Can you put aside all the logical holes, and find intrigue in the Big Twists? That's really the question at the heart of the show; unfortunately, it takes four hours of visually evocative, frustratingly suggestive television to get to that critical deciding point.
As a whole, Wayward Pines never finds a balance between being unhinged and believable, assembling a trite ensemble of characters that are either spinning in circles trying to make sense of Pines' incoherent "clues," or are ambiguously hinting towards some abstract of a sinister, Big Brother-type presence. It's doing this while continuously morphing its reality to the audience, which makes it all hard to invest in, or understand – and certainly doesn't give its forehead-crumpling characters anything to latch onto. The atmosphere of Wayward Pines' first four episodes is intriguing, but the series' fifth episode dumps both of those aforementioned wells on the table, and tries to make rhyme and reason of it all (in exposition-heavy fashion, I might add). It's there, in that fifth hour, that Wayward Pines will either grip you, or send you running for the hills.
Wayward Pines premieres tonight at 8 p.m. on FOX. Five episodes were watched for this review.
[Photo via FOX]