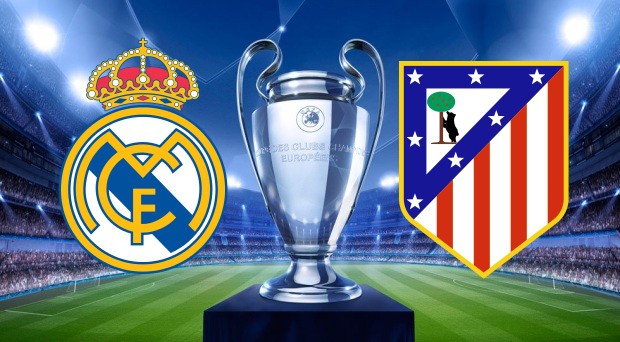 The UEFA Champions League Final will take place on Saturday, May 28th in Milan, Italy. Real Madrid and Atletico Madrid are the last two teams standing and it is a rematch from the final two years previously. That match was decided in extra time and Real Madrid came out on top to win its 10th league title.
Both teams faced difficult roads to get to the final with Real Madrid getting a tough draw in Group A and Atletico Madrid overcoming Bayern Munich and Barcelona on their way to the final match. You can check out more on both teams' road to the finals on the Fox Sports Champions League site. The main player to watch in the match will likely be Christiano Ronaldo. He leads the high-powered offense of Real Madrid and Atletico's hopes for a victory might hinge on their strong defense slowing him down. If he gets loose he can be a huge threat in what will likely be a close game.
The good news is that you don't need cable to watch the UEFA Champions League Final online or over the air. Let's take a look at your options.
Watch The Champions League Final Free with An Antenna
Probably the best option out there for cable cutters to watch the final match will be by using an antenna. FOX owns the broadcast rights to the match in the U.S. and will be airing it on its main network channel. FOX and other channels including ABC, NBC, and CBS can be picked up by an antenna and watched directly on your TV. The new antennas are light-years ahead of the old rabbit ears on top of the big box TV and let you watch these channels in perfectly clear high-definition.
The best part about this option is after investing in the antenna, it is absolutely free. No fees to pay when watching and no contracts to worry about. Prior the getting your antenna, you should check out the reception in your area here. And, if you aren't sold yet on the antenna you should check out this post on all the sporting events you can watch with an antenna.
Stream the Final Match with Multiple Services
While the antenna is probably the easiest and the only free option to watch the match, there are several other ways to watch FOX.
FOX Soccer 2GO: This one is geared directly at soccer fanatics and offered straight from FOX. The match will be live streamed and you can watch online, with a mobile device or tablet, or on your TV with Apple TV. You can sign up for FOX Soccer 2GO for either $19.99 per month or $99.99 for the full year. There are tons of other matches available including games from Bundesliga and the Europa League. Plus, games during the World Cup, CONCACAF Gold Cup, and the Euro 2016 Qualifiers can be streamed as well.
Sling TV: Depending on your location, Sling TV will let you watch FOX live as well. It is a cable alternative that lets you stream more than 20 cable channels for only $20 per month. You can check the site to figure out if you can get FOX, but if not you can always watch it on-demand about 24 hours later, which means you can still watch all the new shows coming out. You can watch the Sling TV stream on nearly all mobile devices and tablets or on your TV with connected devices like Roku, Chromecast, or Amazon Fire TV.
PlayStation Vue: The service and availability of FOX are nearly identical on PlayStation Vue as it is on Sling TV. PlayStation Vue costs more but does have more channels, over 50 streaming channels regardless of location. And, it is compatible with slightly fewer devices. You still have options and can stream with PlayStation Consoles, iOS devices, and with Chromecast or Amazon Fire TV. The cities you can get FOX are Philadelphia, Chicago, Dallas, San Francisco, Los Angeles, Miami, and New York City. The cost in those cities is $39.99 per month and the rest of the U.S. is $29.99 per month.
However you choose to watch, make sure you don't miss the Champions League final!