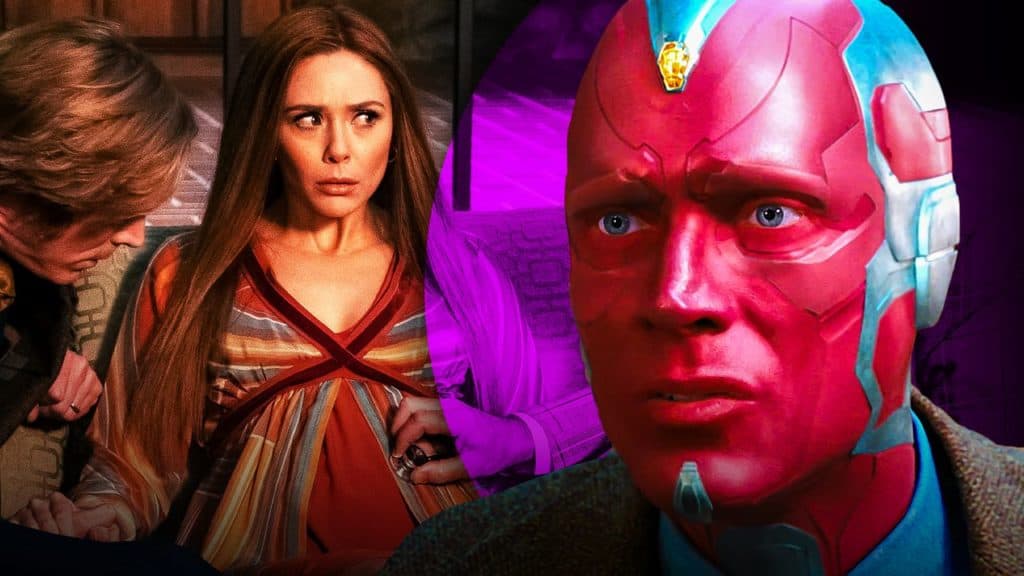 Plenty of Marvel fans already know that Wanda having kids isn't the best thing that's ever happened to the Marvel universe since it means a great number of things are about to happen, but before that is the confusing half-hour of a show that sees her start out being 3 months pregnant only to go into labor before the episode's end and give birth to twin boys, Tommy and Billy, who a lot of fans are already going to know as Speed and Wiccan, who might be getting a big setup in the MCU as far as anyone knows at this time. All the rest of us know is that this episode did feature another of those strange rewind moments when Vision began to worry over what was happening, only to be sent back several steps in order to set up a far more touching moment that a lot of people might remember from various 70s sitcoms that were created to make us believe in the sanctity of home and family. But while the convenience of such a swift pregnancy might be something that some women might feel would be interesting and possibly preferable until the pain factor is taken into account, and in the case of Wanda, it should be noted that the side effects aren't all that great since she apparently knocked out the power in the neighborhood.
But the show does continue to be kind of strange as there are no doubt going to be a lot more Easter eggs that will be pointed out by those that are ready and willing to find out the significance of every number, word, and image that's been shown in the third episode. One thing that the MCU is definitely good at is keeping people aware that everything is happening for a reason, and the HYDRA angle is definitely being pushed since in Avengers: Age of Ultron, Wanda, and Pietro were essentially the property of HYDRA, who had been experimenting on the duo and were planning to use them as weapons. In the end, the two wound up joining forces with the Avengers and Pietro met his end at the hands of Ultron when he was shot several times, which devastated Wanda and brought a rather sad note to the movie. But the fact that this was mentioned in the episode was something that many fans would easily point out is both a mistake in the program that Wanda is apparently stuck in and one made by whoever Geraldine really is. If one goes to the IMDb page they'll find out that she's really Monica Rambeau, and by the way she's being surrounded by the end of the episode it feels clear that she's not supposed to be there, meaning perhaps that someone might be trying to employ a rescue mission for Wanda, who appears to be stuck in one giant simulator judging by how Geraldine/Monica was tossed out so unceremoniously.
That's bound to make fans wonder who else is involved in this matter and just who is who since there's a good idea that there might be a few others rambling around town that could shed some light on what's going on. One also has to wonder when Vision is going to start figuring out that this is all a dream or program of some sort and that he did in fact expire back in Wakanda. Right now it feels as though we're building up to something that could possibly be a game-changer for the MCU, but the hope is that it won't get there and just fizzle out since the whole idea behind this show is that it's going to be an oddball story up until everything is explained. So far the transitions from one time period to another are coming pretty quickly, but given that there's only so much time to tell the story it's not entirely surprising. With each half-hour, we've come a little closer to figuring out what must have happened to Wanda following Endgame, and despite the fact that we're not entirely certain just what's going on, the obvious thought is that she's being held somewhere and that she has no real clue that she's in a simulation. Or does she? She's been the one to wind things back a couple of times, or at least we're given that impression when something isn't going the way she wants it to. Right now all we really know is that things are progressing at a pretty quick pace and it's going to keep happening most likely until we reach the end of the season when hopefully more of this will make sense as we get to see how the next phase of the MCU is being set up to bring back Wanda and several other characters that fans will want to see.