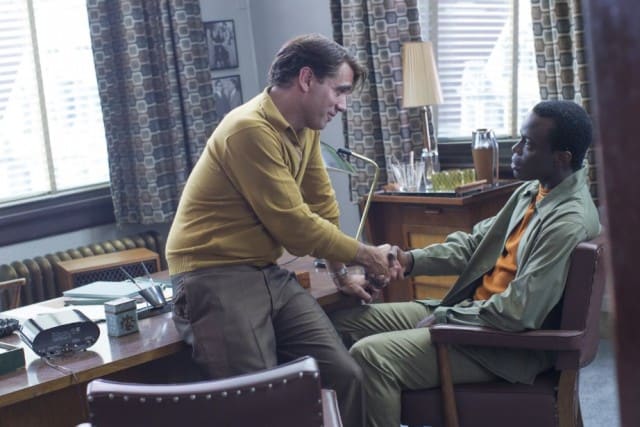 Every new HBO drama premieres to high expectations–higher, for better or worse, than any other network. And while the premium cable powerhouse has an insanely successful series in Game of Thrones, its identity as the go-to prestige programming hub is in flux (and, indeed, that may be purposeful on the part of the executives, since "prestige" has garnered more and more backlash in recent years from viewers searching for the next new thing, much like many of the characters in Vinyl). True Detective's second season was a critical flop. The Leftovers' second season was television artistry at its finest, but that series will conclude this year. So, Vinyl is HBO's next stab at finding something that sticks in the era of Peak TV. While the bloated two-hour premiere doesn't come out firing on all cylinders, there's a story somewhere in it that speaks to something universal, and the potential is there for that to be emphasized.
Unsurprisingly, that story has only a little bit to do with what "Pilot" focuses on, since even two hours is apparently not enough time to avoid the common pitfalls of pilot-itis (it's a real disease in original programming). Vinyl's pilot is incredibly loud. The dialog is loud, the music is loud, the acting is loud and the visual aesthetic is loud. Some of that works perfectly fine. Loudness comes hand-in-hand with the story the series is telling, which follows a record executive (Richie Finestra, played by Bobby Cannavale) in search of commercial success. But when curse words and thrown around every six words by people who are complaining about how stressful their jobs are, it's too difficult to latch onto anything meaningful. The soundtrack, too, tries to front-load the premiere with literally dozens of different tunes, most of which just work towards a common "Listen to how prominent the guitar sounds of rock were in the early 70s" goal instead of finding those specific songs that add contextual layering. At one point, Black Sabbath's "Iron Man" blasts through, when, really, the scene is desperately calling for one of Sabbath's drug power ballads ("Snowblind" would have been perfect, considering the content).
Still, even when some of these details are missing the mark, it's hard to turn away. And when Vinyl does sing, it does so with the stage presence of a Robert Plant on the precipice of Houses of the Holy. The heart of the premiere lies in Richie's rags-to-riches story, but specifically his attempt to bring along Lester Grimes (Ato Essandoh), a blues man he comes across while working as a bartender. Richie and Lester's chemistry is immediately present on-screen, and the flashback scenes that show the development of their professional relationship are easily the strongest in the episode. "Pilot," though, is more worried about throwing drama at the viewer, nervous that these character moments aren't enough. So, instead of punctuating the whole thing on Lester being beaten and losing his ability to sing (which would have been a much better ending), a murder is used as a plot/framing device, and the episode concludes with the heavy-handed image of Richie emerging, literally, from wreckage to presumably become a new version of himself. The scene of the wreckage itself is good, because it almost comes across like magical realism the way Martin Scorsese directs it, but this isn't the most interesting material of the two hours. The ways that Richie's decisions affect those around him are the things that give resonance to Vinyl.
There is, unfortunately, too little of that, and when the premiere strays away from Richie, there's little to hold it up. A huge supporting cast of characters is mostly lost in the mix, with actors such as Ray Romano, P. J. Byrne and Andrew Dice Clay either getting too little to do or feeling the need to overdo what they have. Thankfully, Juno Temple's Jamie sticks out in the best of ways, because the episode uses her as a point of comparison to Richie. Stuck as the sandwich girl, Jamie takes any opportunities she can get to find the next band and, thus, securing herself a better position in the record company. It's not exactly the same dynamic as Don Draper and Peggy Olson on Mad Men, but it's close–and that relationship was easily the strongest aspect of that series, giving Vinyl a chance to capitalize on Richie-Jamie. And, in one scene, Olivia Wilde's Devon, Richie's wife, gets to confront him about his self-destructive habits; even though Vinyl seems less concerned with Richie's family life than his business life, the scene works really well and is the best one that doesn't feature Grimes.
But, at the end of the day, "Pilot" just feels too busy. There are minor things that stick out, like how so much music from such an influential period is used, but very little of it is recognizable (budget concerns?). Those issues, however, matter very little in the face of the premiere just needing a better focus. Two hours is a lot of time–more than the average contemporary film–and if it's not enough to leave the audience invested in a few of these people's lives, that's a problem. Superficial, forced drama like a murder of passion feels too tacky, and this may just be the growing pains of writers realizing that there is way too much good television these days to be formulaic and melodramatic. All that said, there's something worthwhile in Vinyl, and if series were only ever as good as their pilots, millions fewer people would be watching television. After having attempted to build the world around itself, Vinyl now has to turn its narrative gaze more inward, because there's something inherently inspirational about Richie's story, in spite of his major flaws.
B-Sides:
The episode smartly decides to drop Richie's narration after the first few minutes (although, Cannavale does a great voiceover).
Jamie's discovering of the Nasty Bits leads to what is probably one of the episode's central themes: to embrace not caring about anything. It certainly sustained punk…you know, until punk died and all.
It's painful to see a fictionalized Robert Plant looking so perfect without getting up on the stage and doing an opener that Zeppelin would have actually opened with. Haven't a bunch of car commercials done "Rock and Roll"? HBO couldn't have got "Black Dog" or something? Bah!
On that note, would love to see if Ronnie James Dio and Ritchie Blackmore pop up on this. Rainbow wasn't nearly as successful as Zeppelin, but they were still heavy hitters a couple years from when this premiere was set. But I guess all viewers will have their own preferences.
Vinyl Season 1 Episode 1:
Summary
While the bloated two-hour premiere doesn't come out firing on all cylinders, there's a story somewhere in it that speaks to something universal, and the potential is there for that to be emphasized.