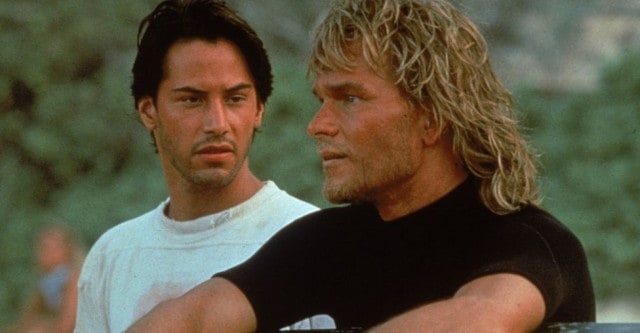 Patrick Swayze is one actor that was clearly taken away from us way too early. And as I watched Point Break for the 500th time on television I couldn't help but to think of all his memorable roles. In particular the ones where you just knew how awesome and tough he was. Frankly, I've seen articles on Patrick Swayze's coolness. I've even read article that explore his movies. But never have I seen anything of a video collection demonstrating how sick Swayze has been in a number of movies, and even on a short lived television show.
While we'll never get to see anything new featuring Swayze, I hope that this little collection will brighten up your day. Here are 8 videos showing just how awesome Patrick Swayze used to be.
Pain Don't Hurt – Roadhouse
Roadhouse when watched today looks like one of the most ridiculous action movies in the history of movies. The amount of hilarious unintentional comedy lines isn't to be matched. The villain is absurd. Swayze's hair is unmatched. And the movie just reeks 80s. Anyone over the age of 30 should love this film. And the line "pain don't hurt" epitomizes this movie all in one dumb little sentence.
Renegades – Best TV Show Intro Ever
People always forget that Swayze was on a show called Renegades. Frankly this might be one of the coolest introductions to any show ever and I don't think it's even close. Bandit!
Nobody Puts Baby in the Corner
Probably the best line of Swayze's career. You didn't think I'd forget Johnny Castle did you?
Anything from Point Break
I think that Bodhi might be the coolest character in any movie ever. You can't replicate Swayze's hair. Plus the fact that they spelled Bodhi using an "h" makes him infinitely cooler.
Nobody messes with Darry
https://www.youtube.com/watch?v=HHgCFkW_dh0
You can't forget that Patrick Swayze was in excellent coming of age film "The Outsiders" as the rough and tough father like figure brother Darry. No one is as tough as him. No one.
As a Stripper
https://www.youtube.com/watch?v=PeJmYtwuggw
Well this is certainly one of if not the best skits in SNL history.
Deer Blood from Red Dawn
I'll let this video speak for itself.
In Youngblood
People rarely remember the movie Youngblood. Classic 80s hockey flick with Rob Lowe. Swayze plays his best friend and fellow hockey player Derek Sutton. One of my favorite Swayze characters.