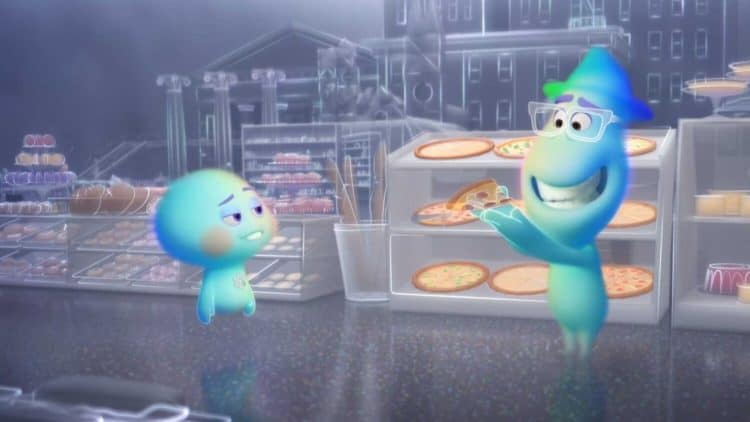 Some Easter eggs make a lot of sense, while others are shoutouts that a lot of people might not understand unless they follow Pixar that closely and know enough about the writers, the animators, and everyone that has anything to do with the actual story. Soul obviously takes on the tradition of the Easter eggs that are seen in every Pixar movie since just walking through it in this clip makes it clear that Pixar loves blowing their own horn while stating that it's out of respect or just being clever when referencing other sources and movies that it's decided to show in the movie. Some are definitely clever, but others kind of leave a little to be desired since it does take someone that's actively looking for them to point out these hidden messages and images. But to those that aren't looking for them and end up finding them anyway, it can be kind of interesting since it will test their knowledge to see if they can remember just where they've seen or heard something, but for many others, the point is bound to go right over their head since the average audience member is going to want to watch the movie, not search every frame for whatever they can find that might be a reference to another movie.
Easter eggs are kind of fun to notice since when they do actually pop out at you it's interesting to see who's paying attention and who can think on their feet as they realize that they've seen the images somewhere before. But at this point, it also feels as though they're a bit of an obsession with some folks since, in almost every movie possible, people will want to point out the hidden gems that are secreted within the movie at every possible moment. To some, this might take away the joy of the movie since time spent looking for each and everything within the movie that can be traced back to another movie or another reference point kind of eliminates the need to just watch and enjoy the movie. But there are those that can do both, no matter how tough it might sound. Plus, the beauty of a movie is that one can go back and watch it again in order to find whatever it is that they want to find. To say that animators are flattered that people want to take the time to analyze a movie for their contributions is fairly accurate, but it's still something that a lot of people likely won't do since they would much rather just watch the movie for the story and come back to see the Easter eggs if they're interested later on.
The fact that animators put these in is interesting but also understandable since it's making their mark, or 'a' mark, on the movies in a manner that Pixar has been doing so long that to not do it would be kind of silly since people might actually throw a fit if they didn't see the expected pizza truck or codes that are spouted in a couple of different movies. Once people get used to something they're going to want to see it on a regular basis, or they might actually get upset, which is a bit sad to say but is very real since in this day and age it's been seen more than once that if the expectations of the people aren't met then they're bound to vent online to wonder just why the animators decided to break tradition and not do something they've been doing for so long. In a few ways, it feels as though Pixar would keep doing this whether people felt it necessary to notice it or not. Again, it's putting their mark on the product that appears to matter, and adding in things that people might take the time to notice is more about their initiative than anything. It could be done to be sneaky, to give the fans a bit of a thrill, or just because they feel like recycling images, it's hard to say without sitting down to ask them, but at the very least it's something that people have been noticing for a while, and it's a part of a movie that a lot of folks have been getting into for a while.
Whether you care about Easter eggs or not, some people don't really think about them until they're mentioned, the fact is that a lot of movies have decided in the past couple of decades, and even before then, to add them in for one reason or another. Sometimes it's just for fun, other times it can be foreshadowing things to come, and there are moments when it's to pay respect to one person or another. But there's usually a reason for them.
Tell us what's wrong with this post? How could we improve it? :)
Let us improve this post!