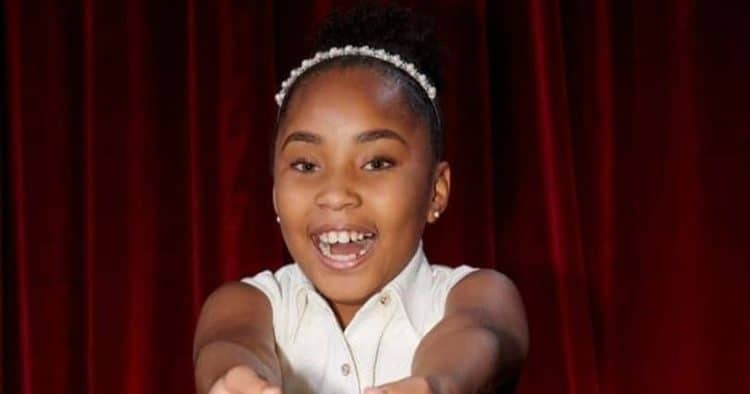 Victory Brinker is only nine years old, but you'd never be able to tell by hearing her sing. The talented classical singer left the entire country in awe of her voice after her audition on America's Got Talent. As soon as she opened her mouth, the judges couldn't believe what they were hearing. Her poise and the amount of control she had over her voice is something you just don't see often. At the end of her performance, Victory became the first person in America's Got Talent history to get a Golden Buzzer from all of the judges. Victory was overjoyed by the news and she's looking forward to putting on more incredible performances as the season continues. Keep reading to learn 10 things you didn't know about Victory Brinker.
1. She Is From The Pittsburgh Area
Victory currently lives in a small town outside of Pittsburgh called Latrobe. Although people who aren't from the area are probably not familiar with Latrobe, it is locally famous for being the home of both Fred Rogers (Mr. Rogers) and legendary golfer Arnold Palmer. On top of that, the banana split was also invented in Latrobe.
2. She Has Been Singing Since She Was Very Year
Even though Victory is just nine, she has already been singing for well over half of her life. She started singing when was two years old. Although it's not uncommon for little kids to sing, it quickly became clear that Victory was working with some very special talent.
3. She Was Adopted
Victory comes from a very large family and she has 10 siblings. She was adopted by her parents and so were eight of her siblings. She often uses the hashtag #adoptionrocks when posting on her Instagram account. It's unclear if Victory has — or has ever had — any contact with her birth family.
4. She Sings In Seven Languages
Being able to sing as well as Victory does in just one language is amazing, but what's even more incredible is the fact that she can sing in six other languages. Unfortunately, her website doesn't specifically list all of the other languages she can sing in, but we know that she also sings in German and Korean.
5. America's Got Talent Isn't Her First TV Appearance
America's Got Talent is one of the most popular talent shows on TV, but it's not the first big production Victory has been a part of. She also appeared on the TV show Little Big Shots which showcases young people who have a variety of talents. Even if she doesn't end up winning this season of AGT, I think it's safe to say that this won't be the last time we see her on our screens.
6. She Has a Very Supportive Family
There are some parents who wouldn't even dream of letting their child focus most of their time on activities outside of school, but luckily that isn't the case for Victory. Her parents strongly support her dreams of being a performer and they have been with her every step of the way. Victory's mom even went with her to perform on AGT.
7. She Loves Spending Time Outdoors
Thanks to her amazing singing voice, there are a lot of things about Victory's childhood that have been different from other kids her age. Underneath it all, though, she is just a regular nine-year-old who loves to do things like arts and crafts, hang out with friends, and go outside. She also enjoys picking raspberries.
8. She Has Performed At NBA Games
TV shows aren't the only cool opportunities Victory has gotten. She has been invited to single the national anthem at several professional basketball games. She has also performed the national anthem at games for the Pittsburgh Pirates at PNC Stadium.
9. She Has A YouTube Channel
If you really loved Victory's performance on America's Got Talent, the good news is that you won't have to wait for another episode of the show to see her do her thing again. She has a YouTube channel where she's posted several videos of her singing. Her YouTube channel has viewer than 1,000 subscribers, but she's already gotten more than 20,000 total views.
10. She Comes From A Religious Family
A strong sense of faith is something that has always been instilled in Victory. Her father, Eric, is a minister at Impact of Life Church. Going to church is an important part of the family's culture and Victory has made it very clear that she feels blessed to be able to have all the opportunities she's gotten.
Tell us what's wrong with this post? How could we improve it? :)
Let us improve this post!