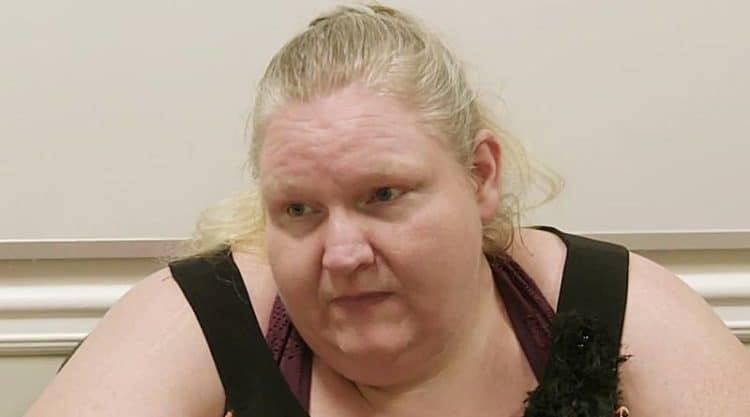 Vannessa Cross never dreamed that she would become a reality TV star. However, over the course of the last year, Vannessa has found herself in the spotlight thanks to TLC. She made her first TV appearance in 2021 when she was cast in a TV series called Too Large which documented people who were hoping to get approved for weight loss surgery. During her time on the show, Vannessa and her best friend, Meghan, became so well-liked by fans that they were brought back for a new series called 1,000-Lb Best Friends. The series follows Vannessa, Meghan, and two other friends as they attempt to improve their quality of life by building healthier habits. Keep reading to learn 10 things you didn't know about Vannessa Cross.
1. She's Struggled With Her Weight Since Childhood
Vannessa's struggle with weight started at a very early age and it eventually began to spiral to the point where she could no longer control it. Although her weight has fluctuated over the years, she has never been able to drop a significant amount of weight and keep it off. However, she doesn't plan on letting the past define what she's capable of doing in the future.
2. Her Husband Passed Away
Vannessa has had to deal with more than her fair share of hardship and tragedy over the years. However, nothing has been more painful than dealing with the death of her husband who passed away in 2016. According to TV Show Ace, Vannessa said, "…losing my husband was the worst thing of my life because I never knew that kind of pain existed."
3. She's A Proud Mom
If there's one thing Vannessa doesn't play about, it's her children. She is a devoted mother to her two sons and she always does everything in her power to make sure they are taken care of. They are both also a big part of the reason why Vannessa is trying to improve her health.
4. She Doesn't Have A Large Social Media Following
One of the best things about starring in a reality show is that it almost always results in an increased social media following. Unfortunately, however, that isn't something Vannessa has gotten to experience yet. She currently has just over 1,600 followers on Instagram. However, as 1000-Lb. Best Friends continues to get more popular, there's a good chance her social media following will increase.
5. She's Dealt With Some Mental Health Issues
Vannessa's physical health isn't the only thing she has had challenges with over the years. She has also had struggles with her mental health. Vannessa's long-term food addiction hasn't only made it more difficult for her to lose weight, but it has been part of the reason she's experienced depression.
6. She Is Nervous About Getting Weight Loss Surgery
Despite the fact that Vannessa has gotten to a point in her life where she knows she wants to lose weight, she was still hesitant about undergoing weight loss surgery. Like many people, Vannessa felt that going under the knife could be a riskier decision than foregoing the procedure altogether. However, she eventually realized that not getting the surgery would likely be more detrimental to her health.
7. She's Found Creative Ways to Make Money
As mentioned earlier, things in Vannessa's life haven't always been easy and that's primarily because of the financial stress she's experienced throughout her life. In order to feed her family, Vannessa has had to get pretty creative when it comes to making money. In order to make ends meet, Vannessa and her children often take old appliances and other items to the local junkyard to sell the scrap metal.
8. She Likes to Stay Positive
Despite all of the things that she's had to deal with in life, Vannessa has always done her best to maintain a positive attitude. Having this kind of mindset has been instrumental in getting her through difficult times. It's also a big reason why so many fans have fallen in love with her.
9. She Hasn't Done Many Interviews
Oftentimes, being involved in the entertainment industry means having to through lots of interviews. That hasn't been the case for Vannessa just yet, though. At this point in her reality TV journey, Vannessa hasn't shared much about her personal life or done a lot of interviews. However, this is likely to change with the more time she spends in the spotlight.
10. She Hopes to Inspire Others
It goes without saying that Vannessa's quest to get healthy is all about achieving the goals she's set for herself. However, she isn't the only person on her mind when she thinks about reaching her target weight. Vannessa hopes that her story can also be an inspiration to others who are looking to lose weight.