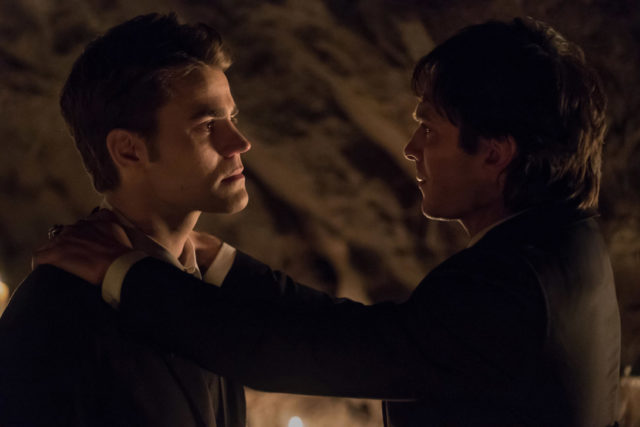 The Vampire Diaries is finally saying goodbye on March 10th with an epic season finale that is sure to leave viewers in tears. In its eight year run, the show has captivated audiences through a rollercoaster of emotions, tragedy, surprises, love, and loss. While we're not 100% sure of the plot, some cast members are of the belief that Damon and Stefon should die. In addition, some cast members were amazingly impressed at how the writers were able to fill up any loose holes and have the whole series end in just an hour.
"I read the script on the plane and it's just a culmination of so many emotions. OK, this is the last script I'm ever going to read for this show," Paul Wesley told reporters at a recent press screening. "So I got a bit teary-eyed. I'm kind of a cold-hearted bastard, so I took a selfie with just a little bit of red eyes and I sent it to Julie and Kevin. I was like, 'Good work, guys! Good work!'"
"I didn't realize how affected I'd be," Michael Malarkey explained. "I'm all business when I get to work. I care deeply about what I do. I just wanted to treat it like every other day. Just smash it and finish and give Julie a hug." And so the last scene I'm doing, I think there's another take so I'm kind of pacing around, doing my thing. And then I hear this voice, Julie coming in the doorway, saying, 'Michael, it's time,'" recalled Malarkey, who responded by thinking, "Not ready for this."
To say the least it's been an emotional ride which you can get more info on in the below video:
Tell us what's wrong with this post? How could we improve it? :)
Let us improve this post!