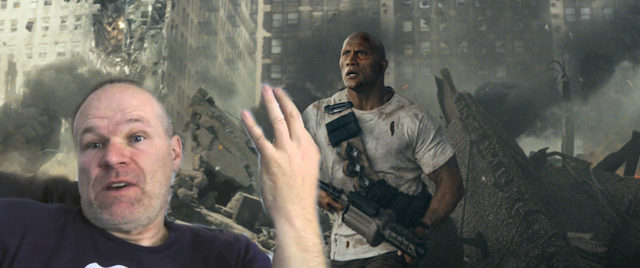 Uwe Boll's attack on Dwayne Johnson's Rampage film is kind of ridiculous to put it kindly. His rant is that the title of the film, which is the same as the trilogy that he created with the same name, is stealing from his idea and creating something that's meant for the big screen and mainstream media, where all the money seems to go. Another gripe is that the independent film scene is dead, that it's being slowly abolished in favor of the mainstream garbage that so many people want to pay and see instead of watching an original idea from someone that might have a sense of vision.
Okay….taking a breath…..but Uwe Boll needs to take a step back and recognize a couple of things to start with.
One, he should have stopped his Rampage story after the first movie, as it was the best and the only one that really showed something different that people hadn't seen before, or at least in a long while. I mean come on, it was about a guy that ordered his armor piece by piece through the mail and then assembled it before going on a killing spree that didn't end until it was apparent that he'd gotten what he wanted. He killed people, he stole money, he walked into a bingo parlor and no one even said 'boo' to him. That was an amazing film, but after the first one it should have ended since too much of it was bound to be ignored by all save those that were anxious to dump money into the next two films. Wait, you mean Uwe Boll got paid for those? Hmm, hypocrisy is an ugly color sometimes.
Two, the Rampage film with Dwayne Johnson has NOTHING to do with Uwe Boll's. Johnson is SAVING people, not KILLING them. And more to the point he's going after his friend George who was turned into a literal giant along with two other animals that are now wrecking the city of Chicago. Oh yes, and this Rampage is based on a video game that was popular back in the day, long before Boll came up with the fever dream that turned into his movie, which one again was quite good until it spawned two sequels that were less than complimentary. This is what happens it would seem when someone sees an in towards attempting to gain more money at the expense of another person. Boll could have seen that his movies weren't making nearly what he wanted and decided that since the movie Rampage was the same title that he'd go off on a tangent and declare that it was 'stealing' from him. Maybe the guy hasn't watched the trailer yet, but big scary monsters tearing apart the city is a little different than a troubled young man constructing a set of body armor and then terrorizing a town.
There are a number of jokes and memes that could come as a result of this little snafu, and I do mean little, but right now it's enough to say that Boll is kind of off his rocker.