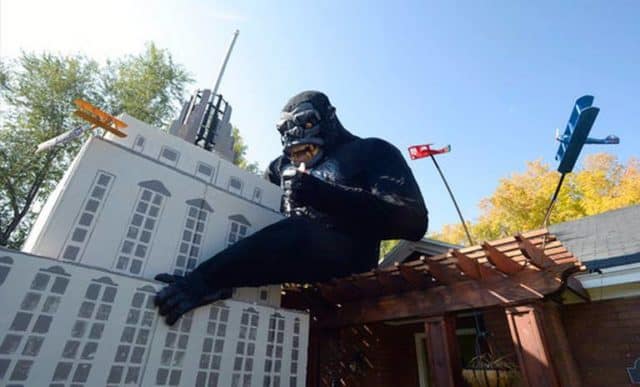 The Giant Terror Gorilla has taken over Ammon Smith's house for Halloween. King Kong in all his beastly glory is poised to whack those bi-planes out of the air, while keeping a great grip on the Empire State Building and Fay Wray. The Giant Terror Gorilla, Merian C. Cooper's original conception of Kong, aptly describes the latest version of Ammon's gigantic gorilla. Ammon's Kong is all set to greet this year's trick-or-treaters, and Ammon has stocked up on extra candy, too.
It's the perfect year for it. The original King Kong was opened on March 2, 1933 in New York City. Eighty four years later, and just days apart, the newest telling of the tale of the gigantic ape has already reached the movie screen. The new reboot named Kong: Skull Island was just released on March 10, 2017.
Ammon's Kong is made from a wooden box he tacked together in his driveway, thin wood strips, and chicken wire. Ammon made Kong's fingers using pool noodles, and he added a black trash bag for his chest and about $130 of black fabric for fur. Ammon enjoys recycling and upcycling materials, so his splendid creations will often use items which will appear in future incarnations of his extreme decorating displays. He's planning to use the free Styrofoam which became the Empire State Building as insulation for his garage come November. The most difficult work he completed was hoisting Kong into place. That's a task he's now experienced as did the film crew of the original movie.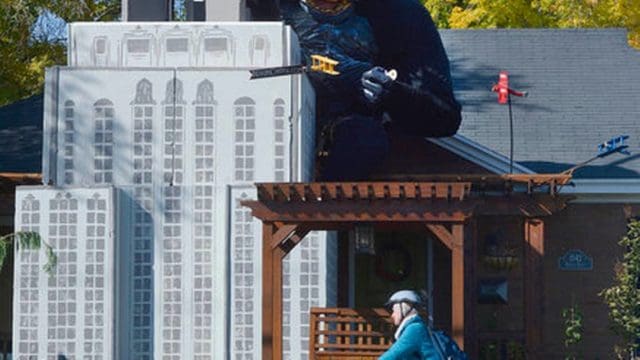 The original film required four jointed models of Kong. The 18-inch stop-motion model made with a metal skeleton, musculature made from a mixture of foam and rubber, and dark rabbit fur to make Kong's hairy coat was the one used in the scene where Kong plummets down the Empire State Building. Willis O'Brien is the stop-motion genius credited for his dedication in making Kong come to life. There was also a giant bust of Kong's head and upper torso made with 10-inch fangs and 12-inch diameter eyeballs. This model was moved on a flatcar from set to set. Kong's hand was made in two versions. One was used for the cave scene and mounted on a crane controlled by grips. The other had articulated fingers and was mounted on a lever. It was used to grasp Ann. A huge leg was crane-mounted, and used to stomp the beast's victims.
King Kong, was unlike anything seen in cinema before. Merian C. Cooper, who created the 1933 version of King Kong along with Edgar Wallace, was fascinated with gorillas from a young age. His uncle had given him a book about Paul Du Chaillu's explorations in Africa. He was a famous anthropologist and zoologist who first confirmed the gorillas existed. Cooper was enthralled with one story about an extraordinarily large gorilla which was described by natives as a hellish creature which was part human and part beast. This gorilla was an invincible force is the forest; the stuff of nightmares. Cooper wanted to create a film about this creature, with the gigantic gorilla facing off against civilization. His monster gorilla did such a fabulous job at terrifying movie-goers that Kong has become one of the most successful and famous of movie icons.
Though Ammon hasn't seen the 1933 version of Kong, he's captured the essential nature of the famous beast, and is looking forward to a lot of visitors for Halloween. According to Ammon, Halloween is "the best holiday on the planet", and once he got started a few years ago at his wife's request, he developed a passion for it. The neighbors enjoy watching him building his creations in his driveway. They leave notes of appreciation, too. When the frightful night arrives, Kong will be there for the neighbors and visitors in all his gorilla glory. It's going to be great!