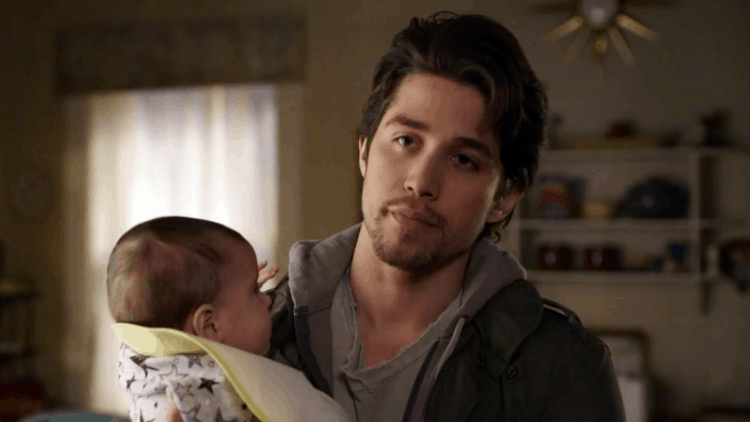 When "Party of Five" premiered on January 8, 2020, fans got to see the familiar face of Brandon Larracuente, who in this series stars as Emilio Acosta. At only eight years old, the actor made his debut in the theatre through a show titled "Desire." Since then, he has been on an upward trajectory after his most popular role as Jeff in "13 Reasons Why." Here is your chance to learn everything about Brandon from both a professional and personal viewpoint.
1. He auditioned for three characters on "13 Reasons Why."
When Brandon went to audition for a role in "13 Reasons Why," he was trying to book the Justin Foley character. The casting directors later wanted him to audition for Zach Dempsey, but they saw a lot of potential in him. Consequently, Brandon was called back to audition for a character that he had never heard of: Jeff. As luck would have it, he booked the role of Jeff and grew him from the ground up.
2. He was bullied in high school
It is hard to believe the Jeff we watch in the series was once a teenager who could barely have friends. In high school, Brandon was picked on, and as an introvert, speaking up for himself was not something he could do; therefore, the only person the actor felt he could trust was his father. The relationship with his father then is what informed his decision to grow Jeff as a person who could be the mouthpiece for those who had no voice. Just like Jeff does for Clay, Brandon's father helped Brandon through some of his most difficult times in high school.
3. His focus on getting the character right
When producers create a character, they usually give an actor the reigns to take him in whatever direction. That is what Brandon did with his Jeff character, who was not in the books. Since he wants to be the best, Brandon invested his time in the gym, working six days per week and turning down any chance for parties that any young man would want to attend.
4. His father encouraged him to work out
Currently, looking at Brandon, you can tell from his physique that he is a regular gym-goer. However, it was not always the case; although his characters have encouraged him to be more active, there is a time the actor did not mind sitting in his room staying glued to his PlayStation. His father, however, wanted him to stay fit, thus pushed him to prioritize fitness. Brandon started to work out more the minute he saw the results of his efforts. Nowadays, Brandon skips rope to keep his heart racing and mixes it up with cardio exercises, according to Muscle & Fitness.
5. His favorite meal
You would think that perhaps a bag of French fries and KFC chicken would be his go-to meal, but the actor said that his father taught him discipline from an early age. Therefore since he has to stay fit, Brandon must always check on what he eats, especially when on the road. That does not mean he will not dig into a pizza, given a chance. However, if you are looking to spoil him with a meal, then an octopus would do because eating one feels like a holy experience; he confessed that he might have seen God when taking a well-flavored octopus.
6. He is keen on spreading kindness
One famous saying is that you do not have to be rich, beautiful, perfect, or brilliant to make a difference in anyone's life; all you have to do instead is care. Brandon has made it his life's mission always to make an impact on whoever reached out to him. While other celebrities will use their social media to flaunt their lavish lifestyles, Brandon uses the platform to let fans know that they are not alone in their struggles. According to TeenVogue, the actor said that everyone is fighting their own demons, and it costs nothing to be kind.
7. He hopes to one day adopt a child
You never know what you have until you realize that grass is not greener on the side. When Brandon watched "First They Killed My Father," he immediately was drawn to Angelina Jolie, who became his role model. The actor saw first-hand the situation in Cambodia and realized that he could make a difference in one child's life through adoption. Brandon recognized that in America, people have it easy, and in the future, he hopes to take up one child who has not been privileged with the American lifestyle.
8. He never met with Maddie McCormick before filming of "Versus."
Chemistry can be faked, but one thing you can tell from "Versus' is that Brandon and Maddie have chemistry. The strange thing is that while some characters usually have to meet beforehand to see if they get along, Brandon and Maddie did not. They are supposed to meet before filming started, but Brandon was busy with another project. Nevertheless, when they met, the two actors hit it off immediately, and Brandon could not ask for a better castmate as he tells Pop Culturalist.
9. He was torn between sports and acting
Right now, fans have come to love Brandon, especially for his role as Jeff little do they know they would have missed the talented actor had he chosen another career path. While in high school, Brandon played football and baseball; he was so good at both sports that he thought about taking it professionally. However, he still held a passion for acting, and while his peers chose to be sportsmen, Brandon decided to take the acting route. He was mocked for his choice, but he does not regret it.
10. Both of his parents were law enforcement officers
Brandon admitted that his parents have always helped him gather the courage to move on whenever he was about to give up. Perhaps the mother and father tap their strength from their training in the police academy; as it turns out, his mother was a police officer while his father, Israel, was a homicide detective. Israel Larracuente's experience as a homicide detective came in handy for "Bloodline" since Chandler used the advice of Brandon's father to portray the best on-screen officer.