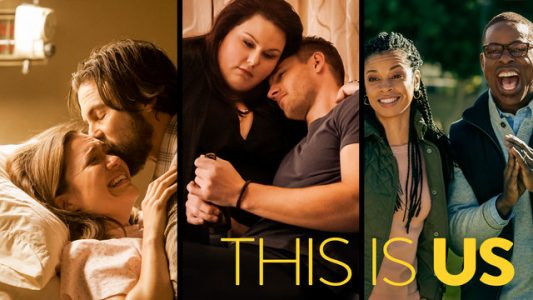 Back in May, NBC debuted a trailer that certifiably broke the internet (good job guys!). Now "This Is Us" has premiered and has given us a calendar-marked day to cry non-stop, a void left by "Parenthood."
The pilot opens with Jack (Milo Ventimiglia) in his birthday suit, and his very pregnant wife, Rebecca (Mandy Moore) armed with a cupcake, and attempting to perform a strip-tease. This is their ritual to celebrate Jack's 36th year on planet Earth. Also, this is the cutest couple that we've seen on TV in a long time.
Baby-interruptus: Rebecca's water breaks, which shifts the mood completely. Moore's character is pregnant with triplets and the position of the babies deems the delivery high-risk. To make matters worse, their doctor had to undergo an appendectomy. This is BAD. However, Dr. K (Gerald McRaney) assures the soon-to-be parents that if there is a doctor who can deliver their babies, this is him. At this point, everyone who had seen the trailer knows that only two out of the three babies make it, which works well because Dr. K is such a likely character that we can't put any blame on him. Somehow, we trust the man.
Knowing that Jack and Rebecca will have to face the loss of a child, however, does not prepare audiences to survive (tearless) the scene in which Dr. K breaks the bad news to Jack. In one of the most compelling scenes of the hour, the Doc. tells a devastated Jack (Ventimiglia shines here) that he and his wife lost their first-born and that he carried the pain of that event all his life, yet the feeling was a driving force to help deliver babies into the world. He hopes that Jack will find a way to take the sourest of lemons that life threw at him and make lemonade out of it.
Cut to Kevin (Justin Hartley) and Kate (Chrissy Metz), twins celebrating their 36th anniversary. Unlike Jack, who was thrilled about his Birhtday, the siblings are depressed about the state their lives are at. Kate is letting her weight define her, while Kevin, the star of a cheesy multi-cam sitcom, feels like a piece of meat. Sadly, for many of us, here is where the spell breaks a little. Having prior knowledge of Jack and Rebecca having twins instead of triplets and then meeting Kevin and Kate makes the writing on the wall a little obvious. Yes, these are THE twins. It doesn't really take any accomplishment away from the show, but perhaps it robs it of a fraction of shock factor.
Moving on, while Kevin has a meltdown while taping his live show "The Manny", Kate attends to support group for overweight people. This is where she meets Toby (Chris Sullivan), who is quick to make conversation with her and ultimately asks her out. Both their first interaction and their date (that crush on Sally Field!) are what every single person in the world hopes for. This is our new favorite ship.
After the date, Toby walks Kate home (take notes, boys!) and that is when brother-interruptus takes place. Turns out that Kevin is at Kate's place, looking for his sister's support after destroying his career. After the twins have a heart to heart that melted ours, Kate and Toby finally kiss and everything's great in the world.
Last but not least, there is Randall (Sterling K. Brown), a successful man, who is ALSO turning 36. We obviously know that somehow he has to be connected to the Jack, Kate and the twins, but he is perhaps, the hardest piece to fit into the puzzle. However, alarms go off when we discover that he has found his bio dad, a former addict who abandoned him at a fire station the day he was born, which we know, is the same day the twins were born. At that point, sadly, the twist was ruined for me, however, Randall's storyline is compelling to the bone.
Randall shows up at his biological father's house and tells William (Ron Cephas Jones) that he's had a wonderful life, great parents, and success. In other words he utters: "this is me, this is who I've become, this is what I have, WITHOUT you.". William, powerless, simply asks him if he'd like to come inside. This was, without a doubt, my favorite scene. An abandoned father who cannot explain his action and instead opens the door cuts possibly deeper that any cheesy line of forgiveness.
Later, William explains that he has little recollection of leaving his newborn at a fire station, which disarms Randall. Instead of asking question, the birthday man invites his long-lost father to meet his family. And just when we thought these two could recover some of their lost time, "This Is Us" hits us again: William is sick and has a few months to live. Randall and his wife Beth (Susan Kelechi Watson) who are both in shock regarding pretty much everything that transpired that day, take William in.
The show closes with what was intended to be the big twist: Jack meeting his babies for the first time. As he watches the twins behind a glass he interacts with the firefighter who found baby Randall. Cut to: baby Kate, baby Kevin and baby Randall in identical onesies being stared with adoration by Jack and Rebecca. The camera pans out and unveils that the couple who made lemonade out of the sourest lemon, are living in the 70's. Again, this was previously spoiled by many on-set pictures of Mandy Moore and Milo Ventimiglia that circulated the internet for months, however, shock factor does not trump heart, and "This Is Us" is all about heart.
All in all, the pilot is solid. It delivers the promise that the trailer prompted, times 3 (pun intended). Right off the bat, these are characters we care about, our tears are vindicated. That said, the cast is nothing short of a dream. If there is a show that has shown potential to make America fall in love, THIS IS IT.
Tell us what's wrong with this post? How could we improve it? :)
Let us improve this post!