During the hot s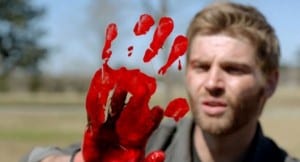 ummer months, TV viewers are not treated to much original programming, and the summer shows that audiences do receive mostly air on cable channels, such as FX, AMC, HBO, and Showtime. However, this summer, the cable is not alone in offering original scripted series. CBS premiered its new "summer event" series, Under the Dome, based on the book by Stephen King, tonight, and the network hopes to lure in avid TV watchers who enjoy both mystery and sci-fi.
For the most part, the first episode of Under the Dome succeeds in providing interesting and entertaining summer television. The premise (an entire town becomes trapped inside of a giant force-field dome and no one knows why) is intriguing, and most of the characters, aside from a couple really boring or annoying ones (I'm looking at you Joe and Junior), have a lot promise for future episodes. For example, I am really interested in watching more stories about Angie and "Big Jim," and I also really want to know why the hell "Barbie," who does truly seem like a decent guy, was burying the dead body of Julia's husband at the beginning of the episode.
The other thing that Under the Dome has going in its favor is its cast. The show's ensemble feature solid actors from shows that I have or still really do enjoy: Jeff Fahey from Lost as Sheriff Duke, Mike Vogel from Pan Am as "Barbie," Britt Robertson from Life Unexpected and The Secret Circle as Angie, and Dean Norris from Breaking Bad as "Big Jim." For me, watching these four performers is enough to keep me interested in Under the Dome for at least a few weeks (even though it looks like Fahey's Duke may not be around for too much longer, judging by the end of this episode), especially since I'm more intrigued by the way these characters will continue to react to being trapped inside the dome rather than the cause of the force-field itself.
All in all, Under the Dome has enough strengths to outweigh its minor weaknesses (some of the performers like Colin Ford as Joe and, especially, Alexander Koch as Junior, cannot make their characters believable. While this is probably more due to the writing than to the actors themselves, Ford and Koch's performances are not doing Under the Dome any favors). As far as summer TV goes, Under the Dome may not be a Breaking Bad or even a Hell on Wheels, but in a world where barely any of the networks bother with original programming during the summer anymore, it's definitely a better option than another season of Big Brother.
Other thoughts:
– Under the Dome is definitely using its 10 o'clock time slot to amp up the violence. In this first episode alone, we have a cow split in half, a plane crash (where body parts come falling to the ground), and citizens losing their limbs.
– Colin Ford (who plays Angie's brother, Joe) used to play the younger version of Sam Winchester on Supernatural. I liked his acting a lot better on that.
– So what's the deal with Joe and Norrie seizing out and mutter about "falling stars"? It's gotta be aliens or some kind of apocalypse, right?
– Really curious to see if "Big Jim" will be the villain of Under the Dome, or if he will stay more in the "morally gray" politician area. Either way, Dean Norris is a boss.
– Cannot complain about how we were introduced to Britt Robertson's Angie in this episode. I've had a crush on her since Life Unexpected, and it only increased with The Secret Circle.
What did everyone else think about Under the Dome?
Tell us what's wrong with this post? How could we improve it? :)
Let us improve this post!