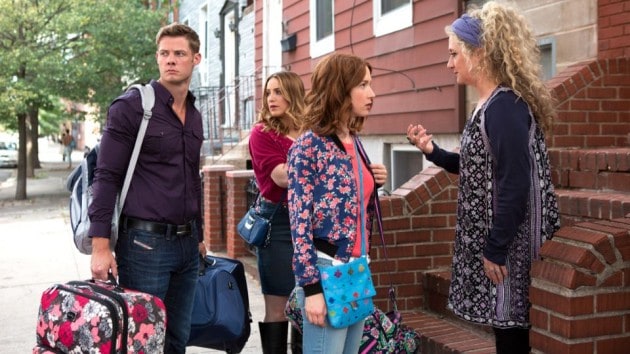 One of the highlights of Unbreakable Kimmy Schmidt is that the character is not only resilient (as the title of the show indicates), but also that she is a person that looks at the bright side of things, while never giving up. Even if it's in a fictional universe, Kimmy has not thrown in the towel and is pretty decently adjusted considering her 15 years underground, having achieved greater and faster success than a lot of people. Above it all, she seems happy, and that is where the heart of the show is at.
When Cyndee Pokorny, one of the other mole women, visits Kimmy in NYC, she proves that the show's protagonist's fears were misconstrued. Instead of being a fragile flower that needed babying, Cyndee seems to be leading a nice life. She has a boyfriend, a job, even a tattoo. This all makes Kimmy gain some perspective about her own life after the bunker. Aside from that fact, there is a problem: Cyndee's idyllic presence is solely due to the fact that she is a mole woman and the pity people have for her. That said, her beau, Brandon, is gay, which prompts some of the bests lines of the episode.
Kimmy tries to open her friend's eyes, only to find out that as clueless as Cyndee appears to be, she knows about Brandon's preferences. It is her own prerogative to get everything she ever wanted, even if how genuine all that is can be questioned. The bottom line is that Ms. Pokorny is happy. This is her way to cope and move on from the 15 years she lost while living in the bunker. And she cannot be judged for that. After all, is she hurting anyone?
In the episode's B-plot, Charles and Kimmy become pantry kissing buddies, which, albeit fast, works and supports the main plot well. That said, the misunderstanding between Kimmy and Charles is priceless. I didn't fully buy into it, mostly given the headphones and his use of "dude" (call it knowledge from having been butt-dialed on far too many occasions), but I smelled the narrative ploy. On the other hand, one thing I did not see coming is Charles basically heading for the hills when Kimmy and him realize that the call, the way she remembers, never took place. I felt he was too hot and cold.
On Titus's front, we get a little, tiny glimpse of his backstory, as it is revealed that Kimmy's roomie has a wife in Mississippi. Sadly, besides that and the fact that he is trying his best not to have a full-on meltdown by admitting he is aging, we don't get much of him. Just bits and pieces with funny elements, like the priceless seduction trap set for Brandon.
The episode of Unbreakable Kimmy Schmidt, though meaty and powerful, was probably my least favorite so far. This is the first installment where the arcs didn't intersect as neatly as in the ones before, and the lack of Jacqueline also does take away from the show's dynamic.
Highlights:
– Kimmy and the construction worker in the opening scene. I am still laughing about the exchange. Brilliantly written.
– Kimmy's efforts to speak Spanish are the most endearing thing ever. Genial!
[Photo via Netflix]