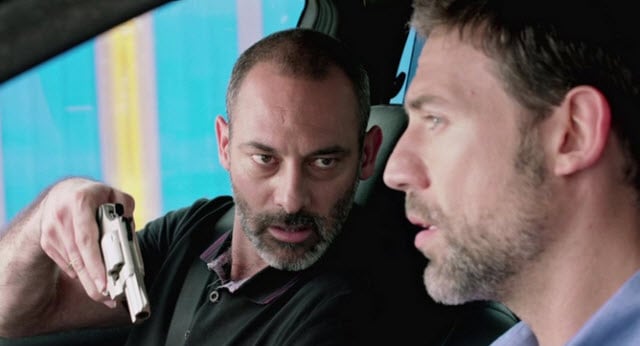 In the penultimate episode of FX's freshman drama, Tyrant set itself up for a finale that will either make or break the entire series. Barry showed the Walter White inside of him has grown, and if he reaches full-fledged villain, who knows what could happen. But of course, next week's finale must impress.
We all know by now that Barry has staged a coo against his brother, whom he believes is unfit to lead the country. Barry has proved throughout this that he has an excellent poker face, and he lies seamlessly even to his family. Ironically, he's never lied to his wife and she is the only one who doesn't believe a word he says. Barry appears now to have come down with "Dark Knight" syndrome, by which I mean that he has now outlived his hero status and is currently watching himself become the villain. You can see (much like Walter White) that he has good intentions behind his actions, but the longer he remains in Abbudin, the darker he becomes. I'm excited to see how the character has turned out, and can't wait to see what he does in the finale. Adam Rayner has done a great job in the lead role, and he gets better every time out.
This is the first week that Ashraf Barhom (Jamal) didn't steal the show from his TV big bro. Granted, we haven't gone an episode yet without something crazy Jamal does, and he didn't disappoint, but they've almost role reversed at this point in the game. Jamal, while still carrying a mean streak, trusts his brother and does everything in his power to be loved by his family and his people. While Barry is probably correct in thinking that Jamal is unfit to lead, this episode truly made me feel sorry for Jamal. They did such an excellent job showing the new side of Barry that we could see Jamal (who is still clearly a psychopath) as the victim. Brilliant.
Barry's family was ultimately more tolerable in this episode, and the one scene between Barry and Tariq in the prison cell was just fantastic. Tariq is clearly the only one who knows what Barry is doing, but his "shoot first, ask questions later" mentality has been secretly draining his credibility all this time for this moment. I also really enjoyed the scene between Barry and Leila, but I hope the tension between them continues to mount, as they have one of the more compelling relationships on the show.
Next week's finale promises of flashbacks, blood and betrayal. Like I said previously, how the first season turns out will dictate how the series is viewed. It will make or break the season/series, and a renewal could be entirely dependent on what people (I) think about it. Just kidding, but seriously.
I hope that Tyrant delivers next week, because if it delivers, I will want a second season. I like to want that, but I can't make myself want it if the finale falls flat. The chips are all in place, and Tyrant is so close to having an excellent freshman run.
What did you think? Let us know!
[Photo via FX]
Tell us what's wrong with this post? How could we improve it? :)
Let us improve this post!