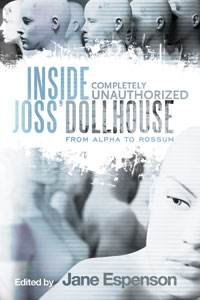 When Joss Whedon's Dollhouse premiered, as a fan of his work and a fan of Eliza Dushku, I said, "Oh, this should be great!" After watching it, however, I became one of those people who tuned out. When everyone said that the second season was so much better, however, I wondered what I was missing.
The hugely popular Smart Pop book line has helped shed a light on the series with its new edition Inside Joss' Dollhouse, a collection of essays on the controversial show edited by Whedon collaborator Jane Espenson (known to fans of Buffy, Angel, Firefly, Battlestar Galactica, Caprica and Warehouse 13…talk about a resume!). She uses a discerning eye in selecting essays that were culled from not the usual list of people with credentials, but all comers. As a result, Inside Joss' Dollhouse has a certain "regular people's perspective" feel to it that differentiates himself from other books in this vein; while I enjoy those books myself, I also enjoy this one for being different. I get a kick out of anything that shows that TV fans put a lot of intelligent thought into our viewing and aren't just mindless statistics.
That said, TV analysis, like art, is completely subjective. Show a dozen people the same scene, and there's bound to be a handful of different opinions. What some people call art, I call a big blur on a canvas. You'll either find these essays to be insightful, or reading way too deep into the series. I found them a way to help comprehend a show that I didn't understand. The collection opens with Kate Rennebohm's essay which discusses identity and its connection to the body in Dollhouse, a well-written and easily comprehended piece that made me see the show in a deeper way that I hadn't before. The following selection by Kristin Noone discusses the Karel Capek play that inspired the name of the Rossum Corporation. Unless you're up on 1920's Czech playwrights or did some homework, that's something that will be new territory even for Dollhouse fans. Those two essays are just the beginning.
The goal of a book like this is to enrich the experience of a TV series and/or to make it intriguing to those with a curiosity toward it, and Inside Joss' Dollhouse succeeds on both levels. Fans of the series will learn some things about it that they might not know, and find new ways of looking at its content. If you're like me and tuned out from Dollhouse feeling like it fell flat, this book will elucidate the series for you and at least give you food for thought. Perhaps the greatest compliment I can give it is that it made me interested in going back and watching Dollhouse in its entirety. I feel as if now I can better understand what everyone else was raving about.
Inside Joss' Dollhouse is available now in stores. You can also order it at a discount directly from Benbella Books (the publisher of the Smart Pop line) by clicking on the book cover above. If that's not enough Dollhouse for you, stay tuned for my review of the Season 2 home release later this week.
You can also enter our contest to win a free copy of this book.
Tell us what's wrong with this post? How could we improve it? :)
Let us improve this post!