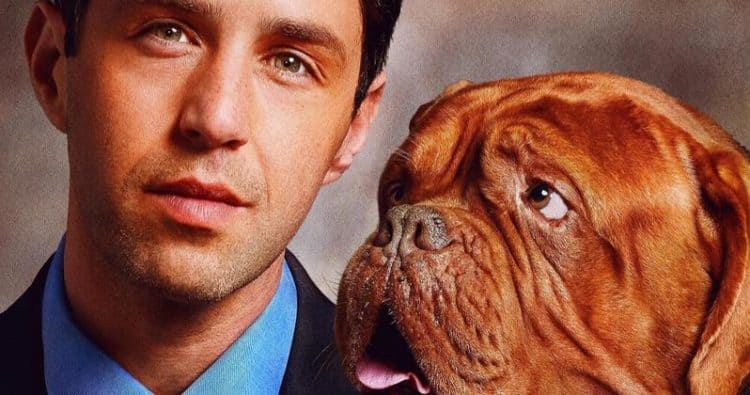 The next version of Turner & Hooch appears set to start on a rather sad note since the original character played by Tom Hanks will have already passed away due to a cause that Disney+ isn't giving out yet, and has effectively given his son Scott Turner Jr. the same type of dog that basically turned his life upside down but also gave it meaning. So far the trailer makes it look as though the successful main character doesn't want a dog, doesn't feel he needs a dog and is bound to see his life suffer because of the dog and his inability to cope with the rascally canine. And yet, each time that Hooch, who is a rescue dog willed to Scott by his father, is around anyone else, he tends to behave when he's told to. A lot of us have probably had a dog like this and wondered why in the world the dog minds everyone else and not us, but this is taking things to an extreme that is bound to be hilarious since the original Turner & Hooch was a great family movie and a good reason why a lot of people might not have a dog to this day. To be fair one doesn't leave a dog in a car and expect them to sit there and do nothing for a long period of time, as dogs tend to get bored like humans.
But the funny thing is that dogs do have a personality all their own, and it is dependent upon how they've been treated. A dog that's been abused most of its life will no doubt snap and snarl at anyone who comes close or will be broken and obedient but also fearful much of the time. Dogs with owners that watch after them and take care of them tend to be happy and well-adjusted, especially if they're taken in for professional training and taught to be obedient but still their lovable, rascally selves when the moment's right. So far from the trailer, it would appear the French Mastiff in this show, Hooch will be much like the dog in the 80s movie since he'll be up to no good and causing as much trouble as he possibly can.
There are going to be those who will be against this show in principle simply because they happened to enjoy the original movie and don't want to see things get mucked up in any way, but at the moment it does look as though the series might actually be a worthy continuation of the movie. We'll have to wait and see if this is the case when the series is finally released, but that won't be too long from now. It's understandable that some folks might not want to see some of their favorite movies and shows continued in such a manner since the idea is that a story should be allowed to end somewhere, but as it's been seen in some cases, there have been shows and other movies that have done the original proud and are a boon instead of a bane. It's still too early to tell which this series might be, but things are looking up at the moment at least since it's not hard to think the show will be able to entertain those that know what's going on and interest those that don't.
There is one concern that stems from all these older ideas being brought back to the fore, and that's the idea that there are so many other stories out there that would fit the Mouse House in a big way, and other studios as well. One has to wonder when the old ideas are going to be put to rest, laugh a bit when realizing that might not happen, and new ideas might be given a chance. Some might want to argue that this is already happening, but the truth is that it's happening at a rate that might see 'new' ideas take nearly a decade or more to surface. In the meantime, older ideas are being streamlined now and then and at other times are being dragged out of development hell where they've been sitting for a while.
So long as the emergence of these continuations, spinoffs, reboots, and remakes can catch the attention of the fans and keep it there's really nothing other to do but let the show go on and enjoy what one can. Turner & Hooch has been a great story for a number of years and the hope is that we'll see it become just as popular this time around since it does look like something that might be worth the attention that fans can give it. To be fair it's bound to be the same type of story but with enough new material that it won't be exactly the same.
Tell us what's wrong with this post? How could we improve it? :)
Let us improve this post!