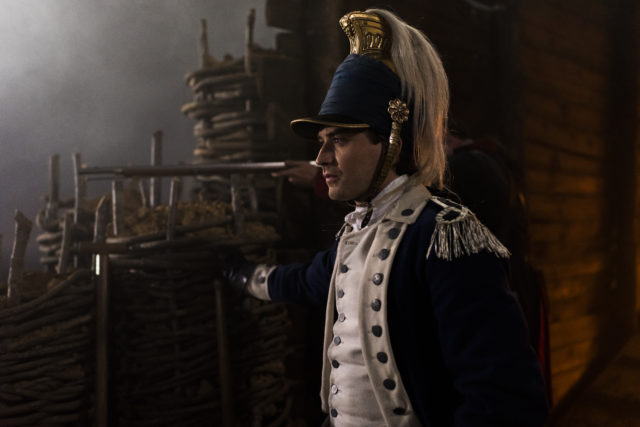 Fellow fans of TURN: Washington's Spies, we have reached a bittersweet time. It's bitter because the penultimate episode of this exciting revolutionary war series has come and gone. But, it's sweet because I can hardly remember a time when this show was more exciting, and we have one more new episode to look forward to. The end of a beloved series is always better, but it's been so good lately that it's still sweet.
This has always been a show about spies and intrigue rather than Revolutionary War battles. That said, some of the most exciting episodes have included a battle or two. As the war speeds toward its conclusion (spoiler alert: America wins), battles become more necessary, and though TURN has always been exciting, it has never been more so than the last few episodes.
Since most of us know how the war effort turned out for both sides, what makes this show exciting to watch is the sheer patriotism that it inspires. Winning the Revolutionary War is still celebrated to this day, but it's a totally different experience to watch things play out. "Reckoning" did nothing but get me fired up and proud of being an American. The cost of freedom should not be underestimated, of course, but framing Washington and company as the victors was inspiring to watch.
As penultimate episodes can sometimes do, "Reckoning" brought a lot of its main characters together into one place. Abraham was retrieved by the French, who met up with Caleb, and both returned to Washington's camp before using Abe's final bit of intelligence to defeat Cornwallis' army at Yorktown. At camp, the spy ring comprised of Ben, Caleb, Abe, and Anna were reunited. Abe was reunited with his wife and child, and all of this made for an even more inspiring, happy episode.
One of TURN's real strong points is not only its ability to inspire patriotism in modern day Americans, but also to foster sympathy for those characters who may be fighting for the British, but are still human beings with their own thoughts, feelings, and personal motivations. The strongest example in "Reckoning", of course, was Major Hewlett and Captain Simcoe. Hewlett had every intention of finishing Abe and Caleb's work on Simcoe, but when he heard Simcoe putting his men first, Hewlett showed him mercy. This may have been the first time in four seasons that Simcoe was sympathetic in the slightest, but Samuel Roukin handled this transformation masterfully. Of course it took this long to make Simcoe sympathetic, but it was well worth the wait.
Here are a few other thoughts:
This episode was everything I could have wanted from a penultimate installment, save for one thing: Benedict Arnold. His presence was diminished and it was noticeable.
I was glad to see the loose ends starting to tie up from Andre's story, and with Abigail and Jordan. At the very least, things seem like there won't be many loose threads. I would have liked to see more time dedicated to the war and not the one-off conflict between Abigail and Peggy, but it was still an interesting story.
Overall, this was one of the most exciting and action-packed episodes that TURN: Washington's Spies has ever done. Though we've reached the end of the series, an important story has been told and I'm so grateful to have journaled the entire thing right here at TVOvermind. I will see you all back next week with my thoughts on the finale.
TURN: Washington's Spies Season 4 Episode 9 Review: "Reckoning"
Summary
Abraham joins Washington's regiment as his final piece of intelligence is used on the penultimate episode of TURN: Washington's Spies