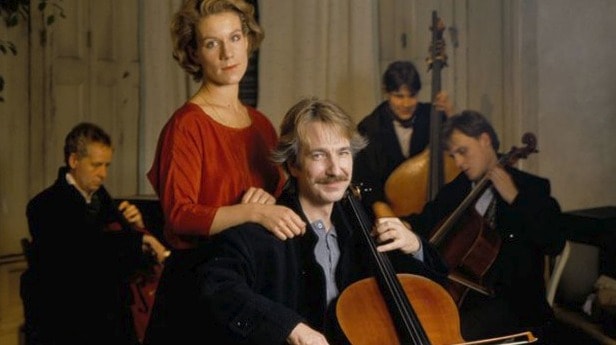 It's very true that you tend to remember things in the past a lot differently than how they really happened. In Truly Madly Deeply Nina is so heartbroken over the death of her boyfriend Jamie that she can't bear living without him and is despondent right up until Jamie reappears as a ghost, lifting her up and exciting her as she finds that she is happy just to have him back. Unfortunately he has come back with a lesson in mind as he begins to remind her that in life he wasn't always the perfect person she thought. He turns up the thermostat to uncomfortable levels, he moves furniture around, and invites other ghosts to come back to her apartment to watch videos. Nina becomes infuriated at this behavior and their relationship begins to decline. When she starts seeing a therapist that she becomes attracted to Nina finally starts realizing that life is to be lived, not to be spent pining over someone that she had forgotten irritated her to no end sometimes. By the time Jamie finally decides to move on the conceit has become clear, he came back to purposefully tarnish the idea of himself that Nina had built up in his absence. In this way he helped her to move on and to go on living her life without him.
If all you do is look at a single snapshot of the past you'll forget just what lies in front of you, waiting to be discovered.
10. Alan Rickman had help with the cello.
He had most of the movements down right but he still had to have someone else's hand helping out in certain shots since he hadn't mastered the cello. For the most part he held it right and made it look good when he was on screen, but anyone watching him probably could have told that he was having at least a little bit of difficulty. It's kind of hard to master an instrument for any role if you don't have that much experience in it.
9. The film was written specifically for Juliet Stevenson.
The movie was written to take advantage of her acting talent and to allow her to stretch her wings so to speak. She was given a lot of freedom on this movie and for the most part she did wonderfully since the movie was nominated for awards following its release and was thought to be one of the better productions that had been released that year.
8. Stevenson actually plays the piano in this film.
While Rickman needs a little help with the cello Stevenson did all of her own scenes with the piano. Either she had played before or was a quick learner since she didn't need a double to stand in and play for her.
7. The budget was only $650,000.
For something like this that's not too amazing since it was a little-known film and not widely publicized at the time. Something like this, especially being a moderate ghost story, would have caught a lot of attention had it been a bigger deal.
6. It took 28 days to shoot.
That's not exactly a record but it's still impressive. When you factor in how much the director and producers have to plan everything down to the wire and hope that both cast and crew are able to work efficiently and effectively it's a daunting task to get everything done on time.
5. It took in just a little over $1.5 million in the box office.
This isn't really a lot you might think and it's not, but the movie almost tripled what was put into it and that's always a favorable thing. There's no telling what the expectations were for it but what's obvious is that it managed to reach enough people that thought it was a film that was worth watching.
4. The film was deemed a success.
With the acting talents of Rickman and Stevenson put together and the idea that the movie carried this much meaning it wasn't too much of a surprise that it would be called successful. The only part that might have hurt it's success is that it didn't come out to a wider audience.
3. Rickman and Stevenson were nominated for Best Actor and Best Actress.
This is yet another mark for any film when the leads are both nominated for the top award that any actor could hope to receive in their lifetime. Unfortunately they didn't win but it was still a rush to be noticed and appreciated.
2. It was a made for TV film.
This could have killed the vibe since a lot of made for TV films don't exactly thrive in comparison to those that come out in the theater. But it could have benefited from being made for TV rather than being on the big screen where criticisms seem to be a lot more harsh.
1. The movie was shot on location in London and Bristol.
Thankfully there was no need to travel all that much, as it might have added to the budget.
Sometimes you've just got to let go.