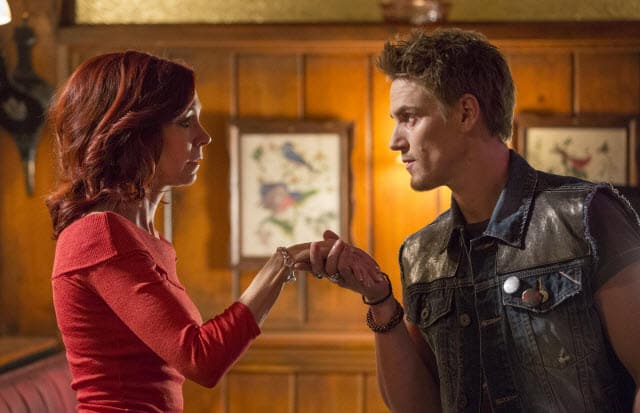 The countdown to the series finale of True Blood is on. Everything is still pretty much a mess in Bon Temps and beyond. The parade of familiar faces from the past continued on last night's episode, with the supernatural doctor and Sookie's fae grandfather making appearances as well Hoyt's return home.
Sookie won't allow herself to sit idly by as Bill's virus is rapidly advancing. She calls the only person they've yet to contact about Hep-V: Dr. Ludwig, the supernatural doctor who once healed Sookie so long ago in the second season. This little doctor's motto is that she's "scared of nothing and no one" but when she learns that Sookie is a descendant of Niall, Dr. Ludwig is out of there. It appears she's actually scared of him because there's a long history between the royal fae and dwarves.
Desperate for any help she can get, Sookie resorts to calling on her great-great grandfather Niall. He appears and reluctantly agrees to see what he can do for Bill but only because Sookie begged him. His magic can't heal Bill, but he may have helped Sookie forgive herself for infecting Bill. It seemed weird and like a waste of time to "channel nature's memory" but by Niall and Sookie witnessing Bill's wife Caroline giving birth to their firstborn, Niall was trying to make the point that miracles exist in the ordinary things.
Niall: "Wow."
Sookie: "Wow what?"
Niall: "You didn't think that was amazing?"
No, Sookie wouldn't think that childbirth is nature's miracle because she's got a one track mind and right now she's focused on saving Bill. I have to wonder though if it's possible that this mention of a baby could mean that maybe she's pregnant with Alcide's baby. That would be absolutely crazy but this is True Blood we're talking about and anything is possible.
More Bill flashbacks in this episode showed how he had an arranged marriage to his wife because his father was dying and wanted the families to merge so that Bill's mother wouldn't be left uncared for. Again, I'm waiting for these flashbacks to Bill's human life to be relevant to his present predicament. Unless the cure for his illness lies in his descendants (which are the Bellefleurs) then all they're accomplishing is filling in answers to questions we never would have thought to ask about Bill.
Violet's whole plot to seek revenge on Jessica for sleeping with Jason is another random storyline that could easily be solved with one stake to the right vampire's heart. Violet's lured Adilyn and Wade out to her house, giving them a whole day of free reign to all the adult toys in her bedroom. Once night falls and she's gotten her sleep, Violet's awake and ready to torture Adilyn because she knows of Jessica's connection with her. In the preview for next week, Violet is torturing Jessica. All we need now is Jason to show up and save the day.
Eric, Pam and Mr. Gus of the Yakonomo corporation are hot on the trail of Sarah Newlin even after Eric staked her sister in a blind fit of rage when he thought he she was Sarah. They did manage to learn from Amber that Sarah is the antidote to the virus, so they come to an agreement if and when they find Sarah. Eric will be an equal partner in the production of New Blood, a formula of the antidote that the Yakonomo scientists will create using Sarah's blood.
The chase after Sarah Newlin is being dragged out much longer than I thought it would last. Luckily, they're about to find her hiding out in the old Fellowship of the Sun headquarters. Sarah was being haunted by the ghosts of Steve Newlin and her latest lover who was killed by the Yakuza. The two ghosts are attempting to persuade Sarah to choose if she wants to die a Christian and end up in heaven or hell, or die a Buddhist and choose between the here and now or nothingness. This whole exchange was funny, but is it really necessary to waste so much precious time on an insignificant character?
Arlene and Sam should have had more screen time. Their conversation about Nicole's ultimatum was thought provoking for Sam. Arlene asked him to consider "if you left do you think it would make you feel like you're running from something, or to something?" Ultimately this all boils down to Sam's true feelings for Nicole. I doubt he's totally in love with her, but this is a chance to start fresh and most importantly, get out of Bon Temps alive. For that reason, I hope Sam does leave but only because it would mean he's safer. I don't think it's the best possible ending for him but I'd rather see him survive the series any way possible.
Another character who deserves a happy ending is Andy Bellefleur. When he and Holly go up to her ex-husband's lake house to look for Adilyn and Wade, Andy is literally brought to tears by then peace and quiet of the lake compared to the intense reality of Bon Temps. As weird as it sounds, I hope they end up living happily ever after in Holly's ex's lake house.
I mentioned that Hoyt came back home after his mother died. It's awkward for Jason to not even be recognized by his best friend but it's for the best. Hoyt's really done well for himself up in Alaska. He's even brought a new girlfriend back with him, which just makes Jason more awkward because he's probably attracted to her but he remembers how that worked out when Hoyt was dating Jessica. Hopefully Hoyt will only stick around long enough to get his mother's affairs in order and get back to Alaska unscathed. He definitely deserves to survive the series and doesn't need to be drawn back into the life or death drama.
These glimpses of possible happy endings for a few of my favorite characters actually made me realize that the show is slowly winding down. A few major characters' fates are still up in the air, but they'll surely be resolved at the last minute.
How do you think the series will end? Will Bill and/or Eric survive? Does Eric even know that Bill's sick, and even worse off than he is? Will Eric be willing and able to share some of the antidote with Bill in time?
Only 3 episodes left to get all these answers and more!
[Photo via HBO]