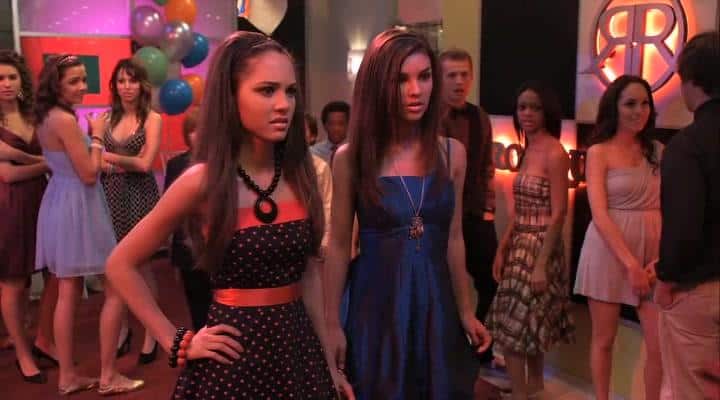 There are celebrities who are very open to the public about their personal lives, and others who are very guarded. Tristin Mays in her role in the new MacGyver has made the publicity promo rounds and has shown us what she wants us to see. So are there other things that aren't as obvious but we can find out if we read between the lines? Here are 10 things you didn't know about the up and coming star.
1. You aren't likely to find her out partying all night.
This is not saying she never does, but when asked which of two times — 2 p.m. or 2 a.m. — she preferred she said 2 p.m. without hesitation. The only thing she found being up at 2 a.m. for was reading unwanted text messages — which she doesn't read anyway. Plus, she said the first things she does when she wakes up in the morning is to look at her dog. Preferring puppies over cats shows that she is not of the nocturnal sort.
2. She has a penchant for simple, natural foods.
When asked what she orders when she goes into a bar, she said pineapple juice. This may or may not have something to do with her fave emoji being a pineapple, but just sayin'. She has searched for a recipe on tomato soup, so how simple can you get? Her preferred choice of tea is Chai tea. For those not familiar with the ingredients of Chai tea, it actually contains a fair amount of milk. You can't get much simpler than milk. And she doesn't like any toppings on her pizza.
https://www.instagram.com/p/Blf9RK9g8Rr/?hl=en&taken-by=tristinmays
3. Sam Waterston is one of her guilty pleasures.
Anyone who knows anything about the TV series Law & Order (the original) knows that without Sam it's just not the same. Now Waterston will turn 78 on November 15th, so she prefers to watch him on reruns of Law & Order citing it as her "TV guilty pleasure." It seems that many of us have this in common with Tristin.
4. Her favorite era of music is the 80s.
True to Millennial form, Tristin loves the upbeat music of the 80s. Not just select groups, but everything 80's. But it seems that choice didn't take immediately as her first CD purchase was a D12 CD (a.k.a. The Dirty Dozen, D-Twizzy, D-Twizzle, Detroit-Twelve). We would like to know who was responsible for changing her mind.
5. Her sense of humor and choice in comedy movies is unique.
She says that Napoleon Dynamite and Nacho Libre are two of her go-to movies when she needs a good laugh. We can understand the latter as it stars Jack Black, but Napoleon Dynamite? The old adage "to each (her) own" applies here, but this requires some follow up.
6. Her first online screen name was Krazyjixx.
Given what we know about Tristin, this name fits her well. Good choice, though we don't know if it was her own original creation. It also is a bit confusing as there is a Jixx Financial Group, a Jixx in World of Warcraft, and the Urban Dictionary traces the word to having a Scandinavian descent. More mysteries to solve.
7. The food she cannot resist is 5 layer dip.
Since there are 25 variations on the recipe, not including the stuff you can buy at the store, it seems most foodies agree that a 5 layer dip must have a foundation of refried beans, and one layer of sour cream and one layer of shredded cheese. Beyond that we don't know what must be in the other two layers, or whether she is open to any number of combinations for the remaining two. For someone who has mostly simple taste in food, this is puzzling.
8. She is not a trendy gal.
Trends are among the things that drive her over the edge, but you can add to the list "JuJu On That Beat" (agree), bad karaoke (agree), and wet plastic bags (never thought about that one). But she also hates it when people say the same work too many times yet says she uses the word "conned" too often. Do we detect a hint of mistrust there?
9. She prefers using Instagram over Twitter.
Given what we said about #2 and #8, this makes perfect social media sense. Twitter is both trendy and crowded, and the combination makes for a complicated lifestyle. Though Facebook owns Instagram, she didn't say anything about Facebook. With all the problems Facebook has been having she likely decided to lay low for a while until things shake out.
10. Asking Tristin to chill when watching Netflix is asking for trouble.
When asked about what might happen if someone came over and tried to chill while she was watching Netflix, she said tying them up and locking them in a closet for the duration would be a viable option. That's intense. She prefers no distractions when watching, and we assume she asks nicely.
This list shows that for every new thing we learn about a celebrity there are 10 new things to try and find out. When it comes to Tristin, her relatively simple lifestyle makes things easier on most of us. Just don't bother her if you see her with a bowl of 5 layer dip watching Netflix.