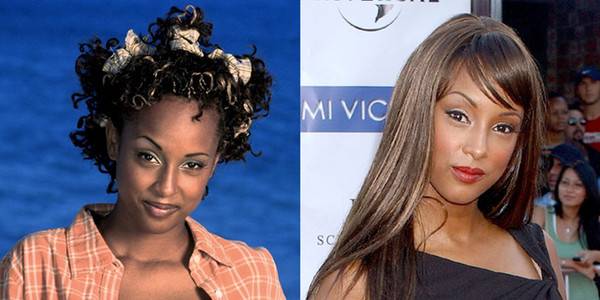 Many people might not know who Trina McGee is, but once you hear Angela Moore, you almost immediately know whom we're talking about. Angela Moore was a character from the hit TV series from the 90s, Boy Meets World. More specifically, Angela Moore was the love interest of Shawn Hunter, who was played by Rider Strong. Trina's started that role during season 5 of the show as a recurring character, and for season 6 and 7, she was upgraded to a main role. In the show, Trina's character Angela left for Europe towards the end of season 7, so she was actually the only main character in the show that didn't make it into the finale.
That's all right though even if we didn't see Trina in the finale of Boy Meets World. Her career didn't end there. If anything, the show propelled her career a bit to keep moving forward. Before Trina started Boy Meets World, she actually started her career back in 1992, just five years before when she was already 23 years old. She had a guest role in A Different World. She picked up a couple more guest appearances in other popular shows such as Martin (1994), The Sinbad Show (1994), Picket Fences (1994), Family Matters (1995), and a few others. Her role in Boy Meets World was actually her first full-time role.
She tried to pursue political science in college, majoring in it in Howard University for two years. This is out of respect and influence from his father's political values. However, Trina realized that politics wasn't the path for her. She decided to leave Howard University to return to New York in order to pursue music. When that didn't pan out, another opportunity opened up for Trina to pursue acting instead, and so the story goes.
So what exactly did Trina McGee do after Boy Meets World? One obvious thing is that she never had another main role in any show. In fact, her career would take on more guest appearances from 2000 up until her last acting credit in 2016. This includes a reprisal of her Angela Moore role in the Boy Meets World reboot, Girl Meets World. She picked up a couple of movie roles along the way. In 2002, she got the role of Cinnamon in the highly successful Ice Cube film from 2002, Friday After Next. She also appeared in Da' Booty Shop (2009), Pastor Jones: The Complete First Season (2010), and LAPD African Cops (2016).
https://www.instagram.com/p/BjBMJXWAr82/?hl=en&taken-by=therealtrinamcgee
Just before Boy Meets World ended, Trina appeared 4 times in the political TV talk show, Politically Incorrect. It would be a good representation of how she lived the rest of her life outside of the acting industry. She got into writing and currently has a few writing projects in development, some of which are in progress towards development. She's got the commitment from several of her actor friends and various other powerful people in the industry that she's come across with in her career. It seems to just be written in the cards for Trina to find some success in the industry, whether she's doing it in front of the camera or way behind the lines. It'll be interesting to see what Trina can come up when it comes to writing, and we're waiting to see when her projects will be in development.
In the meantime, Trina is enjoying her time as a mom of three kids. She lives in the San Fernando Valley, and she's been there for a while now. She got married to Courtland Davis in 1991 but the two divorced two years later. She's been enjoying her time with her children, providing them the kind of artful life that she had growing up. Trina is now almost 50 years old, so she's at that time of her life when she really wants to just enjoy living. She enjoys painting and putting on plays with her kids on her spare time. We're interested to see where life will take Trina from this chapter of her life and on.
We're interested to see if she'll ever get back on the screen again; it might happen still, and we wouldn't mind if it did at all.