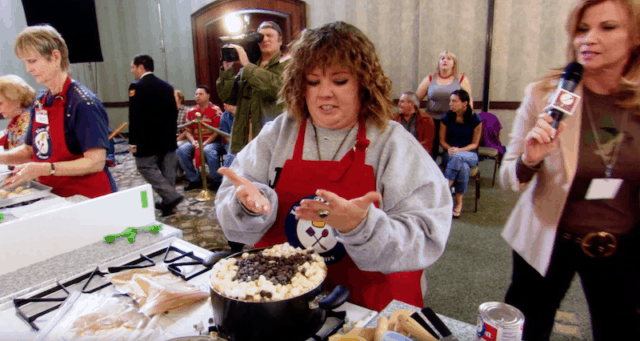 Melissa McCarthy has been making us laugh in the last decade with movie hits such as Ghostbusters, Spy, The Heat, and Bridesmaids. However, Melissa is also well known for multiple successful TV programs. She first won our hearts as Sookie St. James in Gilmore Girls, and since then she's starred in Mike & Molly. She's also done several Saturday Night Live guest appearances and has also appeared in Conan and Nobodies. However, before any of these happened after Gilmore Girls, Melissa actually starred in a mockumentary that was released in 2007 to a limited audience. That mockumentary is now finding its way to a larger screen, and we couldn't be any more excited to see what it's all about.
The trailer for Cook Off! was recently released, and we couldn't help but reminisce about younger Melissa. This movie was made at least 10 years ago after all. Why it's getting a wide release now is beyond us, but it doesn't really matter. The trailer promises us a film full of the brilliant slapstick comedy that made Melissa the star she is now. Cook Off! is a satirical stab at the world of cooking competition. We've seen Melissa cook onscreen before, but it was as Sookie in Gilmore Girls, a rather talented and well sought after chef. In Cook Off!, Melissa seems to play a different role altogether, that of an amateur cook hoping to win the grand prize of $1 million in the said competition.
We see different characters in the film, each one with their own quirks and personalities. The film seems to poke fun at rural and middleclass America, as the plot involves amateur cooks being filmed at their absolute frantic glory. Melissa McCarthy is known for carrying the comedy with verbal and physical cues, but she isn't the only comedian on the screen. In Cook Off!, she is joined by her husband, Ben Falcone, and other comedy veterans such as Wendy McLendon-Covey, Diedrich Bader, Louie Anderson, Jordan Black, and Jennifer Elise Cox. Melissa McCarthy is probably the most familiar face out of all these names, but remember that this wasn't exactly the case 10 years ago when the film was made.
Cook Off! is directed by Cathryn Michon, known for her recent successful screenplay A Dog's Purpose, and Guy Shalem. Michon is also credited for writing the film along with Wendy McLeondon-Covey. The trailer for the film plays it as if Melissa will be playing a large role in it. However, the cast list on IMDb credits Melissa quite far down the cast list. The official poster puts Melissa on front and center, but we're not sure if this is a marketing tactic to get her fans into the movie theater. Melissa doesn't have any other projects coming out in 2017, but she also happened to be one of the highest paid actresses this year. We're wondering what Melissa thinks of this re-release of a long-shelved film, but whatever she thinks, everyone will be able to catch the film in theaters starting November 17.