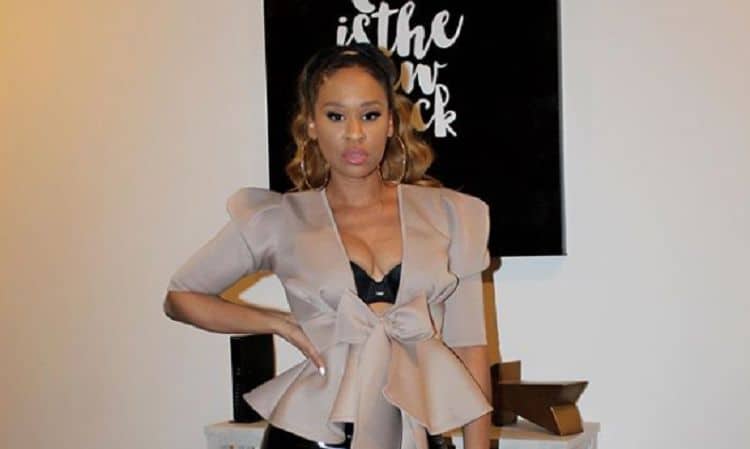 When people die, the eulogy does not go beyond the few pages in which their lives, no matter how long or short, are summarized. While we can never honestly know all about a person, the few details we uncover account for something. If you are looking for facts about Traci Steele, then these ten things will detail out what you might not know about her.
1. She wrote a book based on her personal experience
During an interview with Hype Magazine Traci disclosed she had had enough of men and although she was not ready to be single, her friend advised her to go off men for a while. That meant no communication or booty calls and Traci, thinking it to be a good concept, decided to go along with it. She began her cleanse, and after seven days she began documenting her experience and updating scriptures on her Instagram. Later on, she realized that the Instagram stories needed to be a book and hence the book titled "30 Day Man Cleanse" The Guide to Keeping Your Sanity with Men" was born.
2. Two men she dated had babies with other women while with her
Traci may have liked to control DJ Babey Drew, her son's father, as Straight from the A reveals but she could not prevent him from having a daughter with Mieko Love. Mieko Love's daughter Autumn Noelle was the youngest at the time the story made headlines although DJ Babey was still chasing other women. Traci may attract the wrong men because according to the Jasmine Brand she went ahead to secretly date Stevie J who allegedly impregnated Misha Perry, a 20-year old woman, while still dating Traci. It is no wonder she needed a break from men.
3. She once lost $25,000 after investing in a sneaker company
According to Baller Alert, Traci's then partner, Drew, aspired to own a sneaker boutique in Atlanta. He, therefore, asked Traci for $25,000 which she gave him as Drew hoped to have the boutique increasing his popularity and income. Unfortunately, Chris Brown fired him and he had no way of returning the money. However, Drew in his defense explained to Traci that the investor he was dealing with had conned him; hence he lost the money.
4. She is a renowned DJ
When Traci enrolled in Hampton University, she began her journey towards becoming a DJ and radio personality by being at the helm of the Institution's radio station. She focused on being a radio star and later joined HOT 102.1 FM in Virginia Beach. As Traci bettered herself, she also worked for 107.9FM, the Hottest Hip Hop station in Atlanta and soon she had made a name for herself as a DJ, and big names in the music industry such as Ne-Yo and Pharrell Williams sought her out. Additionally, she became a DJ at events and advertising campaigns held by leading brands including Coca Cola, McDonald's, Chevy and BET.
5. Her net worth is $400,000
Traci's net worth as of late 2017 stood at $400,000. She earned this amount not just from her deejaying and being on radio but also for starring in TV Shows. For instance from 2013 until 2015 Traci appeared in "Love & Hip Hop: Atlanta". Other shows she has starred in include "Off the chain" in 2012 and in 2016 she appeared on "Million Dollar Matchmaker."
6. She is an entrepreneur
Traci told Vibe that she does not believe in having one source of income because that will never make anyone a millionaire. She, therefore, has dipped her hands in various businesses to ensure she receives at least six checks every month. Traci is not only a landlord but also a web designer and graphic designer. According to her, running the streets is not the only way to make money; she sits in her office and manages to get things done. After all, for Traci to build her empire, she has to build her brand and expand into various realms.
7. She has OCD
While some people can live in a messy house with piles of unfolded clothes on the bed and utensils lying everywhere on the kitchen counter; others will not go to bed until everything is where it should be. Well, Traci Steele falls in the latter category and discloses to Rollingout that her Obsessive Compulsive Disorder is about cleanliness. Traci will not live in a dirty house because unless her home is spotless, she fees disorganized.
8. Her favorite author is Robert Greene
Everyone has different tastes; some will prefer action movies while others would do anything to watch a horror story. When it comes to books, it is no different, and some people get excited to read romantic stories while others enjoy thrillers. For Traci, any book that has depth, emotion intrigue and relatability is worth her time, but no matter how many times she reads a Robert Greene book, she never tires because, in her interview, Traci acknowledges that Robert Greene books empower her on so many levels. Matter of fact is one of her favorite books by Robert Greene is "The 48 Laws of Power."
9. Traci was in the military
It seems strange that someone who was in the military, prepared to deal with all sorts of threats against America but still ready to serve and protect, would not guard herself against dealing with players in her relationships. However, when it comes to matters of the heart, everyone is vulnerable. Traci joined the United States Air Force and moved to Virginia to be stationed at Langley Air Force Base. She gained the confidence to be a woman, and it is what led her to be among the most influential and talented DJs today.
10. She is a fashionista
Among her many titles including radio host, DJ and author, Traci is also a fashionista. She owns SteelePretty.com which is a niche fashion boutique that promises to change its customers into fashionistas at the click of a button.
Tell us what's wrong with this post? How could we improve it? :)
Let us improve this post!