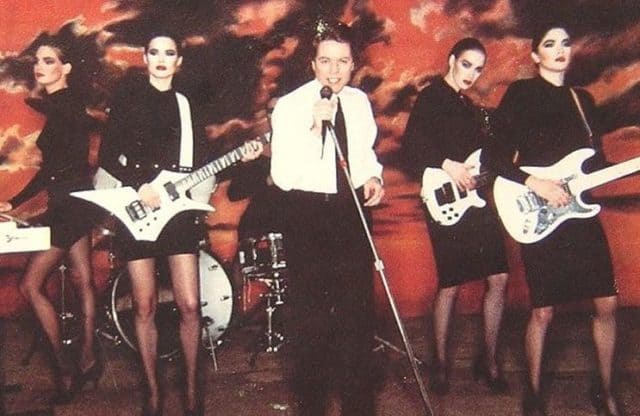 Robert Palmer was an exceptional musician whose tunes were always a delight to listen to. Among his many hits, 'Addicted to Love' stands out as one of his most memorable and enduring songs. Even today, it remains a fun track that people can easily sing and dance to without giving much thought to its meaning. With a career spanning nearly four decades, Palmer inspired countless young artists to create their own sound and form bands. Though he may be occasionally forgotten, his music continues to be played on the radio and is easily accessible on various platforms for fans and curious listeners alike.
He was undoubtedly one of the greats of his time.
5. Dancing With The Stars
As mentioned earlier, 'Addicted to Love' is a song that's easy to dance to, thanks to its distinct groove and moderate tempo. While Palmer has other songs that might have been better suited for this particular dance, it still works well and is impressive enough to be featured on the show. It's certainly a cut above the average dancer's performance to this song.
4. Black Mirror
With a show like Black Mirror, which consists of various unrelated episodes, it's not surprising to find a diverse range of tracks featured throughout. The way songs are paired with each episode may please some viewers and leave others questioning the choices, but overall, it adds a nice touch that enhances the storytelling.
3. What to Expect When You're Expecting
Pregnancy is a unique experience for every woman, and this movie does an excellent job of highlighting that fact. Few women have identical experiences, with some struggling through their pregnancies while others sail through with relative ease. Meanwhile, men are left to support their wives or girlfriends and prepare as best they can – though, as the movie shows, you're never truly ready.
2. Robert Palmer
There's nothing quite like revisiting the original source of a song to appreciate its greatness. I can still recall watching Palmer on MTV and grooving to 'Addicted to Love' as a kid. Even now, it evokes a sense of nostalgia that gets the hips swaying and the head nodding as memories of youth come flooding back.
1. Cocktail
Many people remember 'Addicted to Love' from the days when Tom Cruise was a young, up-and-coming actor who wowed audiences with his talent. Today, he's an action star known for his incredible onscreen stunts and acting prowess. But back in the day, he knew how to have a good time and enjoy life.
Rest in peace, Mr. Palmer. You were truly great.