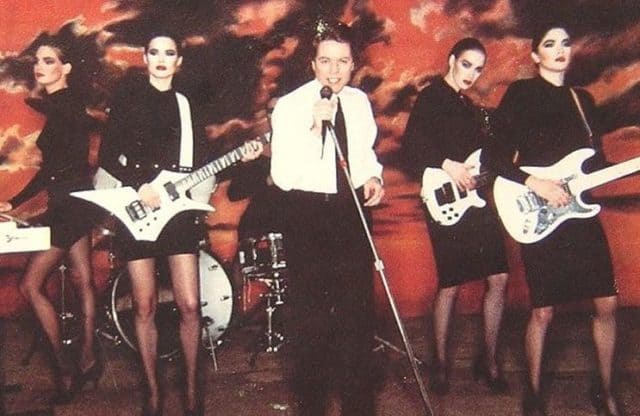 Robert Palmer was a great musician and a lot of fun to listen to. Addicted to Love is probably one of his greatest and most remembered hits throughout his entire career and is still listened to at this point. It's a fun song that pretty much anyone can sing and dance to and doesn't demand a lot of thought from the average person as to what it means. His career lasted just shy of four decades and was instrumental in inspiring many young artists to go forth and start their own sound and bands as well. He might be forgotten every now and again but he's easy to find since his music still pops up on the radio and is still prominent enough on platforms where fans and those that are curious can find it.
He was one of the greats of his time.
5. Dancing With The Stars
Like I said above this song is easy to dance to since it offers a very definite groove and isn't too fast or too slow to get into rhythm. He has other songs that might have suited this particular dance a little better but overall it's still able to work and to be impressive enough to belong on the show. It's miles better than the average dancer rocking out to this song anyway.
4. Black Mirror
Honestly with a show like Black Mirror, which is comprised of many different episodes that are not linked together, I would expect a wide assortment of tracks to pop up. The way in which the songs are paired to each episode might satisfy some folks and make others wonder just what people were thinking but overall it's a nice effect that pushes the story just a little more.
3. What to Expect When You're Expecting
Pregnancy is not the same for every woman, and this movie makes a very big case in pointing that out. Very few women have the exact same experience and while some suffer through their pregnancies others tend to go through it with relative ease. The men on the other hand have little else to do but support their wives or girlfriends and just prepare the best they can. Believe me, you're not ready even if you're ready.
2. Robert Palmer
There's nothing like going back to the source of the song when you feel the need to tell others how great it is. I can remember watching Palmer on MTV and grooving to this song as a kid and it was awesome back then. Even now it offers up a nice bit of nostalgia that can get the hips swaying and the head nodding as you recall the days in which you were still young.
1. Cocktail
Most everyone can remember this from the days when Tom Cruise was still a young man and still able to wow people with his abilities. Nowadays he's an action star whose continual goal, which he has met quite often, is to amaze people with his onscreen stunts and acting. But back in the day he knew how to live it up.
Rest in peace Mr. Palmer, you were great.