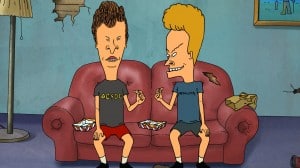 They're considered one of the most legendary rock bands for a good reason. Their heavy sound and kickin' lyrics earned them a lot of respect and fame throughout the world as well as in the US. Formed in Los Angeles in 1981 Motley Crue went on a tear through the rock world as they began to amass a legion of fans during their rise to fame. Eventually their reputation started to wane but it's never really gone away since hardcore fans and a new generation of fans have always come back to enjoy their classic sound. Motley Crue performed for the last time on New Years Eve in 2015 and haven't done anything since, which is a shame because their music is one of the best sounds that's ever been recorded.
Their influence has also been seen in movies and TV to a very impressive degree.
5. Hot Tub Time Machine-Home Sweet Home
Each time Lou sings this he's either depressed or in a bad way. It's not hard to see that his life isn't what he wanted it to be and is anything but positive. In fact one of the plot points is that Lou is extremely suicidal and is intent on killing himself when he's found by his best friend. From there the movie just starts to get a little silly as they travel back in time and try to make things better.
4. Talladega Nights: The Ballad of Ricky Bobby-Kickstart My Heart
For Will Ferrell fans and NASCAR fans this movie was no doubt something special. Ricky Bobby was the kind of guy you don't really look up to but you can't help but admire since he's a winner despite being a bumbling moron. When he meets his soon to be wife things just keep moving forward at a pace you can hardly believe and eventually get so nuts that the only way left to go is down.
3. Knight Rider-Shout At The Devil
This is a blast from the past really since Knight Rider used to be a favorite show of a lot of people during its run. It took some remembering but if you ever watched the show you might recall this episode. Obviously the focus here is on the fact that the alarm was forced to go off playing Motley Crue over and over so that Michael could switch out the cases. But the inclusion of the band was pretty cool.
2. Beavis and Butthead-Dr. Feelgood
Any time you want to spoof a band or one of its songs it was only reasonable to assume that sending them over to the Beavis and Butthead show would get the job done. Throughout the entire video the two irascible and moronic teenagers would do and say whatever it took to deride the video build it up in their own bumbling, inane way.
1. The Tonight Show-Girls, Girls, Girls
https://www.youtube.com/watch?v=UQRh-4vcAaU
This was one of their last performances on the Late Show with Jimmy Fallon. The guys have definitely aged, gained weight, matured, so and so forth, but they still put on a good show and manage to please their fans. Likely there won't be another group like Motley Crue for a long time to come, and that's actually a good thing.
A lot of rock legends deserve the place that they've earned in music history. Motley Crue is definitely one of them.
Save
Tell us what's wrong with this post? How could we improve it? :)
Let us improve this post!