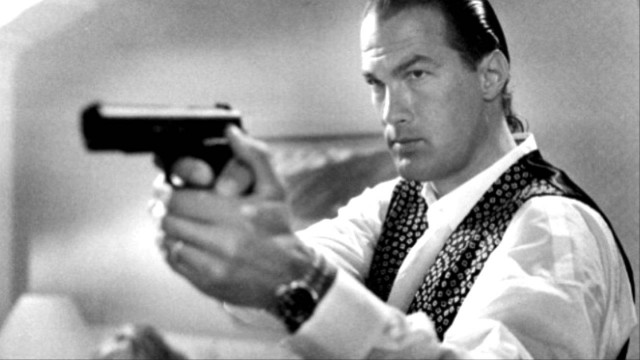 Steven Seagal is one of the most recognizable action stars in film history. He's made countless films where he must defeat villains (and their endless supplies of evil henchmen) in the most violent, brutal ways possible, all while making it look so easy. However, there are some of Steven Seagal movies that stand above the rest, that you watch and whether it's for the action sequences, the cheesily quotable dialogue, and or the sheer camp factor, you love it just a little bit more than the others. Here are our picks for the top ten Steven Seagal movies.
https://www.youtube.com/watch?v=0I7b9xJVReU
Kill Switch
Steven Seagal stars as Jacob, a detective who doesn't follow the strict police guidelines and uses his own violent tactics in order to produce results. Jacob attempts to track down the serial killer known as the Grifter, as he grows more and more frustrated with the rigorous rules of the the police system. Eventually the Grifter frames Jacob for the murders that he has committed. Ultimately, there's one main reason why this made the list, and it can be summed up in two words: hammer fight.
Into the Sun
In Into the Sun, Seagal is a U.S. agent who investigates the assassination of a governor and Tokyo and soon uncovers the fact that the assassination was all a ploy to distract from the heroin smuggling operation of the Yakuza. Steven Seagal IS Travis Hunter, an American operative tasked with investigating the public assassination of a governor in Tokyo. Into the Sun is pure ludicrous. Its Japanese gangsters are increidbly trigger-happy, shooting anyone who gets in their way, and Seagal gets to do some crazy stuff in the last half an hour of the film, throwing a guy through an eight floor window and going after the main villains with a samurai sword. Yes, that's right – Steven Seagal Hulking out with a samurai sword, and it's even better than it sounds.
Fire Down Below
Seagal's initial occupation in Fire Down Below as a missionary helping out a small town on the Church's behalf may seem strangely un-Seagal at first. but not too long into the film, it's revealed that Seagal's Jack is an undercover EPA agent who must protect the town's land from the toxic waste being dumped by a large mining company. The movie is worth the watch to see Seagal at his most studly as he easily romances Marg Helgenberger's Sarah and his most effortlessly awesome, as he pretty dispatches all his enemies with his fists or other objects instead of shooting them with gun. Plus, there's the incredibly fake and cheesy-looking toxic waste that is sure to make you laugh upon seeing it.
Belly of the Beast
Steven Seagal as a CIA agent whose daughter is kidnapped. With a basic plot like that, how could Belly of the Beast not be awesome? But you want to know what makes this move the most awesome kind of ridiculous? Monks. That's right. Seagal's Jack teams up with a former partner who is now a monk and is also aided by a group of monks, who chant their help. There's also the woman that Seagal meets who can magically imprint a tattoo onto a, um, specific bodily region. Magic, monks, and madness – what more could you want from a crazy, stupid Steven Seagal film?
Under Siege 2: Dark Territory
Sequels are typically never as good as their original films, Under Siege 2: Dark Territory isn't nearly as good as the first Under Siege. However, it's still a hilariously campy thriller that sees Seagal returning as Casey Ryback, who must transport his estranged niece (who is weirdly enough played by a young Katherine Heigl) to her parents funeral via train. Of course, Casey stumbles into the middle of a nuclear weapons hijacking, and therefore must take care of all the bad guys while protecting his niece. Under the Siege 2: Dark Territory makes the list of top Steven Seagal movies because of lines of dialogue like "You think this is being shot? This isn't being shot!" after Seagal suffers a bullet wound and the sheer amount of henchmen that Seagal throws off a cliff throughout the film.
Out for Justice
In Out for Justice, Seagal's partner and friend Bobby is gunned down in the street in front of his family by mobster Richie Madano, causing Seaga (who plays a detective named Gino in the film) to track down Madano by himself and get justice for the death of his friend. Richie is a crazy and reckless goon, and Seagal stops at nothing to find him, leaving bodies upon bodies in his wake. By the end of Out for Justice, Seagal beats the crap out of bunch of guys in a bar for simply disrespecting him, cleaves a man's leg in a butcher shop, and also shoots a man's shin off during the film's bloody, final showdown. It's Seagal being Seagal, and it's great stuff.
Under Siege
"These guys are professionals. They can handle twenty marines and a hundred cooks!" That line alone earns Under Siege a spot on this list, but then you also put Tommy Lee Joness and Gary Busey into a film with Seagal and you're getting pretty close to perfection. Seagal is Casey Ryback, the chef on a battleship, and he partners up with stripper Jordan Tate (played Erika Eleniak, whose most memorable scene in this movie is her coming out a cake in a pretty spectacular state of undress). Ultimately, if you find Seagal blowing things up, Seagal ripping out people's throats, or Gary Busey cross-dressing entertaining, you're going to like Under Siege. It's essentially a crazier form of Die Hard on at sea – how could that possibly be bad?
Above the Law
In his first major film role, Seagal is a CIA operative (who also happens to have a black belt and mafia connections) in Above the Law, who discovers that their is a plot to assassinate senator and must decide who he could trust when discovers that the CIA itself has become corrupted. Above the Law features a pretty awesome convenience store fight and some pretty terrific face-smashing and neck-breaking by Seagal. However, the main reason why it makes this list is because it's the movie that first gave us this amazing action star.
https://www.youtube.com/watch?v=vwb8S2NTnD0
Hard to Kill
After stopping a planned assssination of a senator, Seagal's Mason Storm becomes the villain's next target as they come into his house and try to kill him while he's with his wife. Mason is shot but ends up in a coma for seven years. However, his wife isn't so lucky and dies on the scene. When Mason wakes up from his almost decade-long nap, he goes on a killing revenge rampage. Hard to Kill offers a lot of shotgun fire, hilarious lines ("The deader he is the safer he is.), and thrilling car chases. I mostly remember it for the hotness of Kelly Le Brock as Seagal's nurse in the film, Dean Norris of Breaking Bad being choked to death with his own tie, and Seagal's awesome coma beard.
Marked for Death
"I'm a freaking made man." "God made man!" You really can't get better than Seagal movies for sheer, unabashed campy dialogue, can you? But that's not what makes Marked for Death so good. The film boasts a terrific main villain in Screwface and his band of murderous minions, who end up landing on Seagal's radar after they shoot his young niece. It's these types of revenge-fueled missions that are my favorite Seagal films, as they allow for him to go completely berserk and unleash his inner Hulk. I mean, the guy gets to use sniper rifles and samurai swords in this movie – that's pretty great. Marked for Death also gets bonus points for having Danny Trejo show up, even if it's only for a quick appearance.