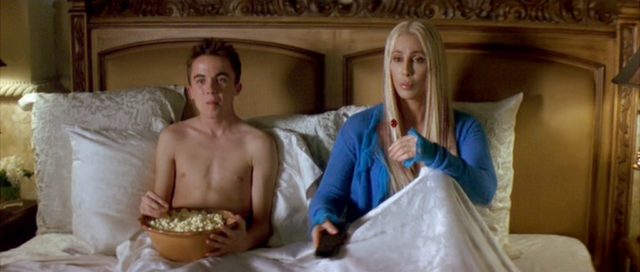 Frankie Muniz is best known for his breakout role as the main character in "Malcolm in the Middle." Currently he's appearing on "Dancing with the Stars." He started his acting career at the age of 8, at a talent show where he played the part of Tiny Tim in a local production of "A Christmas Carol." He started out appearing in television commercials and then progressed to meatier roles, with Malcolm being his most beloved to date. Muniz has also made several short term and cameos outside of his hit series.
Here are his top five appearances outside of "Malcolm in the Middle."
"Stuck on You" (2003)
Frankie appeared in the movie "Stuck on You" opposite famed actress and muscian Cher. He played the part of her underage boyfriend and showed up in a bedroom scene with the much older actress. This cameo was uncredited so he doesn't show up in the list of cast, but there are photos and videos to prove that it was in fact Frankie Muniz.
"Agent Cody Banks"
Muniz was the lead actor and portrayed the main character in the movie, Cody Banks. He played a high school junior, age 15 who applies to get into teh Special Activities Division of the Central Intellligence agency. He undergoes a summer training camp and then goes out on an assignment to spy on Dr. Albert Connors. He's a bit socially inept, especially when it comes to talking to girls. He co-starred with actress Hillary Duff.
"Criminal Minds"
Muniz appeared in an episode of "Criminal Minds" as Jonny "Jon" McHale. Muniz opened the episode with a chilling quotation that set the tone with "No one sees True Night- what's really there in the dark. It's not that they can't see, they simply don't. They feel an elemental force that scares them into the deepest reaches of their minds, but they refuse to see the actual source. Something watching them just out of their reach. Something cold and frightening. Something inhuman. " He was a psychotic who turned serial killer. He became a vigilante who went on a killing spree under the name "True Night."
"Pizza Man" (2011)
Frankie Muniz takes the lead role as a pizza delivery boy, but he's a special kid. In the film, he ingests a tomato which has been genetically altered. Eating the tomato gives him superhuman strength. He is called upon to go o war with a corporation that is making an attempt to steal his powers. He is charged with saving the girl that he has fallen for and the entire world as well.
"Big Fat Liar" (2002)
Muniz protrays Jason Shephard, a 14 year old boy who has a terrible habit of lying. He lies when telling the truth would serve him better. When he loses a story assignment called "Big Fat Liar," in Marty Wolf's limo, thestage is set for the plot to unfold. Wolf steals the story and plans to turn it into a movie. Because of his reputation for lying, nobody believes Jason. The boy and his best friend Kaylee make a trip to LA to get Wolf to confess that he is using the story that Jason had written, so he can clear his name and get out of trouble with his parents. As it turns out, Wolf is the one is is the liar.