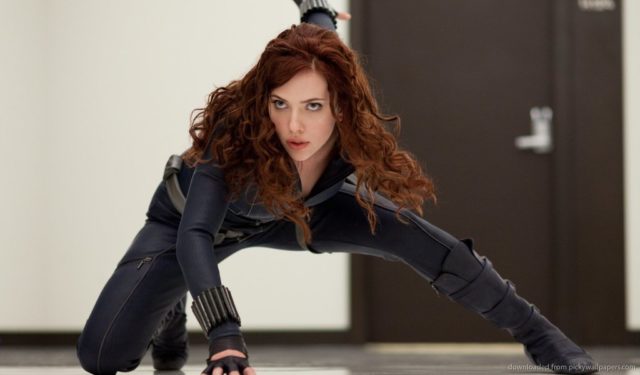 Scarlett Johannson might not have started out being the type to have awesome fight scenes, but she's evolved since. Coming into acting as the sweet, attractive young girl was a good start, but now she's the kind of star that laces up and gets ready to kick some major tail when the chips are down and the good guys are needed. One of her biggest roles is coming up in the next year with Avengers: Infinity War set to come out soon. Despite the fact that she's had several roles throughout her impressive career those with her suiting up to go fight the bad guys seem to be the favorites of many fans. Maybe it has to do with the skill set of her characters or maybe it's just how tightly-fitting her outfits are, but put all that together and she makes a very impressive sight onscreen when she gets down to business.
So let's get down to it.
5. Ghost in the Shell
This movie was awash with controversy over the fact that Johansson was allowed to star in it, suffering under the term whitewashing since she's quite obviously a Caucasian woman trying to play an Asian role. That doesn't stop the action from being intense whenever she gets down to business as a lethal government agent tasked with keeping the peace.
4. Lucy
Lucy was just an ordinary girl until an experimental drug got fed into her system without her consent. Well, technically a bag full of the drug she was supposed to be transporting burst open, and it affected her DNA as her brain started functioning at a higher level. This caused her to become exponentially more deadly than she'd been before.
3. Iron Man 2
This was the showcasing of Black Widow's skills in the MCU since it was honestly the first time she'd shown up in this manner. The fight in the ring earlier in the movie didn't even come close to matching this massive takedown of multiple armed and supposedly trained guards. She mowed through them like they were nothing and just kept on walking.
2. Captain America: Winter Soldier
Natasha was a little outmatched on this one. As far as tactics and brainpower she had more than enough. But brute strength is something she's never possessed and against an opponent that could throw her around like a rag doll she needs almost every weapon in her arsenal just to survive. In Civil War she barely survives Bucky's attack when he's not all geared up.
1. Avengers
This is a strange way to interrogate someone, but okay. Of course a lot of the audience likely laughed when she said that she was in the middle of an interrogation, only to sit back in their seats with raised eyebrows when she had to finish up quickly and be on her way. At that point it didn't take much for her to finish the guys off, grab her shoes, and head out the door.
Oh yeah, she's tough, without a doubt. With normal opponents the Black Widow is no one to be messed with.