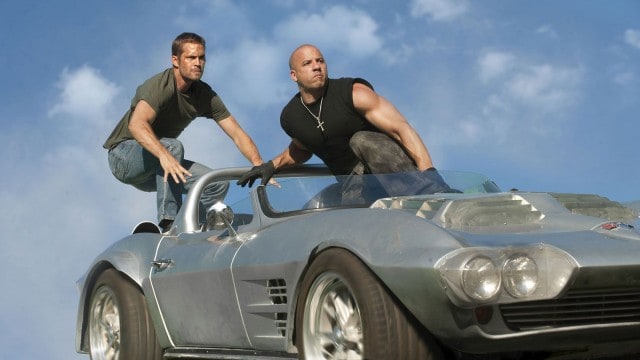 If you can believe it Paul Walker would have been 44 years old yesterday. Before his passing it would have been something that you couldn't hardly believe since he still looked so youthful. Hollywood lost a great star almost four years ago, and a lot of people lost a great friend. The entire cast of the Fast and the Furious went on record to say that they were devastated by Walker's passing, and they went on to dedicate the seventh movie to him in a most touching fashion. Now if you can remember though he wasn't always a member of the Fast and Furious crew. True, he started the franchise with Vin Diesel and Michelle Rodgriguez and Jordanna Brewster, but that wasn't his only role.
Here's a few other movies he was in.
5. She's All That – Dean Sampson
There's no denying it, he was jerk in this movie plain and simple. He was the rival of the lead character and the one guy that thought he could bring the most popular kid in school down by giving him a challenge he couldn't meet. Out of all of his roles this is probably the one that was the least desirable in many ways but was also one of the most memorable.
4. The Skulls – Caleb Mandrake
Caleb was a young man born to privilege and expected to do something great. The only trouble was that the pressure eventually got to him and he couldn't take it any longer. He was a legacy and a shoe in for the Skulls, but when he found out what this really meant he started playing both sides as much as he could and ended up a nervous wreck that lashed out at everyone.
3. Varsity Blues – Lance Harbor
Lance was the golden boy, the quarterback that just couldn't be stopped, and the one guy on the team that shouldn't have been playing to begin with. When you discover how much scar tissue he had on his knee you get an idea of how hard Kilmer pushed his players and how immoral his methods were. Lance bounced back eventually but found his calling as a coach rather than a player.
2. Joy Ride – Lewis Thomas
Lewis was that guy that just wanted to get along to go along. He tolerated his troublesome brother for the most part and tried to make things work, but obviously that wasn't enough. When he went along with his brother and pulled a nasty prank on an unknown trucker however the both of them found out just what it means to prank the wrong person.
1. The Fast and The Furious – Brian O'Connor
This is by far his most classic role partially because it was his last and partially because it had to have been his longest running character. Brian helped to start the franchise and was actually in every movie save one up until the most current film. He shared that record with Vin Diesel up until his passing, and will always be remembered as one of the founding members of the franchise.
It hasn't been that long, but you're still missed Paul. Rest in peace.
Save