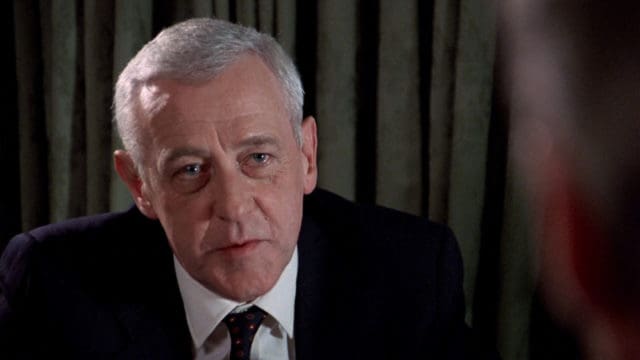 John Mahoney passed away on February 5 at the age of 77 in his hometown, Chicago. Fans and co-stars are mourning the loss of the great stage, film and television actor who was known for his talent and his kindness. Mahoney was best known for his role on the NBC sitcom "Frasier" when he played Martin Crane, the ex-cop father of psychiatrists Frasier (Kelsey Grammer) and Niles (David Hyde Pierce). Mahoney performed in several films and after "Frasier" returned to his favorite genre, the theater.
John Mahoney was born in Blackpool, England and emigrated to the United States as a young man. While living in Illinois, Mahoney served in the United States Army to help him get US citizenship and taught English at Western Illinois University. He also developed his love of acting and the theater. He became a stage actor in 1977 and a film actor in 1980. Throughout his acting career Mahoney had roles in several television shows and several films. Later in his career Mahoney returned to the stage and won several Tony awards.
Here are the top five John Mahoney movie roles of his career.
Say Anything
It's hard for anyone to forget John Mahoney's role in the 1989 love story "Say Anything". Mahoney starred as Jim Court, the divorced father of Diane (Ione Skye) who falls in love with Lloyd Dobler (John Cusack) following their high school graduation. Jim Court wants nothing but the best for his intelligent daughter and encourages her to take an academic fellowship in England. Jim does not want his daughter to be with non motivated Lloyd Dobler. When Diane finds out that her dad has been embezzling from the family owned retirement home and is under investigation by the IRS, she is devastated. Jim Court explains that everything was done to make sure his daughter could pursue her academic dreams and live independently. John Mahoney brilliantly played the character of the loving father who would do anything to better his daughter's life.
Moonstruck
In 1987's hit film "Moonstruck", John Mahoney played Perry, an older college professor who enjoys dating his young students. He meets Rose (Olivia Dukakis) in an Italian restaurant when his young girlfriend breaks up with him and throws a glass of water at him. Rose asks Perry to join her for dinner. Rose knows her husband has a mistress and asks Perry why men cheat. The exchange is poignant for both of them. John Mahoney as Perry delivers a great speech to Rose about why he feels the need for excitement.
Primal Fear
The award winning 1996 movie "Primal Fear" starred Richard Gear as a Chicago defense attorney who represents a former altar boy (Edward Norton) for the murder of a Catholic Archbishop. The psychological crime drama was intense and revealed corruption in the Church and government. John Mahoney played the part of John Shaughnessy, a corrupt State's Attorney who had motives against the Archbishop due to real estate investments gone bad. John Mahoney proved that he could play the good guy and the bad guy. He delivered intense scenes as the corrupt man who may be behind the murder case.
Reality Bites
In "Reality Bites", the Generation X movie that was a 1994 hit, Lelaina Pierce (Winona Ryder) struggles with her job as an intern on the set of a cheesy morning television show. The host, Grant Gubler (John Mahoney), is cantankerous and annoying off set yet perky and happy on set. He goes after Lelaina when she forgets to put his coffee on the set as a prop for the show. Behind closed doors Lelaina hears Grant's tirade about her. She sabotages Grant's interview on set the next day which leads to her being fired. As a great character actor, John Mahoney plays the "split personality" morning show host perfectly.
Flipped
Later in life, John Mahoney played the role of grandfather Chet Duncan in the 2010 coming of age romantic comedy "Flipped" directed by Rob Reiner. Mahoney embraced the role of Chet. In the movie Chet moves in with his family including grandson Bryce (Callan McAuliffe) in 1967. Chet gives his adolescent grandson sage advice on life and love. Mahoney gave a touching performance.
Tell us what's wrong with this post? How could we improve it? :)
Let us improve this post!