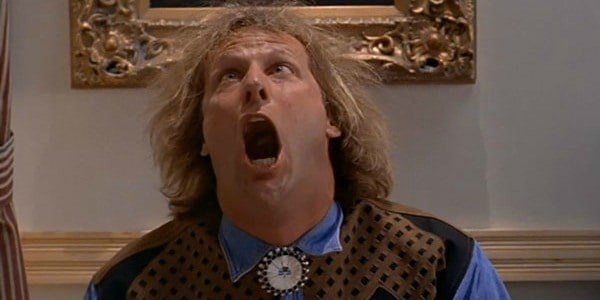 And it's time to take it down a couple notches for the Yelling Game, at least for now. Jeff Daniels can certainly raise his voice but it's almost like a lull peaking to a spike followed by another lull. Spoiler alert, you won't be getting the clip shown above but you'll get one from the same movie that I happen to think tops it and won't make you gag thinking about what's going on. Jeff Daniels is a superb actor but usually he's pretty quiet and never goes much above a moderate tone. With that in mind he can get rowdy, but it seems so out of character for him that he either has to be playing a dirty, grimy role or someone inordinately foolish to really pull it off. So yeah, that's a huge spoiler to what you'll be getting in this round of the Yelling Game.
Let's take a look, shall we?
5. Speed
Some folks might wonder about the watch set as a timer like Harry did but once you figure it out you would almost think that it was one of biggest red herrings alive. Of course even if you figured that out it might be pushing the boundaries of reality to think that anyone could possibly know that the bomber had rented out another space and rigged his own home to blow.
4. Arachnophobia
I'm not a fan of spiders, I can't stand them but I'll smash them on sight if they're in my space, otherwise I just leave them alone. In this film though Daniels' character is absolutely terrified of spiders, so cue the appearance of one of the most deadly spiders in the world, right? It doesn't take long for this critter to spawn and have its brood killing people off left and right.
3. 2 Days in the Valley
I can't say as I'd blame anyone for getting mad about having their window broken three times in a short period, but unfortunately that's the hazard of living near a golf course. But for the golfers the real hazard is the unstable cop that doesn't mind pulling his gun to threaten golfers that can't hit it down the fairway instead of in his living room.
2. Dumb and Dumber Too
Only a moron would think that wasting twenty years of your life on a prank would be awesome. Of course, look who we're talking about. Harry and Lloyd do some seriously messed up things in this movie that make you wonder what it would ever have been like if they really did procreate. Excuse me while I shudder to even think of how such a thing could happen.
1. Dumb and Dumber
First it's the extra gloves, I'd be mad too if my buddy's fingers were sweating and mine had about frozen solid. Then it'd be the case that sent them on this trip in the first place. Harry has every right to be mad, but not a lot of cause. He did agree to the trip after all.
He might not be the best yeller, but he's worth mentioning.