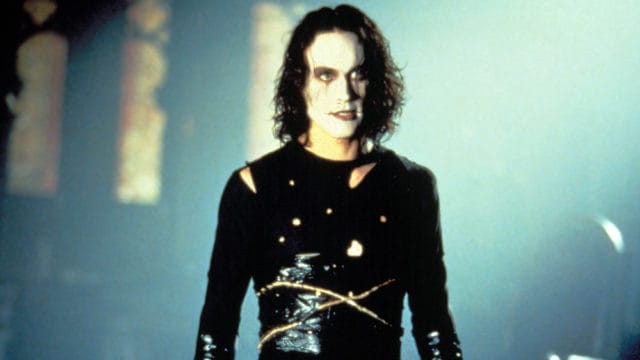 Fans are no doubt going to be final judge and jury when it comes to how the new details and storylines emerge in the reboot of the cult favorite The Crow. One thing that everyone that loved the film should know about at this point is that Jason Momoa will be taking over the part of Erik Draven, the vengeful spirit that returns to right the wrongs that were done on the night that he and his fiance Shelley were killed. But in this version things will be a little different. Seriously, can you see the crew of the original movie picking a guy like Momoa apart?
A lot of the characters will be the same, as will the story for the most part. But Top Dollar will no longer be the main villain, and will be female this time around. Remember T-Bird? He'll still be there, but he'll be colder and less playful than before, and he'll be the top guy in the film when it comes to being just undeniably evil. Tin Tin and Funboy will be there as well, but instead of the dim-witted Skank it seems like we'll be seeing an equally disgusting human being known as Ratso. T-Bird, being the boss, will work with Top Dollar's gang, as she's his woman in this version. Another character coming back, though not in the same manner, is Detective Albrecht, who was played by Ernie Hudson in the original but will be taken on by a woman this time around. The main characteristics are still there thankfully, as Albrecht is described as a woman in her 40's-50's, hardened by the streets and weary of all the corruption she's seen. But like Hudson she'll be a warrior that wants to make a difference and isn't willing to back down to anyone.
There are many fans that have been hesitant to accept another attempt at one of their favorite movies largely because the sequels and the TV show that came as a result of this film bombed horribly. No one has been able to recapture the thrill and the energy that was laid out in the first movie, and it's been believed that it's both cursed and protected by forces that no one should mess with. Keep in mind that Brandon Lee was killed in the filming of The Crow, so the superstitions are bound to remain as strong as ever. But perhaps Momoa, who is able to be just as intense in his own way as Lee was, will be able to breathe new life into the character.
The story has been largely unchanged, so perhaps fans will take this into account before attempting to lambaste the film before it even has a chance. As a fan of the movie and the story it's hard to accept anything else, but if the story is done well enough and given the proper respect it could be something worth watching. At this point it at deserves a chance to develop into something at least.
Tell us what's wrong with this post? How could we improve it? :)
Let us improve this post!