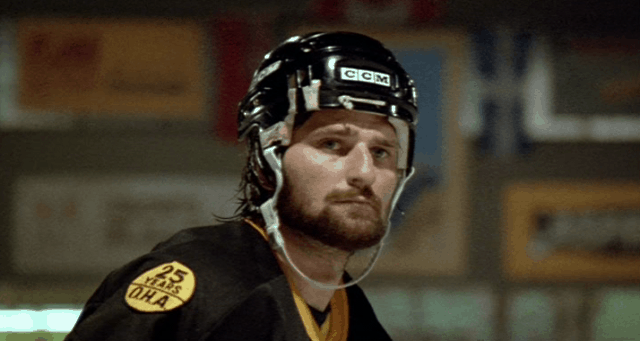 Hockey fights are notoriously brutal in movies but they can be humorous as well. There's something inherently exciting about two athletes going at one another with such wild abandon that some fans will actually go to a hockey game expecting to see a fight. It's not the overall goal of the match obviously but it's one of the only sports where it could possibly happen and not run the risk of an athlete being automatically ejected. It can happen obviously, but more often than not if you see a hockey player get into a fight during a game you'll see them go to the penalty box in the movies. It takes a player actively trying to just hurt someone to actually get tossed.
There seems to be a fine line of distinction there, but it's usually better to just roll with it than question.
5. Youngblood
Sometimes in sports you've got to prove your worth to everyone, especially if you're the young guy just looking to make a name for yourself. When the old dogs decide to call you out it's important to show them that you can actually do something rather than sit on the bench. When you actual do get in there and show what you can do it's bound to surprise them all.
4. D2: The Mighty Ducks
Going from figure skating to hockey seems like a stretch. Not only would the skater be thrown off by all the extra weight but the aggression level is off the charts. Besides that, Kenny Wu is one of the smallest guys on the ice. Size might not always matter, but if you have kid the size of those on the Iceland team coming after you then size becomes a very important factor.
3. Miracle
Fighting against the guys on the other team is one thing, but to fight against your own teammate is usually considered a no-no. Granted, a lot of these guys on this team have played against one another before and don't really care for each other. But Jack is one of those special cases that can't just let anything go once it's been done to him, hence this fight.
2. Mystery, Alaska
Amazingly some big guys don't know how big they really are until you goad them along. The gentle giants of any sport don't get the idea that they can bowl someone over with relative ease. Once they learn however the question is whether they'll let that go to their head or if they'll continue to be the nice guy that everyone knows them as. Big guys are often better off not knowing the damage they can do until they need to.
1. Goon
This is just a straight up brawl-fest. Doug is brought onto the team for one reason only: he can fight. He becomes the enforcer that his team needs and in doing so also becomes one of the heaviest hitters in the game. When he comes up against Rhea though he finally finds someone that can do some serious damage. From there it's just an epic beatdown waiting to happen.
It'd be interesting to go to an actual hockey game just to see how many fights get started.
Save