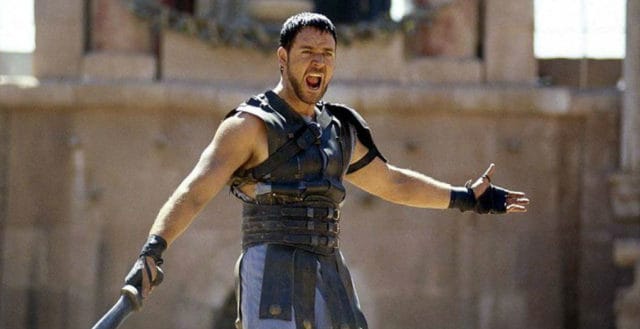 Gladiators are remembered in pop culture as men and women who had been sentenced to death in the arena for the amusement of the Roman masses. This is somewhat misleading because the gladiators were the ones who performed in the third act when the Roman masses were expecting shows of physical courage, though such "performances" still had a real chance of death for the loser. In contrast, the preceding acts with their slaughter of both animal and human victims were meant to show the triumph of Rome over the chaos of both the natural and the human spheres, which was why they featured so much more cruelty. Regardless, it is no wonder than gladiators continue to lurk in the popular consciousness when they managed to hold the attention of the Roman world for centuries and centuries at their height.
Here are our picks for five of the top gladiators in movies:
Barabbas
Christians should be familiar with Barabbas, who was the murderer set free when the Pontius Pilate presented the public with a choice to either free him or Jesus of Nazareth. In 1961's Barabbas, Richard Fleischer extended his tale by showing him as a haunted man, which results in a series of unfortunate events including a stint as a gladiator that culminates in him being martyred as a newfound believer in Christ following the Great Fire of Rome.
Kawada Shogo
Strictly speaking, Battle Royale isn't a gladiator movie, but considering its premise, it isn't far-off from one. In brief, it is set in a dystopian Japan in which one high school class is forced to fight one another until there is just one survivor on an annual basis. Kawada Shogo isn't the protagonist of the movie, but he has an important role as the survivor of a previous round who is planning to stop the current round. Furthermore, he is listed here because of his kill count in the previous round as well as his mutually lethal encounter with his evil counterpart Kiriyama Kazuo towards the end of the movie.
Katniss Everdeen
Since Battle Royale made this list, it is natural that The Hunger Games make an appearance as well in the form of Katniss Everdeen, who volunteered for the titular competition when her sister was chosen by random lot. While she went on to serve as a symbol of resistance against the tyrannical regime that ran the Hunger Games, Katniss's success wasn't without its costs, as shown by the clear signs of lingering trauma in the epilogue.
Maximus
Gladiator was complete and utter nonsense from a historical perspective in spite of its supposed attempt to be realistic, but its impact on popular culture can't be denied. In particular, it is remembered for a scene in which Maximus condemns the Roman masses for their love of bloodshed, but at the same time, one cannot help but wonder whether that criticism can be extended to modern viewers when much of the movie's appeal consisted of its blood and gore, however fake it might have been.
Spartacus
There can be no doubt about the fact that Spartacus remains the most famous gladiator of all time. After all, he and his co-conspirators didn't just manage a successful escape from a gladiator school but also inspired a much wider slave rebellion that overcame a pair of Roman legions before being overcome by Marcus Licinius Crassus of First Triumvirate fame. Combined with the mysteriousness of his exact origins as well as the historical claim that his body was never found after his brave if futile last stand, it is no wonder that Spartacus remains a common sight in a wide range of media projects, with the 1960 movie of the same name being the best-known example.