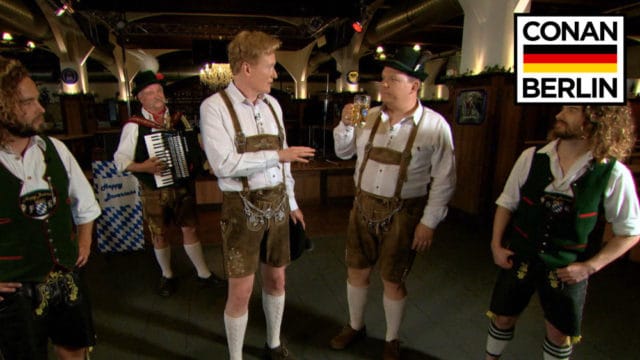 Oktoberfest is the festival that has become a celebration of all things beer. It's a highly anticipated happening that also offers a total immersion in the culture, the food and in atmosphere if it's done correctly. This is a Fall event and it's time to pay our respects this highly anticipated event that takes place in multiple cities throughout American as well as other countries in the world. We do so with a collection of the top five Oktoberfest scenes from reality television shows.
5. "Iron Chef America"
https://www.youtube.com/watch?v=tHI8qauWPNc
The theme of the "Iron Chef America" competition takes on an Oktoberfest theme for the contestants. Beer, sausage, schnitzel and strudel are the components that will be featured in the Austrian-German cuisine that is featured in this episode. They're asking contestants to create traditional dishes with a unique twist. The three Iron Chefs bring their expertise to the tables to create dishes that are based on Oktoberfest.
4. "Chopped"
Ten thousand dollars is the prize for the skilled chef who can create the best traditional dishes associated with the theme of Oktoberfest. This episode shows the expert chefs in action, and educates the viewers on how to prepare these foods by watching them go through the preparation and cooking processes. Creativity and skill are to the fore as three top chefs compete against one another.
3. "Bizarre Foods" with Andrew Zimmern
Zimmern travels to the New York City Wine and Food Festival's rendition of Oktoberfest in this episode. Pat La Frieda co-hosts this spectacular show as guest. They spend for hours sampling the traditional fare which includes bratwurst with an non-traditional twist, and a generous collection of top quality beers to choose from. They are surrounded by German bands and people dressed in the traditional attire.
2. "Worst Cooks in America"
This is a comical Oktoberfest episode. A group of celebrities are invited to join the "Worst Cooks of America" cast, so the preface, we know that they're comedians. Nobody else would put themselves on a show proclaiming them to be the "worst" anything, unless it could be funny. The third episode of the ninth season highlights the cultural foods associated with Oktoberfest, and it is up to the celebs to prepare traditional fare by collaborating with one another. We thought this would be a great video to include because these stars show just how terrible their cooking really is.
1. "Conan"
This is a hilarious clip of Conan O'Brien getting a lesson on German dance from two brothers and their father who plays the accordion for their session. Only Conan could take a series educational experience and turn it into a howling funny occasion. This show was made in honor of Oktoberfest and features traditional dress, complete with lederhosen, which Conan refused to incorporate into his wardrobe. He takes frequent breaks to sip on the stein of beer that he's holding in his hand.