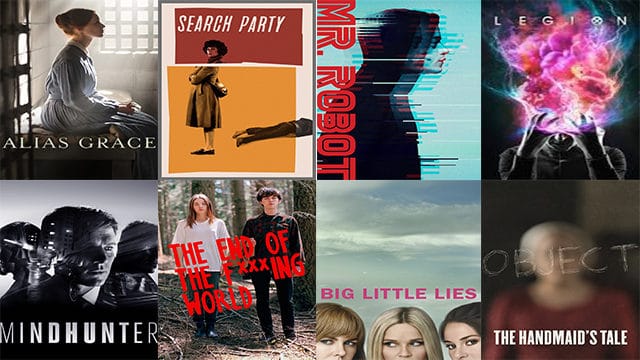 There are so many good TV shows nowadays (though sometimes over-hyped), that not one critic can see them all to judge, and of course, personal taste will come into play a lot of the times. There's so much TV now that 'top TV show' lists are technically sketches of individual critics' taste rather than dubious referendums on what's actually the 'best'. And while knowing this, I've come up with a 'top list' myself. One that aims to expose the overlooked/underrated gems and make readers discover new content, all while trying to determine what TV show was the absolute best of the year from my perspective. I haven't seen them all, but I've expanded my reach this year and now there are only few (2 or 3) shows I haven't seen that are considered 'prestigious'.
On this list new shows are given a lot more commendation since they're the ones offering 'something new' most of the times. It's a difficult thing to determine what makes a show 'great', for each show different factors come into play (and this is where taste can come into play as well). These shows are comparatively ranked on distinctiveness, creativity, originality and how much they excel in writing, directing, acting, cinematography etc. For returning shows, these are not only compared to all the others, but to their previous seasons as well. This is done to prevent personal favorites from nabbing the top spots. Anthologies on the other hand are not compared to their previous seasons; while episodic-anthologies are critiqued and ranked on how many creative episodes there were in the season.
25. Easy – season 2 (Netflix)
Easy was one of the most overlooked shows debuting last year, and its 2nd season shares a similar fate. It just may not be enough to keep people talking, but even so, Easy is a great view on modern-day relationships and society. This semi-anthology set among the young, less young and undeniably middle-aged people of Chicago aims at showing viewers the ordinary side of life, studying society, and examining the small and big problems in modern-day love relationships. Reusing its episodic narrative, the second season of Easy expands its reach a bit to more Chicago-based characters while bringing back familiar faces.
The stories are as engaging and naturalistic as they were before, and the characters and their issues are very relatable; but just like last season, not every episode Easy can be considered a good one. 'Side Hustle', 'Prodigal Daughter' and 'Lady Cha-Cha' were standouts this season, and 'Package Thief' (which was somewhat of an experiment), 'Open Marriage' and 'Baby Steps' were good enough to land Easy a spot in the 'Top 25 TV Shows of 2017'.
24. Top of the Lake: China Girl (BBC Two/BBC First/SKY TV)
The sequel to Jane Campion and Gerard Lee's 2013 hit series 'Top of the Lake' is worst than its predecessor in some ways and better in others. While being somewhat illogical and crammed with ideas, China Girl is more nuanced and less wearisome than its first installment. But truth is, Top of the Lake: China Girl is way more enjoyable if you leave its successful 1st season behind without comparisons. Though it's from the same team of writers, China Girl shares little to no similarities with the original; that 'little' being the return of Robin Griffin and her woes, but besides that, in terms of visuals, tone, settings, plot etc. China Girl proves itself to be a near-completely different show, and should be treated as such.
China Girl is about a lot of things: what it is to be a parent or to want a child, what it's like to crave a connection with a child/parent who has turned away, and also it is also about the murder of an Asian sex worker. China Girl tries to tie all these aspects (and more) together without much success as it gives off the impression that it is trying to be too many things as once, but them just being there proves to be as entertaining as it would've been if they were tied together cohesively somehow. The look and feel of China Girl is really what makes it worthy. It's beautifully cinematic from start to finish and features a number of artful compositions that linger in the mind long after it's over. The acting is also tremendous; Elizabeth Moss is reliably brilliant as always and she's joined by a cast -featuring Nicole Kidman, Gwendoline Christine, Alice Englert etc.- that she shares chemistry well with. China Girl does feel like a six hour-film in some respects, but the series' one-hour episodes have nevertheless been shaped into clean, one-hour blocks of storytelling, complete with their own beginnings and middles and ends.
23. G.L.O.W. (Netflix)
In its own way G.L.O.W. is quite unique. Being a show about women's wrestling in the 80's, G.L.O.W. is humorous, quirky and can be enjoyed by wrestling and non-wrestling fans alike. It's fun, colorful and nostalgic, but but it's more than the sum of its soundtrack and hair spray, G.L.O.W's mid-80's Los Angeles view featuring ratty motels and skate punks feels authentic and does a really good job selling viewers on what it was like for the 'out-of-work' amateurs.
G.L.O.W. is packed with an excellent ensemble cast that includes Alison Brie, Betty Gilpin etc. The gimmicks they play -Welfare Queen, Fortune Cookie, The Old Biddies etc.- are wildly over the top, borderline offensive, and so true to the era the crowd has no choice but to fall in love, and so too the viewers. G.L.O.W. gives every member of its misfit ensemble a chance to stand alone in the center of the ring. There are characters each looking for their own sense of redemption and fulfillment in this underground women's wrestling gambit, but G.L.O.W. isn't really fantastic until these characters find their personas as wrestlers. It lingers a while before they do, and that's where one could get the impression that G.L.O.W. is disorganized and maybe even a bit cliche, but once the performances begin, it undeniably starts to get very good.
22. Dark (Netflix)
Netflix ventures into new -but familiar- territory with its thriller series 'Dark', that mixes the elements of already successful shows into a fresh drama. In place of the show's ceaseless adrenaline rush, Dark offers a hushed, brittle artiness that will be familiar to fans of the French ghost story 'Les Revenants' or the British-French thriller 'The Missing'. But you could argue also that Dark is the German-Stranger Things, with a much better claim to the title as it is much 'stranger' and 'weirder' though joyless and bleak. With tension building up to the point where it's creepy and unnerving, Dark even keeps its main theme a mystery until its 3rd episode (though it's pretty easy to figure out), and it turns out to be time-travel, and thus it has a lot of voice-over philosophizing about it.
Simple ideas about fate and determinism are worked out at great length and in complicated ways that will appeal to those who like their sci-fi on the heavy side. But the most challenging part of Dark isn't its laws of time-travel, it's simply keeping track of the characters and their relations as it jumps among three timelines (2019, 1986 and 1953) and four families. The acting on Dark is sub-par to most you'll see but it's not the worst, and compelling characters with variety personas is something Dark has not mastered yet (or just doesn't care about). It does have it flaws, but Dark makes for a fantastic viewing when you're in the mood for something steady-paced, gloomy and tense.
21. Z: The Beginning of Everything (Amazon Prime)
For a series about the private and public lives of the famous couple Zelda and F. Scott Fitzgerald, many would not expect Z: The Beginning of Everything to offer much unless they were already infatuated by their story from the books written about them. And for those who're already familiar with the story, finding this series disappointing can be understandable, but for those who are not familiar with this famous couple, Z: The Beginning of Everything can be surprisingly satisfying.
With its pleasing visuals, good acting and a 30-minute episode format that works well, Z: The Beginning of Everything is a master in the art of simple storytelling. The mise-en-scène accurately depicts the glamorous jazz era which makes for a consistently fun party-like environment. Being an adaptation of a book which is more focused on Zelda's perspective of the story. Zelda is depicted more as a heroine to F. Scott's villainous ways in their somewhat dysfunctional relationship.
Christina Ricci's performance was very good, but she's apparently older than her character is intended to be. Nothing much sets Z: The Beginning of Everything apart from most period drama, but it is definitely one of the more easygoing series of the sub-genre. It is well made, simple and occasionally fun.
20. Man Seeking Woman – season 3 (FXX)
For its final season, Man Seeking Woman went from being a good show about dating to a great show about relationships. This season describes what happens when a man seeking a woman finally finds one, and it does so in its usual bizarre, imaginative fashion. Man Seeking Woman has always been plenty weird, and this season it doesn't shy away from its wild and wily ways. But unlike it did in previous seasons, Man Seeking Woman doesn't overexert itself and even finds a perfect balance of tone between mundane and bizarre. It's still often moves and thinks like a cartoon, but this time around with way less idiotic and unnecessary moments.
It's startlingly impressive how quickly Jay's love interest 'Lucy' becomes central to everything. Their relationship is the highlight of the season, it's an embodiment of not only how our main character has matured, but also how much show itself has grown. The 3rd and final season of Man Seeking Woman is its best and most worthwhile yet. Though it was technically cancelled, it makes for a great final season, and works as a big payoff for those who have stuck with this zany experiment from its 1st season.
19. Harlots (ITV Encore)
Finally, a British period costume drama that doesn't involve monarchs or political games and whatnot. Instead this series tells its story around the lesser-fortunate sex-workers living in the early 1970's. So by being what it is Harlots is already a refreshing series, and quite a good one too. It's engrossing, bawdy and occasionally dark, and the drama is more upfront than most of the period costume dramas we've seen on TV over the years. Harlots is also much more bright and colorful compared to its peers, and the creators resists the urge to score this series with classical music, instead Harlots possesses a more upbeat and heavy-bass soundtrack. So yea, Harlots strays away from the now generic formula for costume dramas, but it does have its flaws. For a sex-themed series Harlots fails to express itself when needed. And I guess that's the case with most British dramas.
British TV pretty much refuses to make anything more explicit than Misfits (2009), Skins (2007) or Utopia (2013) etc. Harlots would've definitely benefited from more nudity and eroticism, or maybe from them not skipping pass 'disturbing moments' which would've left bigger impacts on viewers. Even so, Harlots is a wonderful series, well-produced, well acted with beautiful cinematography, but seems to be one of the most overlooked new series in 2017.
18. Mr. Robot – season 3 (USA)
For its 3rd season Mr. Robot loses a few elements that made its previous seasons as engaging as they were. With a few revelations and tying up of loose ends, Mr. Robot is not as cryptic as it was, causing it to be less mind-blogging, suspenseful and suspicious. But this season makes up for it in other ways, even though everything is in the open and there isn't much mystery to solve, Mr. Robot is as thrillingly exciting as it ever was and exerts the same level of creativity.
For those already weary at the prospect of more episodes filled with frustrating mind games this season of Mr. Robot comes as a relief. But it is most times relieving to just to tune into Mr. Robot and have it take off immediately in creative, smart and adrenaline-fueling directions. The writing and plotting is spot-on, but once again the directing is the highlight of the season. With every single episode this season directed by show creator Sam Esmail, episodes such as 'eps3.4_runtime-error.r00' and 'eps3.5_kill-process.inc' proves his directing skills and creative mindset is nothing less than brilliant.
17. MINDHUNTER (Netflix)
Mindhunter is a deeply unsettling and gripping thriller; one that's telling a long story that is engaging on multiple levels. Patience is recommended, so if you're are after a action-packed cop show, Mindhunter is not for you (though the title could give the impression that it is). The creative team behind Mindhunter takes a slow, systematic approach to its narrative; so instead of car chases and guns blazing, the pleasure in the series stems from its attention to details, chilling tones and its the study of the psychotics.
The best moments from Mindhunter came from its interview scenes. Main character Holden Ford gets paired with veteran FBI agent Bill Tench and starts conducting interviews of imprisoned serial killers. These scenes are often times tense and chilling to a point it's almost scary, with the best of them being co-ed killer Ed Kemper; Cameron Britton who plays Ed completely nails a so-serene-it's-creepy vibe. Mindhunter details some of the most inventively nasty things humans have ever done to each other and yet never once turns to a flashback, preferring to have each killer interviewed blankly recount what happened, somehow making the murderers seem all the more upsetting and real.
16. Alias Grace (CBC)
The six-part miniseries adaptation of Margaret Atwood's novel came as a surprise, not surprising that it was made, surprising how brilliant it is. Based on the true story of Irish immigrant servant in Canada named Grace Marks, Alias Grace packs considerable drama, emotion and misery into six episodes. It is so vividly written with a story and characters so raw that you almost feel a responsibility to keep watching.
The journey we take with the main character throughout the series is immersive as it is melancholy, and Sarah Gadon who plays her is an electrifying lead. Gadon's extraordinary performance is matched by those of her co-stars; Anna Paquin, Zachary Levi etc, and this cast is the key to Alais Grace's brilliance along with a script that is crisply modern in its understanding of characters' psychological realities. Along with that, Alias Grace also gives us reliably lessons on the lifestyles and inconvenience of the the time-period it portrays.
Given that there were 2 Margaret Atwood adaptations this year, Alias Grace will be compared to The Handmaid's Tale by many. But in ways the two shares some similarities as they both tell stories of women in depriving situations, though The Handmaid's Tale is much darker and amusingly repulsive.
15. Search Party – season 2 (TBS)
For its 2nd season the 'Search Party' ensemble went from being wannabe detectives to straight up murders. And thus, It feels like the series has genre-skipped, from a satirical comedy with crime-mystery elements to one with thriller elements. But season 2 of Search Party is just as exciting and satisfying as its predecessor. Even though it may have changed somewhat, this follow-up still feels like a continuation of what made it enjoyable in the the first place.
With perfectly played awful people continuing to be unaware of their awfulness and generating wry amusement while doing awful things, Search Party certainly hasn't lost its sense of humor, which emphasizes on the callousness and posturing most of the characters demonstrate. The internalized guilt the characters tries to battle this season is fascinating and damn hilarious to behold as it bursts out in various ways, for various reasons.
The cast of course is as brilliant as always, never carrying themselves as if they are above the often conceited, petty, fearful and weak characters they portray. Alia Shawkat in particular is fucking fantastic as she sells the paranoia of the main character 'Dory' in a way you haven't seen before. Search Party remains a hidden gem for TBS (and possibly their best show ever), one that manages to be exceedingly clever and emotionally authentic all at once, and with a tense story that begs to be binged. Whether you think this season succeeds its first may simply depend on how prepared you were for its change in tone, but regardless, Search Party has been one of the best comedies in the past 2 years.
14. Insecure – season 2
Insecure's 2nd season is superior to its 1st in every way, it's funnier, sexier, more assured and finely detailed. This great-looking HBO comedy from Issa Rae which was already unique to begin with, gained even more credibility by breaking boundaries between its standard drama and original comedy. The humor is much more daring and indecent this time around but it's the key to some of the show's most hilarious moments.
The level of authenticity that surrounds Insecure is one you can't find in no other black-oriented comedy. The characters, the music, the slangs; Insecure isn't timid when it comes to expressing itself and the culture of black people, and it does so without giving lectures and sentimental messages. Without ever being too on-the-nose, Insecure portrays to its audience the experience of seeking life and career successes while black. Also, the cast gives great performances and seems to be fitting into their roles more compared the 1st season. There is hardly a flaw to be found in the 2nd season of Insecure, and should be recognized as one of the best comedies coming out of 2017.
13. The Leftovers – season 3 (HBO)
Over the past 2 years it became quite a cliche to brand The Leftovers as 'the best show on television no one is watching'. But that title arguably was a deserving one since The Leftovers elevated itself from a 'flawed but somewhat-intriguing' 1st season, to a melancholic masterful 2nd. Very few current TV shows approach the level of contemplation The Leftovers delivers, and as a result, the show stays with you long after an episode ends. There are no real answers in The Leftovers, even as plot questions are resolved, the series turns that ambiguity into its greatest accomplishment.
For its 3rd and final season The Leftovers proves to be as absorbing, complicated and textured as ever, and it overflows with striking, memorable and incomparable moments. Maybe efforts to recapture the same creativity of the 2nd season is where the 3rd begins to feel inferior (especially with episode "The Most Powerful Man in the World"), but it undeniably possesses more creative uniqueness than most (it's not as good as its 2nd season but way better than the 1st). And with that creativeness, accompanied by great performances from Carrie Coon etc., and a ambiguous revelation of its main mystery at the end, The Leftovers delivered one of the most fantastic final seasons of 2017.
https://www.youtube.com/watch?v=K_2Rx-LEeMQ
12. Patriot (Amazon Prime)
When you first start watching Patriot it might take some time to wrap your head around it to figure out exactly what you're watching. Saying the series is 100% original is a bit of a stretch though. The series has similar color scheme, uncanny violence, and effortless-looking black comedy style as Fargo (1996), or any other Coen Brother films as a matter a fact. And just like those films, Patriot is more diverting than it is suspenseful, and provides a more of a scenic experience than an exciting one. But apart from the Fargo TV series the Coen Brother's style hasn't been replicated much, and that's what makes Patriot still so distinctive.
Think The Brink meets Fargo. And series creator Steven Conrad decided to add even more distinctiveness by straying away from the typical American setting; which in itself can be a confusing aspect as the series jumps from Milwaukee, Amsterdam and Luxembourg without much warning. Patriot is definitely a fresh take on the espionage genre. It is smartly written and its humor is pretty much highlighted over its poignant tone. The humor surprises you by putting our main character (played by Michael Dorman) in absurdly bungled and awkward situations. This series is a quirk-fest in almost every possible way, even the backstory of our main character being a former folk singer sounds risible. It can be confusing at times, more noticeably in its first couple episodes, but Patriot is a hilarious and refreshing series if you have the patience.
11. Ozark (Netflix)
On the outside it may seem like Ozark isn't offering anything new. Let's admit, the whole 'middle-aged anti-hero enters a life of to help his family only to get pulled in deeper and deeper' trope is one that went from being novelistic to tiresome within this decade. And at first sight it seems Ozark is going down a derivative and predictable path, but it doesn't, there's actually something reinvigorating here. Ozark's originality (and enjoyment) stems from the approach it took to telling a story that has already been told. It's confident, direct and to-the-point. It's a show that knows that there are many others like itself, yet it convinces viewers that it is bringing something new to the table.
Ozark isn't as predictable as you'd expect and it even develops its own quirky rhythm along the way. But if there's something to love about Ozark, it's how it avoids certain TV crime-drama 'cliches' we grew tired of seeing: There was no constant deceit among the characters; the teen characters are more involved and aren't left looming in the background; the main character even though he's a smart white man, isn't nerdy/eccentric etc. Great performances from Julia Garner, Jason Bateman, Sofia Hublitz etc. was the icing on the cake for Ozark, along with beautiful lakeside shots and some very shocking moments. Picture wise the color-toning might've been a bit too blue, but that doesn't prevent Ozark from being recognized as the best crime-dramas in 2017.
10. American Gods (Starz)
American Gods is proof that if you try hard enough be creative on the television platform, your efforts will meet an unique and artistic end-result. Legion might seem a bit more effortless compared to the more-forceful American Gods when it comes to visual manipulation, but both are pretty much in the same 'style-over-substance' boat. But American Gods is more strange than anything else, and is quite possibly the weirdest and trippiest TV series since Twin Peaks (1990). It's most definitely one of the most imaginative, adventurous, and deeply weird experiments on television. It seems to just not care about the traditional structure of TV making and deliberately tries to be different in all aspects (editing, music, cinematography, storytelling etc.). While the series may have a some flaws they are barely noticeable because it's quite difficult to differentiate what's intended from what isn't.
Even with a chronological viewing American Gods will seek to baffle it's audience with its unconventional approach to storytelling. Episodes for the most part aren't self-contained and favors new plots, often times eschewing main plots altogether and starting new ones before revisiting them. Whether or not this approach is entertaining or not is up to the viewers themselves, but definitely adds to the series unpredictability and uniqueness. The characters are the main attraction in American Gods. And they are wonderfully portrayed by a fine lineup of Ian McShane, Rick Whittle, Emily Browning etc. even though good acting doesn't seem to be a crucial aspect for American Gods being a good.
9. Master of None – season 2 (Netflix)
Coming off an already strong start with its warm, quirky and fun 1st season, the 2nd season of Master of None proved that it could top not only its predecessor but all the other shows of its kind when it comes to creativity and uniqueness. The season features a number of self-contained episodes that are essentially extended vignettes. These episodes explores the Master of None universe but only tangentially related to the season's overall narrative. Instead of a continuing plot-arc this time around Master of None experiments with different styles and executions, and the end results are quite great.
Stylistically and thematically adventurous, the 2nd season of Master of None continually shifts tone and focus, with no two episodes being alike. These diversions are among the most imaginative and insightful episodes of the season; with episodes such as 'The Thief', 'First Date' 'Amarsi Un Po' etc. Master of None finds a balance to the series that was previously missing, while still being filled with laughter and romance.
8. Gap Year (E4)
Over the years Channel 4 and their youth branch E4 have built a reputation on strong young adult comedies, from the likes of Skins, The Inbetweeners, Misfits, Drifters etc. and now new series Gap Year shows that they haven't lost their touch. Fans of E4 comedies will find a lot to love here, as it's a similar mix of sentiment, excess and relatable humor, albeit in a different setting and with even more outlandish action.
As the title would likely suggest, Gap Year follows a group of students (and one or two weird adults) as they travel around Asia, getting into the usual sort of scrapes familiar to anyone who's spent time backpacking with friends. And though the humor and romantic conflicts may seem familiar, the premise is what elevates Gap Year above being cliche and brings it up to a 'refreshing' level, because a show like this certainly hasn't been done before.
The cast includes veteran comedians like Tim Key and Aisling Bea, but the inclusion of lesser-known stars is what adds a great deal of authenticity to the series, with most of the young cast roughly the same age as the characters they're portraying. And authenticity also comes to the series by other means, namely the fact that the show actually filmed in Asia for four months, with the opening episode featuring some gorgeous scenes shot on the 'Great Wall of China' itself, and future episodes travelling to Thailand and Malaysia. With the group carrying the plot and conflict with them along the way, Gap Year feeds your eyes with new imagery every episode complemented by stunning cinematography and a naturalistic atmosphere. Gap Year isn't the most perfect series, but it is definitely something we want to see more of on television. It is quite a shame it took them this long a make a series about people traveling the world, or in this case, a section of it.
7. SKAM – season 4 (NRK)
For a series that has official translation and can only be legally viewed in Norway, it is very impressive how popular this Norwegian teen-drama web series became. But the Skam hype isn't a fluke, this is the most modernized version of teenage realism you'll come across in today's television. Skam's approach to storytelling is quite original as it is told in 'real-time' with clips (and not necessarily "episodic"), thus providing a unique viewing experience. Each season features a different focus character, and the plot, though often times loom in the back, is told around that character's perceptive. If you binge-watch, the seasons themselves (specifically seasons 1 & 3) can feel life lengthy-movies due to its short-length episodes. Stunning cinematography and a unique setting is the icing on the cake, but Skam's main appeal comes from it's commitment to realism in terms of its subject matter, characters (who are mostly played by non-professional actors), and depiction of what it's like to be a teenager in modern society.
Skam is one of few shows today with accurate depictions of the social media-crazed era we live in, and it does so flawlessly. With almost all the characters having their own Facebook and Twitter accounts, Skam almost presents itself as a trans-media piece. It is ok to say Skam is a modernized version of Skins, it's the one other series we could compare it to (and let's face it, Skam changing focus characters each season isn't that different from Skins changing focus characters each episode).
Season 4 features a lot of what made Skam distinctive, with many great scenes of observational drama and introspection. But this time it's often forced to abandon the isolationist storytelling of previous seasons in favor of more 'plot' in order to wrap up the series. Sana -the focus character of season 4-, has a clear model for a Skam season, only she understood the struggles of balancing her faith and her friends, and the struggles of negotiating her religion while wanting to be a part of Norwegian culture. These themes becomes the anchor of season 4, and the source of its best moments.
The 4th season is its last but many will agree that the series should've ran at least 2 more seasons for a much more proper ending (we didn't even get to see the group Russefeiring). For its 1-hour finale, Skam adjusts its format to shift perspective on a daily basis, moving between a range of supporting characters to bring the show to its conclusion (which might have been a preview for possible stories the creators had for future seasons). But despite the somewhat abrupt ending, Skam remains one of the most innovative and naturalistic projects of the decade.
6. The End of the F***ing World (Channel 4)
With its its punk title and an opening few minutes that reference child self-mutilation, animal killing, psychopathy and murder, you'll know from very early on what you're getting into with this dark-comedy. The End of the F***ing World follows James and Alyssa, a self-diagnosed psychopath and a ill-tempered girl -who at first sight you'll get the impression not to like but will eventually love- as they embark on a road trip to escape from their mundane lives. The End of the F***ing World switches narrative perspectives between these two characters, which helps to empathize with both of them; and behind the comedy, vulgarity and drama, there's a real frailty to these characters that helps to make them believable.
Just as the spikiest people can be the most vulnerable, this show's aggressive nihilism conceals a tender and romantic center. Its eight episodes are essentially the story of two young people damaged by abandonment who finds solace in each other. Though the show mostly presents itself as a dark, care-free comedy, the emotional side is meticulously handled, though never compromising its cool tone or threatening to turn into mawkishness. Sentimentality is repeatedly undercut with a gag.
As well as the script, the characterization is worthy of praise. James and Alyssa's depth and progression announce themselves gently through their adventure. The leads actors Alex Lawther and Jessica Barden, proves to be a strong pairing as they brought forth a lot of chemistry onto the screen. Barden delivers a funny, aggressive, heart-breaking performance, while Lawther pulls off a very convincing combination of dangerous and sympathetic. One minute, James and Alyssa seems irrevocably damaged, then one blink and they're children in pain. It's a transformation both leads are able to pull off, and it gives this darkly comic story a lot of emotional weight. The episodes are short, around twenty minutes each which really makes this 8-episode series a mere 3-hour length film when binged. Though as a TV series The End of the F***ing World is quite outstanding and makes for a great watch. It's well written, stylish, fearless and one of the best young adult comedies coming out of 2017.
https://www.youtube.com/watch?v=vsdRG0mJj-w
5. Twin Peaks: The Return (Showtime)
The Return of the 1990's classic 'Twin Peaks' is an ambiguous masterpiece, one that left it's viewers both fascinated and confused. Sharing little to no similarities in style to its predecessor, this 18-part series scattered a lot of fascinating imagery, disconnected story ideas, and inter-dimensional nightmare antics in front of its audience. It's up to viewers to try and put the pieces together, or simply soak in every bizarre tableau with great delight. Twin Peaks is a lot of things, but operates on its own terms, it's hardly ever what you want it to be and that is one aspect that left some viewers frustrated. Its weird meandering and occasional feints toward trolling its audience might very well be a test-of-patience for many.
Twin Peaks has never been about straightforward and completely coherent storytelling, but the original series did have more forward momentum than 'The Return'. What The Return seems to be is the oddball for this TV era as the original Twin Peaks was the oddball for television in the 1990's. We saw where creator and director David Lynch (along with Mark Frost) took inspiration from his older projects like Lost Highway, Inland Empire etc. into developing this series (for eg. The POV driving shots thoughout the series and mainly throughout the finale resembles 'Lost Highway'). Twin Peaks: The Return is most definitely creative, but it's creativity isn't something a lot of people will understand, but even so, it is one of the most unique TV projects ever made.
4. The Handmaid's Tale (Hulu)
Riveting, enraging and beautifully joyless. … The Handmaid's Tale isn't just the best original show Hulu has ever done, it's one of the most impressive new series of 2017. The Handmaid's Tale, created by Bruce Miller and based on the 1985 novel by Margaret Atwood, may take a couple of episodes to really show you what it has to offer (well, unless you've already read the book), but once it does you'll have to admit that it is unique, complex, beautifully made television, even if you oppose its political undertones.
Handmaid's Tale is undeniably beautiful. With its astounding cinematography featuring vibrant colors and close-up shots, every scene is seemingly painted onto the screen. The series is laced with stark color symbolism, from the handmaids' reds to the upper-class wives wearing shades of blue to the totalitarian rulers in black and kept in shadow, controlling the world from a place of deceit and darkness. Throughout its entire first season The Handmaid's Tale allowed its audience to feel nothing else but emotionally depressed and overwhelmed, as it's an adult take on the dystopian genre and a somber and relevant story about the lives and fears of women, which makes it very hard for many to watch.
The story is a strong one, and painfully relevant. Female mutilation, rape, institutionalization, slavery, torture etc. are some of the topics covered that were once considered social norms. The Handmaid's Tale attempts to modernize its source material that was written in 1985, so showing how a modern society got to the point where women are brutally subjugated by a totalitarian and purportedly Christian fundamentalist government is where the series flounders. Show-runners opted to use flashbacks to show the transformation of society, and though well-balanced it may be a test-of-patience for many viewers (especially non book readers). As is the case with most top-tier television this year, the acting in The Handmaid's Tale is spectacular. There are already many praising Elizabeth Moss, Ann Dowd and Samira Wiley for their performances on the series, but Yvonne Strahovski portrayal of Serana Joy was flawless and underrated. It's arguable that having to play a sympathetic but occasionally ruthless villain takes even more skill.
3. Black Mirror – season 4 (Netflix)
Black Mirror is an anthology series which examines modern society and how it would react to unanticipated consequences of new technologies. Each episode features stand-alone episodes, with new stories and a different cast each episode. These technology themed stories are emotional, sometimes thrilling, sometimes introspective and often times dark. Every episode of Black Mirror is unique yet criticizes the same absurd society we're living in. The resulting mix of bleak sci-fi, drama, satire and black comedy makes for highly intelligent Television and ranks among the most original and entertaining shows I've ever come across. The writing is clever, innovative, and the directing is fantastic. The visuals/cinematography are stunning and even though each episode tells a different story, they often share a similar dark, chilling tone.
2. Big Little Lies (HBO)
7 episodes, A-level actors, great production values, great writing and directing; this is the treatment you'll wish all other book adaptations of this kind had gotten. Big Little Lies, based off the Liane Moriarty novel of the same title, is a slow-burner and an excellent one. Told in flashback via an omniscient perspective but framed by interrogations of otherwise minor characters, Big Little Lies possesses a clever structure and an intricate storyline. Focusing on important societal issues such as domestic violence, rape, divorce, love affairs etc. and their effects on family life and childhood, Big Little Lies tackles these topics in such a precise manner. Its looming mystery is one many might find weak because it's easily solved within the first 4 or so episodes, but hiding the truth was never its intention. Big Little Lies did mystery in a somewhat uniquely pleasing way, it teases viewers with implications and feeds off our doubts, but concludes with our most obvious guesses. Big Little Lies's brilliance wasn't in the mystery itself, but in David E. Kelley's ability to write precisely connecting plots and sharp dialogue for its enthralling characters; Jean-Marc Vallée's signature directing style commonly featuring flashes of eroticism and surrealism; and of course the flawless acting lead by Academy Award winners Reese Witherspoon and Nicole Kidman. Shailene Woodley, Alexander SkarsgÃ¥rd, Adam Scott etc. are also great and so are the adorable child actors we didn't expect too much from.
Every character is portrayed so perfectly , some actresses seem like they were playing themselves most of the time (Reese Witherspoon for e.g.), and it compels you to get wrapped up in the private despair and public pettiness of these characters. Big Little Lies small town setting makes for some very pleasing visuals. The cinematography, multiple ocean-waves shots, fantastic editing, astounding soundtrack, and well paced slow progressing story gives the series a very soothing and atmospheric tone, even among its dark subject matters. By the time it ended It felt like Big Little Lies just did the same brilliant episode over and over again and it cause no means for complain. The ending came swift, didn't leave much room for much of an aftermath, and there were a few conflicts left unresolved. And for those reasons, developing a 2nd season of Big Little Lies should not be too difficult for David E. Kelley.
1. Legion (FX)
Legion is one of the most creatively artistic, mind-boggling shows not only of 2017, but of all time. Legion not only excels at being a TV series but is also a huge standout of the superhero/comic TV sub-genre. Just like Daredevil and Jessica Jones did before, Legion represents a refreshingly different side of Marvel. Being an X-Men spin-off series and all, one would expect Legion to be as generic-looking as the X-Men movies, but Legion surprised us with its surrealism and vivid portrayal of illusions which made for a mind-bending experience.
It challenges your mental capabilities to figure out what's happening, what's real, who are the antagonist and protagonists and why. Again, bringing you into the perspective of a schizophrenic's mind; the hardship of differentiating illusions from reality. Legion is a cerebral art house version of a superhero series, thrumming with precision and emotion where the genre usually calls for shock and awe, and assembled with stunning and occasionally horrifying visual effects, an entrancing period aesthetic, and complimenting soundtrack. Legion shows even more uniqueness by not being a typical slow-paced physiological thriller.
Scenes move quickly but the mind fuck never stops, it just gets twisted in a downward spiral like a long drunken night. It plays a lot with themes of identity and memory and emotion, and if the key to visual storytelling is to show and not tell, Legion grasps onto that concept wholeheartedly. Dan Stevens, Rachel Keller, Amber Midthunder and Bill Irwin were perfectly cast for their roles, and the best of them was Audrey Plaza who gave a vibrant, vigorous, Emmy-worthy performance.
Tell us what's wrong with this post? How could we improve it? :)
Let us improve this post!