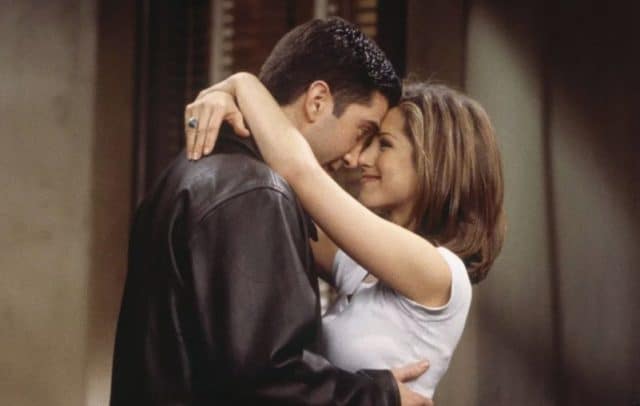 Ever since Gable and Lombard invented onscreen sexual tension, we've been asking that age-old question, "Will they or won't they?" And, that sexual tension that intrigued us so much on the silver screen also keeps us thoroughly engrossed on the small screen as well. Yes, many TV couples have turned sexual tension into an art and, in many cases, they leave us wanting more. Sometimes they start out hating each other or simply just engaging in constant snark. In other cases, it's love at first sight or at least in our eyes. Often, audiences seem to see the sparks way before the TV couples in question do. And, of course, that's because that's what the writers want us to think. They want us to be on the edge of our seats and yelling "Kiss her, you fool!". So, here are the Top 20 "Will They or Won't They" TV Couples:
Animal Kingdom – Nicky and J (Molly Gordon and Finn Cole)
In case you've never seen it, in this gritty well-written series revolves around the Southern California Cody clan run by a Ma-Barker-like matriarch, Smurf Cody, played superbly by Ellen Barkin. Her three sons, Pope, Craig, and Daren, along with step-son Baz (Scott Speedman), are her partners-in-crime. Then, Smurf's teen grandson, Joshua "J" Cody, moves in with the family after his mother passes away from a heroin overdose. It's immediately obvious that he's smarter than all of them put together and he eventually ends up running the family. His love interest is 17-year-old Nicky, whom he meets shortly after arriving in SoCal. Sparks immediately fly but they break up after a short romance, leaving us wondering if they would ever get back together. They're clearly made for each other and, toward the end of last season, they finally got back together. Yea for young love!
Blacklist – Liz and Tom Keen (Megan Boone and Ryan Eggold)
Although James Spader, as the quirky and utterly fascinating Raymond "Red" Reddington, is clearly the star of this hit show, his daughter Elizabeth Keen and her husband Tom are also stars in their own right. They were married when the show started but clearly didn't know each other very well, so they split up when she discovered his secret identity. We wondered for a while if they'd ever get back together because they have such amazing chemistry. And, of course, they did. They got married, had a kid, and are always there for each other right up until Tom ends up dying after sustaining injuries while saving her life. That was the end of the last season and, this season, Liz wakes from a coma and spends every waking minute trying to get to Tom's killers.
Blindspot – Jane Doe and Kurt Weller (Jaimie Alexander and Sullivan Stapleton)
From the minute that Jane Doe burst onto the scene with her head-to-toe tattoos, it was clear that she and Kurt had some serious chemistry. They fight numerous battles together and we continue to wonder if they will or they won't get together. They finally do and they get married but are not destined to live happily ever after. She disappears, he finds her. He allegedly kills her daughter, whom she has never even met, and she doesn't take that very well and dumps him. Of course, it turns out that her daughter is still alive, so now they have to band together once again to try to find her. Obviously, they were meant to be together no matter what and the journey to get them there over and over is really exciting and fraught with danger.
Bones – Temperance Brennan & Seeley Booth (Emily Deschanel and David Boreanaz)
In this show, Dr. Brennan is a forensic anthropologist for the Jeffersonian. And, since she is so brilliant at reading clues from the bones of victims, as well as being a well-known author, she got the name Bones. Law enforcement asks for her assistance on many of their investigations. That's how she gets teamed up with Special Agent Seeley Booth. He's a former Army sniper and puts no stock in what scientists like Bones have to say about solving crimes. However, he ends up developing a deep respect for Bones and not just professionally. They seem to be an unlikely couple but more and more, with every grizzly case they work together, the sparks keep flying. It takes many seasons of wondering if they will or they won't and, of course, in the end, they do, and the series ends with them married with two kids.
Castle – Richard Castle and Detective Kate Beckett (Nathan Fillion and Stana Katic)
From the minute they met on that first case, we knew they were meant for each other. They were so different, yet so alike, and Kate found Castle so annoying. He made no bones about his attraction to her but she found him to be childish and couldn't wait for the case to be over. But, the mayor, (a big fan of Castle's novels), insisted that Kate let Castle shadow her on numerous other cases and, of course, we could see the handwriting on the wall. It took several seasons of the show and dozens of cases before they gave in to their attraction. And, frankly, that palpable sexual tension seemed to diminish the closer they got to the altar. But, now the show has been canceled and we truly miss Castle and Beckett. The ending was pretty warm and fuzzy though, as we watched the two several years later with a houseful of adorable rugrats.
Covert Affairs – Annie Walker and Auggie Anderson (Piper Perabo and Christopher Gorham)
In this spy drama, Annie Walker is a CIA trainee who abruptly gets a promotion to field operative because of her linguistic skills. She finds herself working on assignments that she's really not trained to handle. So, she has to depend on her handler, CIA military intelligence agent, Auggie Anderson. He was once a special operative but an explosion on a mission blinded him. But, that certainly doesn't hamper his sexy demeanor and the two hit it off. He's always got her back and we watched several seasons where he was involved with other women and her with other men, especially one Mossad agent who is really hot and saves her life several times over. But, of course, eventually, Auggie and Annie realize they were made for each other and get together and then split up and get together, again and again, well I think you get the picture.
Friends – Rachel Green & Ross Geller (Jennifer Aniston and David Schwimmer)
Friends had an amazing ten-year run and revolved around three young ladies and three young guys who were BFFs living together in the same apartment complex in New York. They often stick their noses into each other's business, and swap romantic partners, and generally cause that kind of hilarity that the average person probably will never get to experience in their lifetime, so we all experienced it vicariously via Rachel, Ross, Phoebe, Joey, and Chandler. More than any others on the show, Rachel and Ross had the most "will they or won't they" relationship. He had been in love with her since high school but her, not so much. Their dance around romantic entanglement was always hilarious and, of course, in the end, they did get together. The show first aired on September 22, 1994, and the last episode aired on May 6, 2004.
Law & Order – Elliot Stabler & Olivia Benson (Mariska Hargitay and Christopher Meloni)
This popular hit show tells the stories of the NYPD's Special Victims Unit's investigations led by Olivia Benson and her partner, Detective Stabler, and also includes Detectives Amanda Rollins, Odafin Tutuola, and Sonny Carisi. Together, they all spend their days and nights focusing on the task of getting justice for special victims of some of the worst crimes imaginable. Now, throughout the many seasons of the show, viewers have speculated whether Olivia and Elliott might get together. After all, they have some chemistry but more than that, they have a great respect for each other, giving them all the more reason to keep things professional. On the other hand, a not-quite-so-professional-relationship does develop between Olivia and Brian Cassidy (Dean Winters). You probably remember him from those highly entertaining insurance commercials where he plays "Mr. Mayhem". The two of them make a smoking hot couple and there's no doubt about whether they will or won't.
Lethal Weapon – Martin Riggs and Dr. Maureen Cahill (Clayne Crawford and Jordana Brewster)
Lethal Weapon premiered on September 26, 2017. Just like the movie of the same name, it's one of those buddy cop affairs where Martin Riggs is even crazier than he was in the film and needs the help of the gorgeous Dr. Cahill, played by the "Fast and Furious" star. Now, Riggs' partner, Roger Murtaugh (Damon Wayans), tries really hard to keep Riggs out of trouble but to no avail. Dr. Cahill is the one person that Riggs seems to actually listen to and perhaps that's because of their amazing chemistry. It's quite obvious that eventually, they'll get together but we're just not sure when.
Madame Secretary – Stevie McCord and Dmitri Petrov (Wallis Currie-Wood and Chris Petrovski)
In this political drama, Elizabeth McCord is an ex-CIA agent turned Secretary of State who runs the state department with an iron fist in a velvet glove. At home, she has a husband, who is secretly also in the CIA, as well as three great kids. The oldest of those kids, Stevie, is a beautiful young woman who accidentally meets one of Dad's CIA operatives named Dmitri, and sparks fly. After running into each other several times, viewers are left wondering if they'll ever get together and they do. They hide the affair from Mom and Dad but, when Russian assassins try to kill Dmitri, the government is forced to send him to Alaska for both of their safety. But in the end, even though Dad knows and disapproves of their relationship, he brings her to the airfield to say a poignant goodbye to Dmitri.
Major Crimes – Sharon Raydor and Andy Flynn(Mary McDonnell and Anthony Denison)
After Kyra Sedgewick's "The Closer" came to an end, the sequel burst onto the TV scene with the talented detectives of the LAPD's Major Crimes Division at the center of the show. Leading the crew is Capt. Sharon Raydor, who becomes the boss and takes over the department, working closely with her team and prosecutors to put away the bad guys. One member of her team, Detective Andy Flynn, ends up getting much closer with Sharon and they finally start dating, getting even closer through some harrowing times, eventually falling in love and getting married only to have Sharon die of a heart condition shortly thereafter.
Nashville – Rayna James and Deacon Claybourne (Connie Britton and Charles Esten)
The first episode of Nashville aired on October 10, 2012, and since that day, audiences everywhere have been in love with country star, Rayna James, her long-lost love, Deacon Clayborne, and his talented niece, Scarlett O'Connor (Clare Bowen), as well as Gunnar Scott (Sam Palladio), Avery Barkley (Jonathan Jackson) and Juliette Barnes (Hayden Panettiere). When the show started, Rayna was married to someone else but all along, we all knew that she and Deacon were destined to be together. Through the seasons, we've watched them dance around each other but in the end, they fall in love again and get married. Unfortunately, complications from a car accident take Rayna's life and we couldn't believe they killed her off but, since Ms. Britton was moving on to co-star in "9-1-1", it had to happen. But, viewers enjoyed the ride while it lasted. Now, we're just left wondering if Gunnar and Scarlett will get back together and can Avery and Juliette stay together?
NCIS – Anthony DiNozzo and Ziva David (Michael Weatherly and Cote de Pablo)
As the #1 show on TV for many years running, NCIS never fails to amaze us with the endless exciting stories. And, the saga of Ziva and DiNozzo is definitely one of the best of the best. From the minute that Ziva arrived at NCIS, it was clear that there was some major chemistry between the former Mossad agent and NCIS agent DiNozzo. They're both hot and work well together, but it takes several seasons for them to actually answer the "will they or won't they" question. On many occasions, it looked like it might never happen but of course, in true dramatic TV fashion, she allegedly dies while overseas and only then does DiNozzo find out that he's the father of her young daughter who lives in Europe. So, naturally, he leaves the show to go find her. Well, actually Michael Weatherly left the show to star in his own show, the very popular "Bull". But, we'll never forget what a great TV couple Ziva and DiNozzo were.
NCIS LA – Kensi Blye and Marty Deeks(Daniela Ruah and Eric Christian Olsen)
Nobody who has ever watched NCIS LA could possibly have doubted that cops, Kensi (NCIS) and Deeks (LAPD), were meant for each other. They teased one another through many seasons but, of course, ended up falling in love. Now, they are quite possibly one of the cutest couples on TV.
Necessary Roughness – Dr. Danielle "Dani" Santino and Dominic Eugene "Nico" Careles(Callie Thorne and Scott Cohen)
This HBO series gave us a closeup look at the inner workings of professional football and made us fall in love with many of its characters. During all of the dramatic episodes, we kept wondering if Nico and Dr. Dani would ever get together. They really heated things up whenever they were in the same room. And, at the end, it turns out that Nico is filthy rich in his own right and he and Dani take off together in his private plane for destinations unknown. Yes folks, just like in the classic movie "Tropic Thunder", that's a "G5 and lots of money!"
Prison Break – Michael Scofield and Dr. Sara Tancredi(Wentworth Miller and Sarah Wayne Callies)
When Michael Scofield meets prison doctor, Sara Tancredi, there's plenty of chemistry and she does everything she can to help him, including assisting him in breaking out of prison. Of course, this exciting series doesn't involve just one prison break but several and she's in his corner throughout all of them. Viewers weren't just left wondering if they would get together but also if they would even get the opportunity to get together. The show ended its first run with Michael presumed dead and buried but then it came back after a six-year hiatus and naturally he wasn't. Now, it has ended again but producers say that yet another iteration of "Prison Break" is in the works.
Revenge – Emily Thorne and Jack Porter(Emily VanCamp and Nick Wechsler)
In the Hamptons, where beauty, wealth, and status abound, a young woman named Emily Thorne only wants some serious revenge. But, along the way, she is reunited with her first love as a little girl, Jack Porter, who doesn't realize who she is because she's using a different name to infiltrate high-society Hamptons-style. Throughout this exciting series, we keep wondering if Emily and Jack will ever get together. They do but it takes until the end of the "Revenge" run on TV.
Scandal – Olivia Pope and POTUS Fitzgerald Grant……. and/or Jake Ballard (Kerry Washington and Tony Goldwyn and Scott Foley)
As beautiful as Olivia Pope is on this show it's no wonder that she has more than one handsome man in her life. Not only did she have a torrid affair with the president while he was still married to the First Lady who is now the current sitting president; but she also heated up the small screen with the dashing Jake Ballard whom we thought was the love of her life. Now, she's with neither of them because crazy political power has become her new love.
True Blood РSookie Stackhouse and Eric Northman and/or Bill Compton (Anna Paquin and Alexander Skarsg̴rd and Stephen Moyer)
Sookie Stackhouse is a waitress in a small backwoods Louisiana town who can read minds and simply loves vampires. There's not much doubt that she'll have an affair with the very handsome vampire, Eric, but can it possibly last? They do have great vamp chemistry together but that's if she can keep her hands off of that other hunky vampire, Bill Compton. Sookie does tend to be a bit fickle on occasion but maybe that's because she's a real-live fairy!
X-Files – Fox Mulder and Dana Scully (Gillian Anderson and David Duchovny)
As one of the most anticipated revivals of a TV show ever, the "X-files" never fails to entertain. Sure, the stories of extra-terrestrials and conspiracy theories are thrilling but not nearly as thrilling as the relationship between Mulder and Scully. The show first aired on Fox September 10, 1993, and Mulder and Scully have always had amazing chemistry, which is what made the show really work. It took a while but they finally answered the viewers' question about whether they will or they won't get together and they did. Now, after the end of the show's first 11-season run and two "X-Files" movies, they're not together anymore in the new season, so we get to go through those exciting "Will they or won't they" moments all over again.