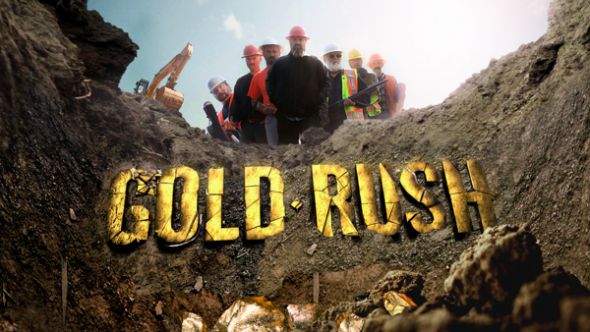 Gold Rush is one of the top rated television series on the Discovery Channel. The series follows teams of miners as they mine for gold. Each team faces difficult tasks and challenges along the way to reaching their mining goals. The program shows how crews can face off or come together to achieve its goal. In some cases family pulls together to carry on.
Parker Scnabel grew up in the gold mining business. He learned the family trade in his hometown of Haines, Alaska working in his grandfather's gold mine, Big Nugget. Grandpa John was proud of his grandson's hard work and continued learning about the mining business. Parker learned how to handle the big machinery and learned the trade of mining. At 16 years old, he was leading his own mining team. During his competition on Gold Rush, Parker increased his mining goals and achieved success. Parker's team won Season 6 by mining 3362 ounces of gold worth $3,700,000.
Todd Hoffman's father Jack mined for gold in the 1980s. When Todd saw the stagnant economy and learned that the price of gold only continued to increase, he decided to try mining in Alaska in 2010. He formed a team of unemployed friends and successfully started his own mine. Throughout his tenure on Gold Rush, Todd has learned much and became adept at the business end of mining and developed deal making skills. Season 6 of Gold Rush saw a lot of challenges for the Hoffman team. Although he lost to his rival Parker this season, he continued to build his business and purchased a second mine.
Tony Beets does not hold back. His rough personality matches his hard working ethic. Early on, Beets milked cows and laid pipeline for a living. In 1984 he entered the gold mining business. He currently runs Paradise Hill, a gold mine in Dawson City, Alaska. Although he came in third place in Season 6 of Gold rush, he persevered through several trials with his team.
Gold Rush is currently in its seventh season. The sixth season aired in the 2015 – 2016 season and proved to have memorable moments. The teams faced some of their most difficult challenges with high stakes and shocking twists.
Here are 10 of the most memorable moments of Gold Rush Season 6.
Grandpa Jack is proud of Parker
Parker learned the gold mining trade from his grandfather and at just 16 started leading a team on Gold Rush. At 21, Jack succeeded in overreaching his goal and won Season 6 of the series. When Parker's team mined 353 ounces of gold worth $388,000, his grandfather told him just how proud he was of his grandson. In an emotional speech, Grandpa Jack congratulated the Schnabel crew and told Parker how proud he was of how far he had come in just 4 years. When he said, "What more could I ask? Nothing. I am lucky. I am a very fortunate man.", it brought tears.
Grandpa Jack says goodbye
Of course Grandpa Jack's goodbye was memorable and emotional. He underwent surgery that saved his leg but knew he would not live much longer. He passed away one month after the surgery when his heart gave out, but he was clearly ready. Before the surgery, he and Parker share an emotional exchange. He reiterated how proud he was of his grandson's work. Jack told Parker that he wished him billions of dollars but more importantly, love. That is what matters most. The scenes were difficult to watch as Grandpa says he has lived long enough and sings.
Team efforts of the Beets Team
The underdog team this season proved their merit and perseverance. When they found good dirt, "pay dirt", they could not afford to waste time in mining the gold. Everyone in the family pitched in with the team to mine the gold. A memorable moment was seeing sister, Monica, work to set up the sluicebox on the hill. The Beets proved that team work and family loyalty are the keys to success.
Todd and Parker rivalry
It was no surprise that Todd and Parker were the biggest rivals during Season 6 of Gold Rush. They both had big goals for the season and the end result was very close. The age difference and experience between the two showed its tension toward the end of the season. Todd and Parker negotiated equipment when Todd admitted he needed to liquidate machinery for money for his other mine. The egos of both men showed when Todd boasted his goal of 5000 ounces and pointed out Parker's young age. This altercation occurred right after the death of Parker's grandfather, and Parker made it clear how offended he was.
Parker's new driver takes a coffee break
This episode was a little shocking and amusing. Parker's new driver left his post to take a coffee break. The problem is the belt can not run dry and dirt must be continually loaded. There is no time for a break. The tension between the crew members was amusing when the new driver kept spilling dirt when it needed to get to the belt.
Todd's dilemma with two mines
Todd was extremely worried about losing half of his resources at the second mine. The tension was thick. His decision to shut down work at one mine was a difficult one. In the end, Todd had to make that decision based on business and ultimate success.
Parker's team finds chunky gold
Parker's team had a lot of challenges this season, so when chunks of gold were found, they were elated. He had been behind, but that find increased his gold total by a lot. His team worked hard and workedtogether to get the gold cleaned and scaled. His girlfriend even stepped in to help get the exciting work completed.
Hoffman's million dollar pay pile
When Hoffman's team faced an early snow squall, their hopes of mining their sure pile of dirt were challenged. Winter was coming and freezing weather would compromise their mining. They still had 2 to 3 weeks left to mine the hill efficiently, so time was of essence. They had the option to leave the site and mine their other site. This would leave the pile until the next season. The team knew how important this pile was and continued around the clock to get the pile mined.
Beets find gold
In season 7 of Gold Rush, each team was chasing its dream. Tony was successful. His dredge was pouring gold out of the sluices. The team was elated. The gold find was a big part of the team's final win.
The rattlesnake
A rattlesnake stopped work on site and frightened the Gold Rush crew. The extremely venomous and large rattlesnake was not happy when a specialist on the crew tried to remove it. The scene was tense. Fortunately the rattlesnake was caught and boxed with no injuries.