Tonight on Take Two the "Shadows of the Past" are (at least) twofold. The case brings up the past of P.I. Eddie Valetik (Eddie Cibrian) via the murder of a client by a serial killer. Now Eddie and actress turned P.I. Sam Swift (Rachel Bilson) need to look into the client's past to figure out why he would be a target. That's because the client being killed doesn't make sense on its own. The killer's usual victims look like Sam!
Tonight on Take Two – The Official Synopsis
From the promo video above we can see that the comedy part of this dramedy is in full effect. The official ABC synopsis suggests the drama side will be just as strong!
Called to a murder scene in the middle of the night, Sam and Eddie are shocked to find that the man who had just hired them to find his missing wife is the most recent victim of a serial killer. Knowing that their client's case must be related to his murder, Sam and Eddie race to uncover the twisted motives behind the killings with the desperate hope of finding his still-missing wife alive, putting the pair directly in the serial killer's crosshairs. Meanwhile, the investigation stirs up old wounds for Eddie surrounding his contentious departure from the LAPD.
Take Two "Shadows of the Past" Spoiler Photos
As usual, Detective Christine Rollins (Aliyah O'Brien) seems to see the writing on the wall….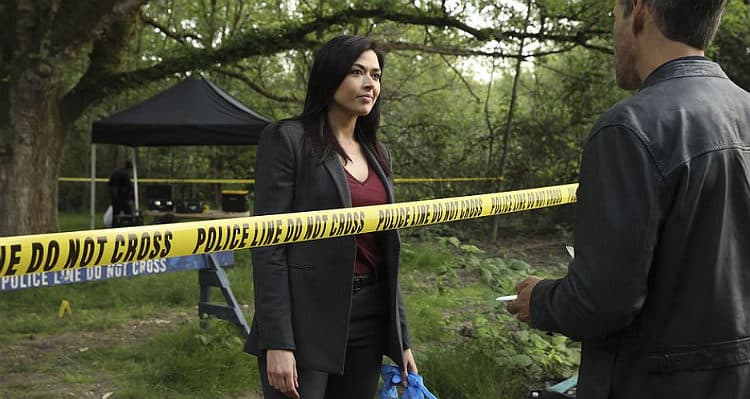 Even though Christine's all for Eddie and Sam, it's still got to be a little bittersweet. Knowing someone isn't "the one" for you, doesn't mean you won't miss your friend-with-benefits. Every time she sees them together, she sees what they aren't ready to admit yet. It's only episode 9 of Take Two, there will be no admitting of anything yet! However, those old wounds of Eddie's will likely give Sam and Eddie some serious things to talk about…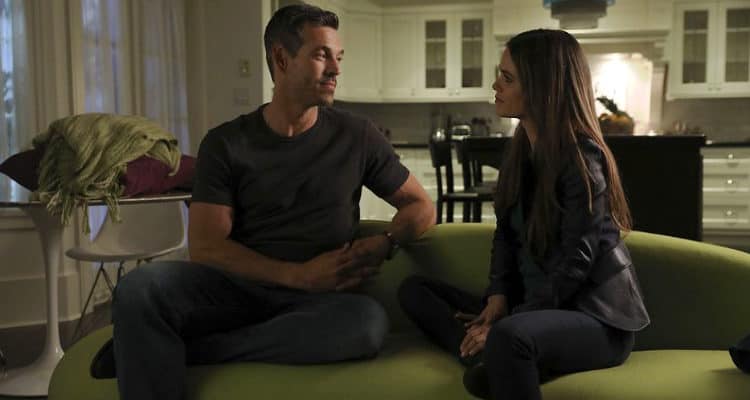 I wonder if this happens before or after the baseball bat incident? In any event, it looks like tonight on Take Two Sam and Eddie are continuing to share more about themselves with each other! We learned more about Eddie's leaving the police department back in Take Two episode 3. Perhaps now Sam will hear the story first hand? Whatever they're talking about, it's clearly an intimacy-building moment!
Tonight on Take Two – the Wrap Up
So, tonight on Take Two, we've got a serial killer case. That storyline may or may not end up being an ongoing arc. We'll get more specifics about Eddie's time on the police force, and some good ole fashioned UST (Unresolved Sexual Tension. Hi, X-files fans!).
Unlike the aforementioned show, the creators of Take Two, Andrew Marlowe and Terri Edda Miller, have a proven track record of paying that UST off. It makes it easier to invest in Take Two and tune in! Don't know what I'm talking about?
Go watch the entire scene from Castle 4×23!
Take Two airs Thursdays at 10pm on ABC. Did you miss an episode? Catch up on Hulu or abc.go.com!
Tell us what's wrong with this post? How could we improve it? :)
Let us improve this post!