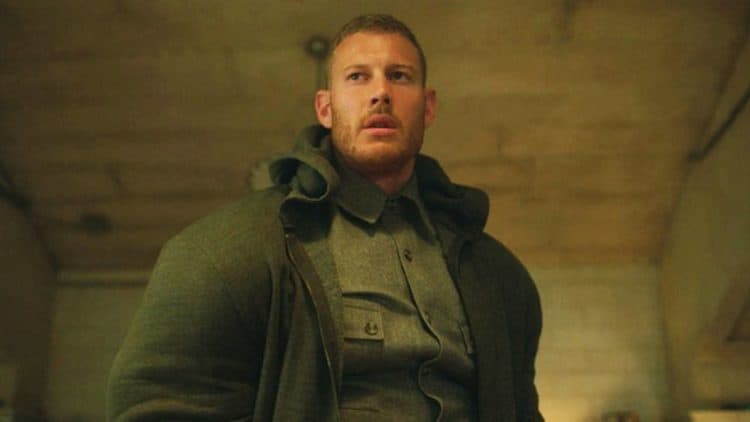 Tom Hopper is an actor who is playing a role in a Netflix series that has captivated millions of fans already. He's playing the role of Luther Hargreeves on a show called "The Umbrella Academy," which was a show we didn't know anything about one day, but it was the most-talked about thing on television the next. It's a huge hit, people love it, and he's about to become the next big thing along with the rest of his co-stars and their real-life personalities. Before he is so big that we don't get to go a day without seeing his name, we thought we might learn more about him as he is now. Before he is so famous.
1. He's in His 30s
He was born on January 28, 1985. He just celebrated his 35th birthday in 2020, and he was fortunate enough to get to do so in a time when things were not quite as bad as they are now. We have no actual idea how he celebrated, but we know he didn't have to do it while social distancing or wearing a face mask, and that's a beautiful way to celebrate.
2. He's From England
He was born in the 80s, but did you know he was born in England? He's from a little place called Coalville. This is located in Leicestershire. This is in England. Imagine if he were from Chicago. Coalville is the equivalent of Chicago (probably not the size by any means), Leicestershire is the equivalent of Illiniois, and England is the equivalent of the United States. Does that make any sense?
3. He's Married
He is a taken man, and for that we know there are some very sad women out there. He's got a big fanbase, and that's disappointing news for some ladies hoping they had a shot at one day being Mrs. Tom Hopper. However, the real Mrs. Tom Hopper is Laura Higgins, and they've been married since 2014. They also have two kids; a boy and a girl.
4. He's Been in Big Shows Before
Have you heard of a show called "The Game of Thrones," by any chance? It was a small little show that did okay in the world of television shows. Kidding, it's a huge hit, and while we are happy to admit we just didn't get into it enough to want to watch it, we think we might be the only ones. He was on the show as Dickon Tarly, and people love him.
5. He's Educated
When he grew up, he knew he wanted to go to college and study acting, so he did. He attended the Rose Bruford College, which doesn't sound too familiar to us because we are not from England. However, he did well there, learned a lot, and he's clearly benefited from the many things he learned while he was there.
6. He's Tall
Honestly, we think that there might be a casting situation going on over at Netflix. Hopper's 'Umbrella Academy,' costar, Cameron Britton, is really tall, too. They both stand 6 feet 5 inches, and that's not something that's totally normal, is it? It seems so tall to us.
7. He Worked with His Wife
They both worked on a project called "Black Sails," at one point. She is also an actress, and she's been in many things, too. They were both working, they met, they got married, they had a little boy, and then they had their little girl. They are a sweet little family, too.
8. His Son is Autistic
He and his wife opened up about parenting their child with Autism in the late summer of 2020. They want to help other parents who are also doing the same that they are, and they never want anyone to feel alone. Their little boy is now five, and he's only just diagnosed before his birthday. He's nonverbal, and they decided to find out what was going on. They want the world to know that their son is amazing, and that he is so cool, but that no one raising a child with autism is doing this alone.
9. He's a Softie
He's a big man with a lot of muscle, but he's a man who also wants the world to know he's a softie. When it comes to his family, he's the softest of the soft. He loves his son and daughter (his daughter is two, and we already mentioned his son is five), and even when it comes to his wife he's a softie.
10. They Noticed Their Son's Autism When He was Around 18-Months
Their son was around a year and-a-half old when they noticed something seemed different. The first thing that they noticed is that he doesn't turn around or respond to his name when he is called. As he continued to get a little older, they began to notice many differences in his behavior versus the behavior of the other kids they knew his age, and that's when they began to wonder if there might be something going on.
Tell us what's wrong with this post? How could we improve it? :)
Let us improve this post!