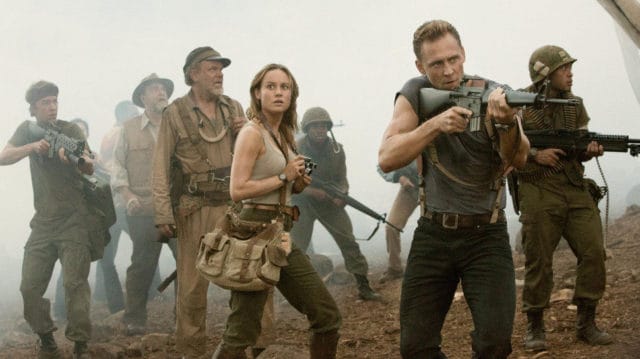 As everyone may or may not know, the new trailer for Kong: Skull Island arrives sometime today. However, one of the stars of the movie decided to tease fans a little by giving them a 10 second look on his Twitter account. That star would be Tom Hiddleston. I wouldn't be surprised if the studio tried to drum up some drama by making a statement that he wasn't supposed to do that. At this point in the marketing of movies it's really hard to know what's real and what's not.
One thing I can tell you is real is this. The Kong: Skull Island marketing campaign has definitely looked solid. And I'm not just talking about clips of giant beasts fighting. I'm talking about all the posters, build up, potential for Godzilla, you name it.
But again, it leaves me very skeptical. While all this marketing should bring in some solid ticket sales, is the movie going to live up to the hype? It's my biggest fear about every single blockbuster action film of the 21st century. All talk, and no back up. It's easy to make an awesome movie poster but much harder to make an awesome movie.
Nevertheless, Hiddleston's little video leak does show some sweet action. Check it out below:
New trailer for #kongskullisland arrives tomorrow! #kongisking pic.twitter.com/g7Kkd9WPKJ

– Tom Hiddleston (@twhiddleston) February 26, 2017