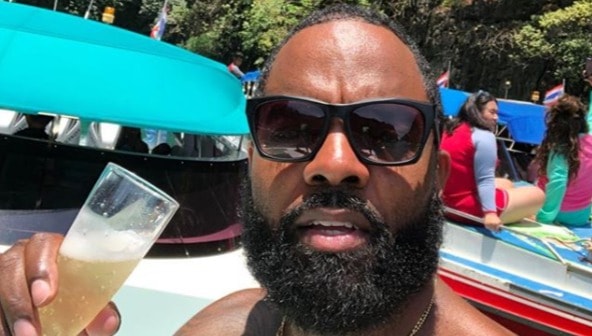 While most fans know him as Kandi Buress' husband from Real Housewives of Atlanta, Todd Tucker has been around the block when it comes to entertainment. Why don't you know his name from before the wedding in 2014? The answer is simple. He used to work behind the scenes. Marrying the R&B singer brought him out of the studio and into the spotlight, but Todd has always been in the neighborhood.
1. Worked for Oprah & Run's House
Long before he met his wife and moved to the other side of the camera, Todd Tucker was producing with the best of them. He was producing for stars like Oprah and Run DMC before shows like Real Housewives of Atlanta ever aired. Tucker's early successes got him to where he is today. Even though he's a House Husband these days on TV, Todd is very familiar with making TV from the other side.
2. Strip Clubbing in London
Fans of Todd and RHOA freaked lost it this year when Todd and his eldest daughter Kaela went on a trip together to London. Tucker and twenty-three-year-old Kaela posted a clip on Instagram of them together in a strip club. It's certainly not the sort of family bonding most people do. Tucker defended his decision by asserting that it made him a cool dad and left the door open for his daughter to talk to him about sex. We're a little speechless about that. While it is essential to keep communication lines open and not repress your children, there's a big gap between that and looking at naked women together.
3. Met Kandi on Set
Todd was hard at work behind the scenes in Real House Wives of Atlanta when he first met his future wife, Kandi Burruss. It goes without saying that they hit it off behind the scenes. Though it's frowned upon for coworkers to date in most businesses, the film and TV industry is a bit more lax about it. Clearly, there were no serious objections since is he not only a producer for the show but also one of the stars now.
4. That Time He Didn't Talk to His Daughter for a Month
Going to a strip club together isn't exactly what we'd call a step in the right direction, but at least they're talking. Kaela said once on the show that she felt her father was emotionally distant except when he's angry. She specifically mentioned a time when they didn't speak for a month because she upset him. We think a club of any kind isn't where they should have their father-daughter outings. Maybe a therapist's office would be more helpful.
5. BET OG
BET News is incredibly popular. Before working as a reality star on the network, even before he worked behind the scenes at RHOA, Tucker worked as a Line Producer for a 2008 episode of BET News. Doubtless, his existing relationship with the network played a part in his eventual inclusion in the RHOA producers and later in his somewhat unanticipated Reality Stardom.
6. Oh The Horror
Tucker has worked on a lot of intriguing productions over the years. Perhaps the strangest and most unexpected is Stephen King's Thinner. On second thought, maybe there's not so much difference between working on a reality show and working on a horror movie after all. There's less fake blood in reality TV to be sure, but the screaming and cursing are strangely similar.
7. Very Productive
Todd Tucker didn't appear out of nowhere to marry Kandi. He worked his way up producing shows and movies for a long time. These days he owns Todd Tucker Productions and, along with his wife, produces reality shows and spin-offs.
8. Momma's Boy
We don't mean that title as an insult. Todd adores his mother, Sharon. They were always very close. Unfortunately, in December of 2014, she suffered a stroke in NYC where she lived. Tucker immediately went to see her, and it's a very good thing he did because she passed away the next day with her son by her side. The only upside to the sad story is that he was able to be there for her when she passed. The distraught Tucker posted a picture of them together after her passing and said he didn't know what to do without her.
9. Gone Clubbin'
Okay, he might not be winning Dad of the Year, but there are certainly worse fathers for a kid to have than Todd. It's hard to excuse some things, though, like going to a strip club with your daughter, which is less forward-thinking and more creepy. However, his oldest daughter isn't the only woman in his life who takes issue with Tucker's parenting style. Not long after the birth of their youngest child, Kandi was reading him the riot act. This time it wasn't for something he did, but rather what he didn't do. Namely, he wasn't home. Todd went out to the clubs two nights in a row just days after the surrogate gave birth to their daughter Blaze.
10. Kandi's Wedding
They didn't title the special Todd & Kandi's Wedding. After all, Kandi Burruss chose to buy her own wedding ring. However, her smiling groom was happy to be part of the most viewed wedding in the network's history. You'd smile too if you were getting married and getting paid as the producer at the same time. We're not sure if the special paid for the wedding, but we do know the couple didn't spend a whole lot of time planning. In fact, they started preparations just a month before filming and tying the knot.
Final Thoughts
Love him or hate him Todd Tucker is more than just a face on some show. He's the man who makes shows like Hollywood Divas happen. It can't be easy to go from behind the camera to in the limelight so quickly. What surprised you most about Todd? Let us know in the comments section below.