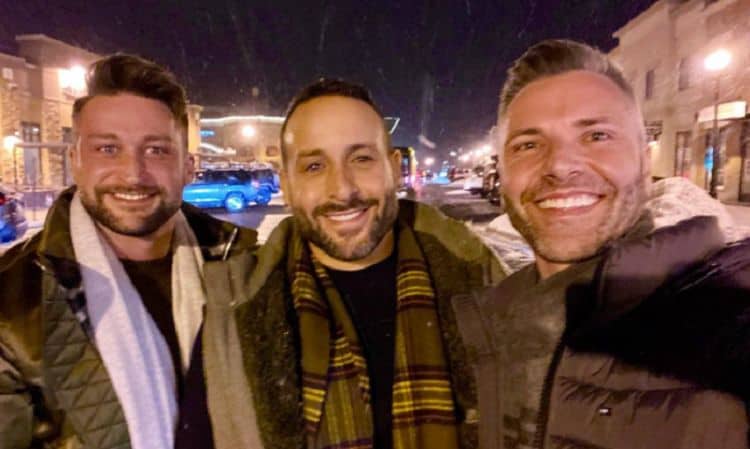 HGTV is bringing their "A" game in 2021 with the introduction of several new shows to add to an already amazing list of shows on the network. Rock the Block is one of the new shows airing soon, and it stars two men who work hard to renovate homes in California. One of the men featured on the show is Carmine Sabatella. He's not a brand-new reality television star, but his future fans want to learn as much about him as they can. Who is he? Where did he come from? What's he like? And how well are we going to get to know him on the show?
1. He is Not on The Market
This handsome new reality television star is not on the market. He's a married man. His husband is California real estate agent Ryan Delair. Together, they do not have a biological child, but Carmine Sabatella does have a daughter from a previous relationship. Her name is Giannae.
2. He is a Proud Father
The simple truth is that there is one thing you will get to know about Carmine Sabatella when you get to know him on television; he is a great dad. His daughter is the greatest joy in his life, and he is constantly sharing photos of the two of them hanging out together. He is clearly a proud father, and his daughter is the light of his life.
3. He Wears Many Hats
Now that you know Sabatella wears the hats of father and husband, you should know he is also a real estate agent and an interior designer. He is all things professional when it comes to real estate and design, and that is likely the reason why the network tapped him to be part of a show like this one.
4. He is Divorced
Before he came out as a gay man, he was married to a woman. We haven't a clue if his ex-wife is the mother of his teenage daughter or not, however. He keeps his former marriage and the identity of his ex-wife to himself. We don't know if that's her wish or if he simply does not enjoy the idea of putting the spotlight on anyone in his life who might not want it there because they did not sign up for that.
5. He Loves to Travel
Sabatella is a worldly man who enjoys travel. He loves to see the world, to see if he can find new places to visit, and he loves to spend time outdoors. One thing he also enjoys significantly is traveling with his daughter and his husband. He has a goal to travel the world with his daughter before she turns 20. We imagine that COVID has placed a huge burden on that concept, however.
6. He is Already on Television
He might be new to the Rock the Block season 2 cast, but you know Sabatella from his other show. As you well know, he is one of the stars of Inside Out alongside Mike Pyle. The two have been tapped to come on board the new show with host Ty Pennington to see what they can do with their budget, their skills, and their time.
7. He Was in the Restaurant Business
When he was younger, he began his career in the restaurant industry. He was working, paying the bills, and realizing each passing day that this was not the dream he wanted to accomplish in his life. He wanted to see bigger things happen. He wanted to see himself doing what he loved to do. He wanted to see himself making a difference, and that's when he went into real estate.
8. He Has His Own Business
It's called The Sabatella Group, and he is loving it. It is a real estate company that he runs on his own, and it is his true calling and passion. Real estate is so important to him, and it helps him find his creative outlet as well as time to focus on his family, his husband, and his daughter.
9. He Was On Reality Television Before
Here is the fun information that you did not know about his fabulous designer and real estate agent. He was on reality television before. In fact, he was featured on a show called My Fab 40 on Bravo when he turned 40. He planned an over-the-top and extravagant party for himself in which he was able to make his birthday a raging success.
10. He is Just So Likable
If there is one thing that you can tell about this guy, it's that he is just a likable guy. He seems to be a great co-worker, father, husband, and friend. He gets along well with his co-host. He gets along well with his clients, and he just seems like he'd be a great friend, too.