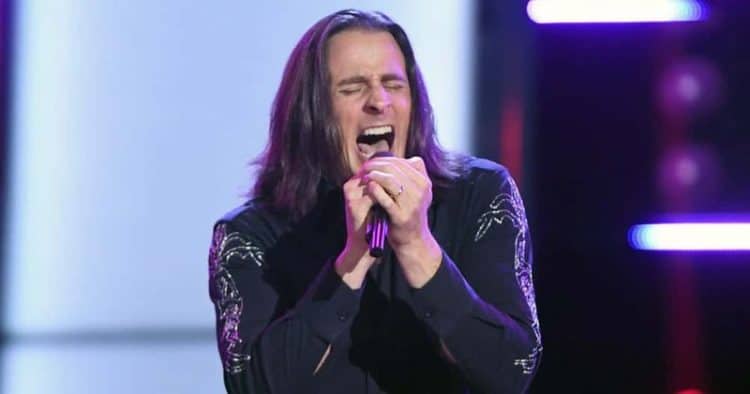 When Todd Michael Hall got to audition for "The Voice," he felt he had won the lottery ticket; after all, as he explains, it is not every day that you get to be on National Television performing for millions of people. He, therefore, chose a song that he has been singing since 1981 "Juke Box Hero" since it brought to the audience and judges a style that is rarely heard in mainstream media. Within seconds of his performance, John Legend wanted Todd to be in his team, but in the end, Todd chose Blake. He might be 50-year-old, but just like wine, his vocals have become better with age. As we wait to see if he bags the prize, let's share what we know about him so far.
1. He was nervous during his blind audition
Despite being a performer who has received rounds of applause from audiences that reach 20,000 people, Todd was still worried about performing in front of the judges. The few seconds of silence that preceded his performance made him anxious because, for the first time, it dawned on him that he was not in a band but rather was standing alone to showcase his skills while his bandmates watched. However, the anxiety faded when he viewed the audition like any other performance instead of a competition.
2. Why he auditioned for "The Voice."
You would think that getting $100,000 and a record deal with Republic Records or Big Machine Records is enough motivation for anyone to audition for "The Voice." However, Todd is an accomplished musician whose main aim is to reach a wider audience, although each year, he travels around the globe performing in at least six shows that have thousands of people in the audience. Still, that is not enough for him; he wants to reach more people with his music, as reported by Midland Daily News.
3. How he met his wife
In 1993, Todd started exchanging pen pal letters with a woman from India called Lumpeny. Lumpeny was a teacher in northeastern India but wanted to connect with the outside world through pen pals. The two continued exchanging letters for three years before finally meeting in 1996 when Todd flew to India to see her. On his second trip, Todd proposed, and three years later, they got married. Being a fan of his music, Lumpeny has kept Todd grounded, and he credits her saying without her support, he could not be where he is today.
4. Lack of faith in his musical abilities kept him from launching a solo career
When Todd spoke to Roppongi Rocks, he confessed that for a long time he did not think he could do a solo album. He had a background in music but was not well-equipped. For instance, although he had taken piano lessons as a child, he could only read the music but not play the piano. Therefore he had to learn everything he could about music both in theory and practice. Besides, it is after he stopped partnering with his brothers that he learned how to play the guitar. Once he did, writing his music and playing it became much easier hence the birth of a solo career.
5. How his wife inspired his first solo album
His love story inspired Todd's first album, and the title "Letters from India" says it all. However, it is more than just the love letters; some of the songs are Christian-themed. He had been raised Catholic but quit going to church, and it is Lumpeny who convinced him to reconsider his decision so that they could be married in church.
6. His tips to ensure he maintains healthy vocals
When you depend on your voice to put food on the table, then you will go to any lengths to ensure that it remains perfect. Todd, therefore only eats healthy foods, and if the urge to drink beer surfaces, he can only take two bottles at most. Talking over loud noise is something he will never do, and the musician also tries to get enough sleep, which can be hard, especially when he has several shows lined up. Finally, even when he sings, he does not strain himself by screaming.
7. How he joined Jack Starr's band
In 2004, Todd's brother sent him a link regarding a search for a singer to join a new band by Jack Starr and members of Manowar. Todd was interested in the position; hence he sent a recording showcasing his wonderful vocals. However, Jack wanted to see the person behind the voice; therefore, he asked Todd to post a picture to which he complied by sending a wedding picture. The hair was not as per Jack's standards; thus he asked if Todd would be comfortable with long hair, and Todd was as is evidenced by the look he has kept to date. He then flew to New York to perform live in front of his prospective bandmates.
8. He prioritizes time with his family
Speaking to Musikholics, Todd revealed that being away from home is the biggest challenge in his musical career. With a wife and three children, he would love to spend every free minute with them, but he also has a manufacturing company to run; thus, there is little time to be with them. He, for instance, had to miss most of his daughter's soccer games since he was singing in three bands, and it took such a toll on him knowing that he can recover such magical moments.
9. He began singing in a band at the age of 15
Todd's music career dates back to when he was 15 when he joined his first band, Harlet. When he was 17, he recorded his first album titled "25 Gets A Ride." He had high hopes that it would be an instant hit. Still, it was not, therefore even after graduating from high school, instead of pursuing music in Los Angeles, he went to university to study business. He continued playing with Harlet, but they were never a hit; hence he decided to shelf his passion in 1996, but in 2004, it was reignited when he joined Burning Starr.
10. His wife prefers to be away from the spotlight
Lumpeny has never liked to be in the spotlight; therefore, Todd had to hire models for his videos. However, Todd included her photos in the debut solo album, which was to Lumpeny's surprise, but it meant a lot to Todd since it is because of her that the album came to be.
Tell us what's wrong with this post? How could we improve it? :)
Let us improve this post!