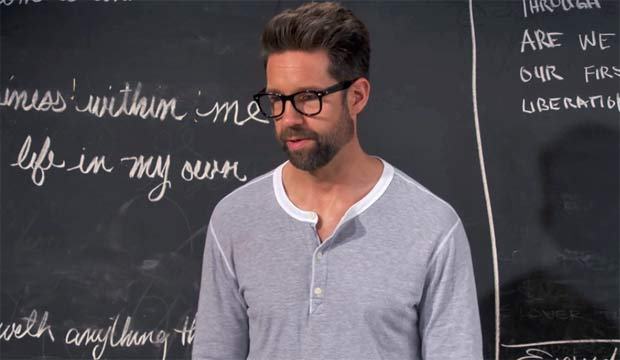 Todd Grinnell has been in the acting world for nearly 20 years, but his career caught a second wind when he was cast as Dwayne Schneider on Netflix's One Day at a Time. The show is a reimagining of a series of the same name which aired from 1975 to 1984. Grinnell's character on the show is a wealthy landlord who has overcome struggles with drug and alcohol addiction. The role has given Grinnell a chance to widen his fan base and viewers are excited to see what the show has in store for its fourth reason which premiered in late March. Keep reading for 10 things you didn't know about Todd Grinnell.
1. His On Screen Girlfriend Is His Wife In Real Life
In 2015, Todd Grinnell married actress, India de Beaufort. As you can imagine, the couple's schedules usually have them in different places, but the two have gotten the chance to work together on One Day at a Time. de Beaufort plays the recurring role of Avery who is Schneider's girlfriend on the show.
2. He A Unique Definition Of Happiness
Todd Grinnell is all about living life to the fullest and doing things that bring him joy. In an interview, with Live the Process, Todd was asked what happiness means to him. The actor responded by saying, " Happiness looks like letting go, following the fun, giving back to those less fortunate, loving my friends and family and spending as much time at the beach as possible."
3. He's A Proud Dad
After three years of marriage, Todd Grinnell and his wife welcomed their first child into the world. The couple's son, Crosby James Grinnell was born in May 2018. Shortly after the baby's birth, India de Beaufort shared a photo on social media stating that she and Todd were "forever changed" by their bundle of joy.
4. He Started A NonProfit Organization
Todd Grinnell is very passionate about charitable causes. In 2018, he founded a nonprofit organization with some other big names including Kristen Bell. The organization, This Saves Lives, sells healthy snack bars. Each purchase results in a food donation to a child in need. According to the website, This Saves Lives has donated over 11,000,000 food packets to children across the world.
5. He Has Been Sober For Nearly 20 Years
Todd Grinnell struggled with addiction throughout his teens and mid 20s. He says that he took his first drink when he was 13-years-old and prided himself on being the 'best' drinker in his friend group. Grinnell says he originally began drinking to be "courageous and interesting". By the team he reached 17, he was experimenting with cocaine. Grinnell moved to Los Angeles in his 20s and at 25 he had a three day bender which resulted in him wanting to be sober.
6. He Began His Acting Career In Theater
Todd Grinnell is best-known for his on screen roles, but he actually got his start in theater. Grinnell, who is a Boston native, began acting in small theater productions in the Boston Area.He continued to do small stage shows when he moved to Los Angeles before moving to film and TV roles. Grinnell hasn't shared whether or not he plans to return to theater someday.
7. If He Hadn't Become An Actor He Would Have Picked A Very Different Career Path
If you've ever seen any of Todd Grinnell's work, it may be hard to imagine him doing anything other than acting. However, he has a a good idea of what he would be doing if he hadn't pursued a career in entertainment. He believes that he would have become a musician or an international human rights attorney.
8. He And Schneider Would Be Best Friends In Real Life
Todd Grinnell believes that he and Schneider share a lot of similarities. So much so, that he says the two men would probably be best friends in real life. He even goes as far as saying he thinks the pair would be like two of the Three Stooges. Which two? Todd says he'll leave that up to his fans to decide.
9. He Prefers Comedic Roles
Todd has played a number of different types of roles throughout his career. He's been in comedies, dramas, and thrillers. He is thankful for every opportunity he's been given but says that comedic roles are his favorite. Todd enjoys making people laugh and getting the chance to show his silly side
10. If He Could, He'd Be Forrest Gump
When asked who he would choose if he could be any fictional character, Todd Grinnell easily picked Forrest Gump from the 1994 film of the same name. Forrest Gump is easily one of the most iconic fictional characters in film. He is so iconic that some have gotten the impression that the film is based on a true story. In fact, there are a lot of people out there who still don't know that Forrest Gump didn't actually exist.