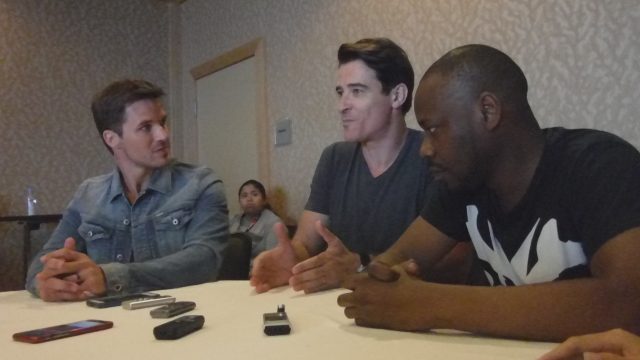 Every few years marks a new theme for shows. Buffy the Vampire Slayer started the long-running theme of vampires, Charmed sounded the witch drum for awhile, and The Walking Dead ushered in zombies. Time travel is the theme of the year. Time is a huge element utilized in television, but usually in flashbacks for the audience's entertainment. This year three new shows will premiere which actually break through the barrier of time. Frequency will premiere next week on the CW, Time After Time premieres on ABC midseason, and the wide-scope drama Timeless premieres tonight on NBC. This summer we spoke to Timeless stars Goran Visnjic, Matt Lanter, and Malcolm Barrett about what to expect from the complex adventure series.
As Lanter summarizes, Timeless is "an epic, historical action adventure show where an unlikely trio go back in time to stop this guy from possibly destroying history." The villain, played by Visnjic, has somewhat ambiguous motives behind his desire to change the past. Like the villain, the timeline is just as ambiguous. "We don't know the full timeline of the series they've thought out, but obviously it's possible [to go back and forth between the past and a possibly new present or future]." Which means that whether they mean to or not, the heroes are going to change the past with potentially devastating consequences to the future.
"The beautiful thing is we go back to the past, we change something. We come back to the present, we see that change. So we have to have our writers' calendar that's going to tell us this new future, this new present from episode to episode. So some changes are going to be very small, some are gonna be almost funny, some are gonna be dramatic, some gonna be huge. So it's not so much that we're going to be going to the future, it's more how much we're going to be changing our existing present," Visnjic explains of his character Garcia Flynn.
Case in point, the end of the pilot has a very clear change for the present with lasting personal consequences for one of the trio. "And that's also the beauty of it that it doesn't just rely on this sort of Butterfly Effect thing…It's also how we develop as people" Barrett explains. "As a result of going on this trip, I [as my character] have this newfound confidence, I'm learning about myself."
Barrett's character Rufus has to be confident in order to survive events of the past. Initially, "My goal is to stay home! These guys are very much driven by an ideology, and my character likes being behind the desk. They're all sort of fish out of water in different ways, but my character really wants to be home." Out of Rufus' initial fear comes quite possibly the best monologue between a 21st century black man and a Nazi you could ever have asked for!
The past isn't always a fun place for the characters, but the cast is having a blast. Everyone is excited about an upcoming trip to the Renaissance. The art and music were revolutionary for the time, but Visnjic brought up a good point. "My hometown back home in Croatia was like the second beginning of the Renaissance, so I was always walking among those buildings and I was wondering how it looked…then I remember they didn't have plumbing! Then in 1450 there was the huge plague which killed 70% of the population of my hometown!" Plus there are going to be some more obscure moments in history which the history books overlooked.
Lanter cautions against jumping to conclusions about whose quest is right and whose is wrong. "In typical form for these guys there's never truly a hero and never truly a villain. There's always people who are motivated by what they believe in, period."
Witness history when Timeless premieres tonight on NBC.